Eden Hazard's penalty secured Chelsea the FA Cup for the eighth time as they beat Manchester United in what could be Antonio Conte's final match in charge.
Hazard sent goalkeeper David de Gea the wrong way at Wembley, having won the kick when brought down by Phil Jones.
United, having offered minimal attacking threat in the first half, were much better in the second.
Alexis Sanchez had a goal ruled out for straying just offside – referee Michael Oliver using VAR to confirm the call.
Thibaut Courtois later denied Marcus Rashford, before Paul Pogba headed wide with a clear chance from a corner.
Romelu Lukaku and Anthony Martial, who had both been doubts for the final because of injury, appeared as substitutes for the final 17 minutes, but United were unable to find an equaliser.
Conte has been widely tipped to leave Chelsea at the end of the season, teasing the media when asked about his future on Friday.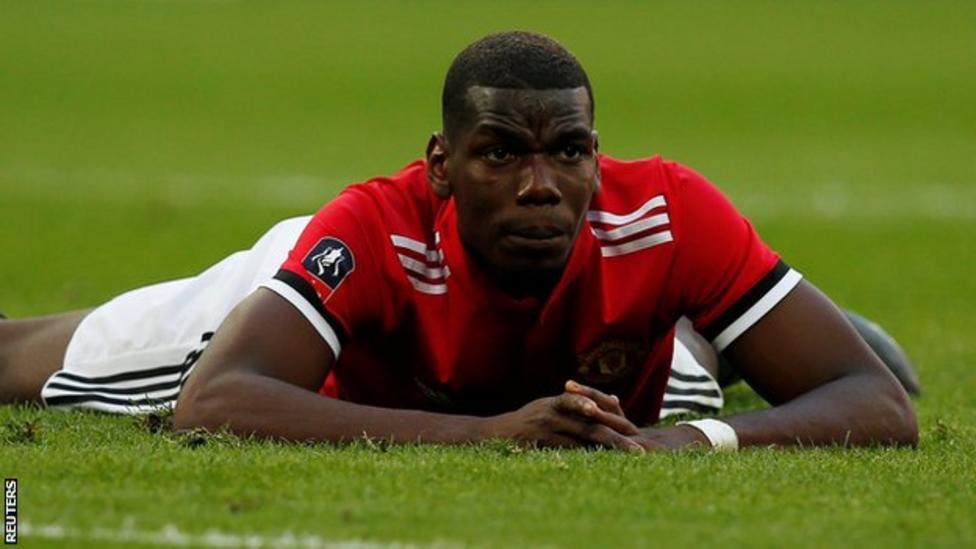 Victory in the cup final provided a positive antidote to a disappointing Premier League season, with Conte's side failing to qualify for the Champions League after finishing fifth.
For securing the trophy, last season's Premier League champions can thank Hazard, who has cast doubt over his own future at Stamford Bridge in recent days.
The Belgium forward, making his 300th appearance for the club, was the game's key player, shrugging aside United manager Jose Mourinho's attempt to nullify him by using Ander Herrera in a man-to-man marking role.
That plan had worked to perfection when United beat Chelsea 2-0 in the Premier League in April 2017, but Hazard responded at Wembley by dragging Herrera back towards United's defensive line, unbalancing Mourinho's side in the opening 45 minutes.
Herrera was nowhere to be seen in the build-up to the winner as Hazard ran clear on to Cesc Fabregas' through pass, and was brought down for a penalty by Jones, who was shown a yellow card.
Mourinho's side threw off their defensive shackles after half-time, and may well have saved the match had they been more ruthless in front of goal.
Sanchez was judged – correctly – to have strayed just offside as he turned in the loose ball, after Courtois had saved Jones' header from a Rashford free-kick, and the Chelsea goalkeeper was alert to beat away a Nemanja Matic shot.
Yet it was Pogba, perhaps, who had the best chance to equalise, putting his head into his hands in frustration after nodding wide from just seven yards following a set-piece.
Why was Phil Jones not sent off?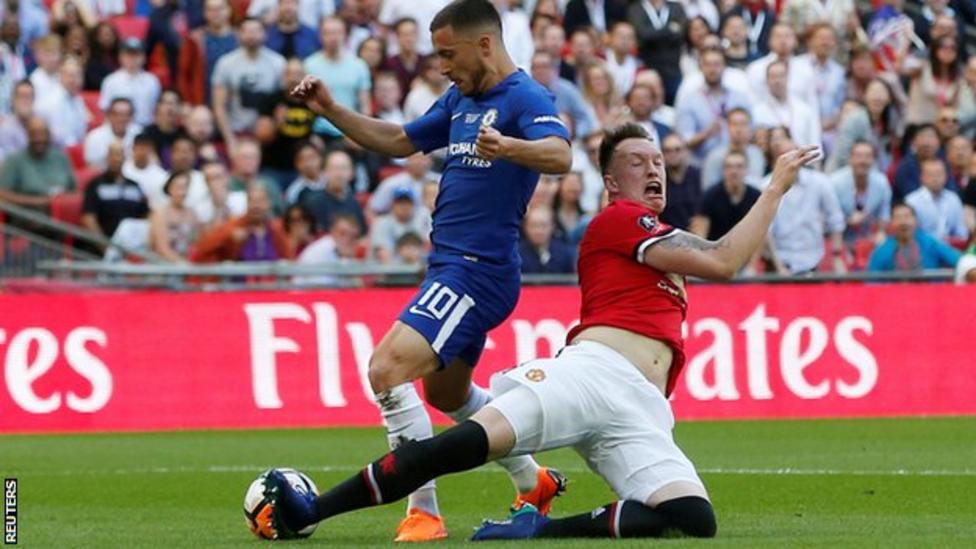 There was plenty of debate on social media after Oliver's decision to show a yellow card to Jones for conceding the penalty.
The referee's decision was dictated by a law change in 2016 that was intended to abolish 'triple punishment' in such circumstances.
Before the change, any denial of a clear goalscoring opportunity inside the area resulted in the offender receiving a red card and a suspension, as well as conceding a penalty.
Under the amended Law 12, which relates to fouls and misconduct, a player judged to have made a genuine attempt to win the ball is shown a yellow card instead.
The law states: "Where a player commits an offence against an opponent within their own penalty area which denies an opponent an obvious goalscoring opportunity and the referee awards a penalty kick, the offending player is cautioned if the offence was an attempt to play the ball.
"In all other circumstances (e.g. holding, pulling, pushing, no possibility to play the ball etc.) the offending player must be sent off."
–
Source: BBC Sports