On a rough, sandy playing surface in Tafo, James Eduful is wheeling himself up and down the touchline. He is animated – on the edge of his seat, really. As he interrupts the training session, he almost falls off his wheelchair before retreating to the middle of his seat, livid.
"What did I tell you?!" he queried rhetorically.
"When you pass the ball to your teammate, you run into space. Don't stand there. If you don't move, you limit your teammate's options," James barked out.
To demonstrate to his players just what he demanded of them, James left the 'comfort' of his wheelchair, strapped his hands with slippers as makeshift football boots, and joined the action. Supported by one feeble leg and two hands — almost like a four-legged human – he moved fluidly into spaces, knocking passes around as he received them; even giving a 'no-look' pass at one point. Move over, Bobby Firmino.
James and his children had to tweak the football rules a little to accommodate him in moments like these.
"It's very difficult coaching children. Sometimes I have to get off my wheelchair and demonstrate to them what I want them to do. Because I play with my hands, we have come up with a rule that when the ball touches my leg, it's a foul," he said.
Though unorthodox, it made for a fascinating spectacle as I watched while the man affectionately called 'Coach Sympathy' opened my eyes to his true abilities.
For the last decade, this has been the story of James Eduful, the 30-year-old coach dishing out tactics on a wheelchair in Ghana's third-tier league.
At age seven, just like many Ghanaian boys at his age, James had a dream of becoming the next Abedi Pele. But on one evening in 1996, that dream turned into a nightmare as his life changed forever.
"I was returning from the farm with my mother and it was raining heavily. I was six or seven years old, so I couldn't walk through the heavy rain, so my mother carried me on her back," James narrated.

"On our way, she slipped, and I fell off her back. But it was not until we got home that we realized I had broken my legs.

"My parents tried to fix it with traditional medicine because they didn't have money to take me to the hospital, and as you can see, that didn't work out too well," James said, his voice breaking.
James' taste of tragedy at that early age was only just beginning. Two years after the accident, his mother died just days after giving birth to his sister.
"My aunt took care of me and my sister till we completed Junior High School. It was very tough growing up because she had lots of children of her own," he said.
James was born in November of 1989, in a small town called Koduakrom in the Tarkwa-Damang District of the Western Region. Together with his nine cousins, competing for meagre resources was a constant fight for survival.
"I used to crawl because until I went to Senior High School, I didn't have a wheelchair," he said of his childhood.
He navigated the early years of school successfully and completed his second-cycle education in 2007. But with no money to go further up the academic ladder, James took a decision to leave home -a tough one.
"Money was not the only reason for which I moved. I established a youth team there with U-10s, but my uncle used to discourage me. He would tell me that I'd break my hands, too, and then I'd have nothing with which to even crawl.

"He always knew the right thing to say to put me down. One day I just decided to pack my bags and leave for Kumasi to pursue my dream," James said with a smile.
A dream to become a football coach, that is, which began to take shape before long.
In 2007, James set up a colts team in the Tafo area of Kumasi, capital of Ghana's Ashanti Region, training players from U-10 up to U-17. Each evening after school for the last 10 years, Coach Sympathy would gather his players on the grassless, gravel playing surface at the Pentecostal Educational Complex.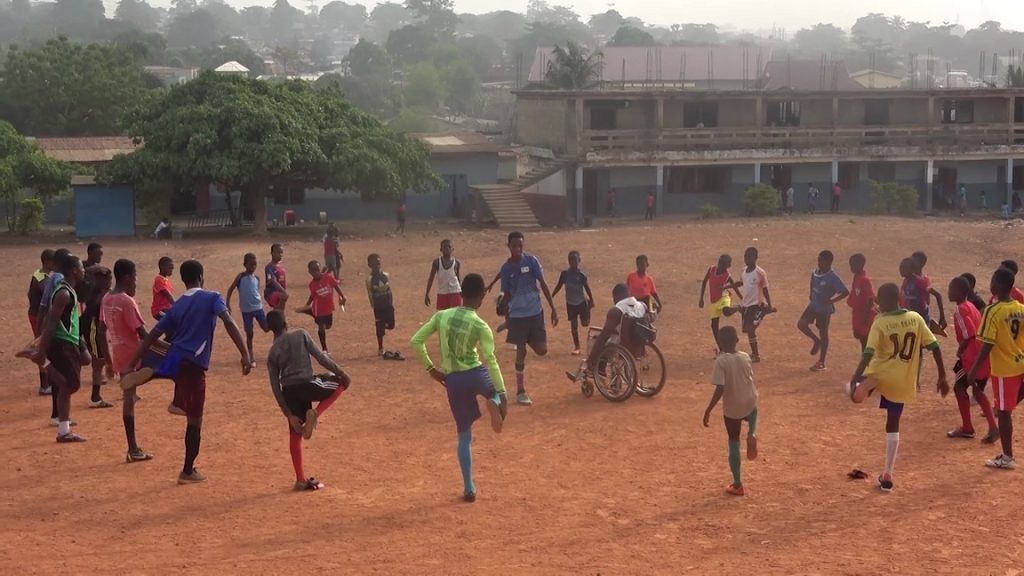 When I made the trip to Kumasi to meet James, he volunteered to come get me when I got off my taxi at the Pentecost School junction. At first, I smiled at what I thought was merely a kind gesture. But as we wriggled our way through the perilous traffic and crossed busy streets, I soon realized just how truly magnificent his offer was.
For 30 minutes each day – since he began training his lads – Coach Sympathy has navigated the road rash to get his job done.
"It's very dangerous moving through traffic because some of the drivers are very careless," he admits. "But I love what I'm doing and nothing will stop me. Working with children fills me with joy. When they succeed, it's like I succeeded."
James has changed wheelchairs since his first, with the latest a gift from a popular movie star.
"A teacher bought my first wheelchair for me. Before then, I used to crawl and children would run away whenever they saw me. But now they are used to me. The wheelchair I'm using now was acquired by actress Nana Ama McBrown after she learned of my situation."
Coach Sympathy takes his schedule seriously. I had been speaking to him for half an hour, but as the clock struck 4:00 pm, he stopped the interview to set up the day's training session. His kids — aged 10 to 14 — formed two lines of 5, facing each other.
Today's task?
A quick passing drill.
The training is competitive. Most of the kids have football boots on, but none with shin-guards. That did not stop the tackles from flying as Coach Sympathy barked out instructions from the touch-line.
He soon joined the action, serving as a neutral player available to receive the ball for either side that found him handy.
James has been working as an amateur coach pretty much all of his adult life. He tells me some of the boys he has trained have gone on to reach greater heights.
"One of my children was invited to the 2017 Ghana U-17 squad and plays at the Right to Dream Academy [an elite football farm in the country that enjoys partnership with, among others, English giant Manchester City] now. He didn't make the final list for the national team, but I was proud that he was even considered in the first place," he says.

"Another has got an opportunity in Europe and currently plays for a Division Two club in Portugal."
Back here in Tafo, training had gone on for nearly 30 minutes before I managed to pull three kids aside for a quick word.
"Coach Sympathy is different from all the other coaches. He doesn't discriminate, unlike my handlers in school. He will play you if you're good, no matter your age," Mandela Arhin, 13-year-old captain of the U-15 team relates.

"I like him because he doesn't only teach us football, but always reminds of the Word of God," Dominic Danso Mensah, 11, said of James.

"Sometimes when we go to play matches away, he uses his own money to buy us water or food," Devine Deku, a year older than Mensah, reveals.
It's not only the kids that have the lofty goal of playing for the bigger teams around the world, though. James speaks of his own dream of coaching and helping nurture young talents for Ghana's national teams.
In June 2017, he took a massive step towards achieving it when appointed the head coach of a Division Two club, KSV First Light FC, at Kasoa in the Central Region.
"I remember when I was being introduced to the players, everyone was wondering how a crippled person was going to coach them. I told them not to look at my disability but to judge me by what I can do.

"When I took charge at the end of the first round, they were 2nd from bottom, fighting relegation. By God's grace, when the second round finished, we had risen to 3rd on the table."
James' efforts have not gone unnoticed by his bosses.
"It was an amazing feeling. I was very happy with the way James turned things around," says Daniel Nii Tackie, Chairman of First Light FC. "In fact, he has injected a lot of positivity into my team and, everywhere we go, people are eager to come watch us."
The team is specifically located in Kojoku, not far from Kasoa. At first, the suburb appeared to be in the middle of nowhere. But football makes this place come alive. I tracked down two 17-year-olds who play under James' tutelage, Joseph Ephson and Eric McCarthy.
"I remember when the chairman introduced him, nobody was impressed. We thought the chairman wasn't serious. But after one training session, our opinions completely changed," Ephson confessed.

"He has added a lot of freedom to the way we play which has allowed us to thrive. The previous coach was a little too rigid," McCarthy said of James' style.
Joseph Abayertey is the head coach of Kojoku United, a team that plays in the division right beneath First Light's. He has known James for two years already, and he recounts how much influence the latter has brought to, not just First Light FC, but the whole Kojoku community.
"In this area, I don't think anyone can compare to him in terms of coaching. Every time we have a game, I call him to come watch, and his reviews have helped me a lot personally," Abayertey concedes with hardly a hint of shame.
James is active on Facebook with over 1,700 friends on the social networking site. On October 13, 2017, he put up a lengthy post and tagged the Facebook page of Nana Addo Dankwa Akufo-Addo, Ghana's head of state. In the post, he detailed the work he did and asked people to support in providing football equipment for the children he trains, urging others to share his post with their friends. No one bothered to -well, unless you're counting one comment and three likes.
"When I put that post up, I was expecting a lot of people to follow up and even offer help but nothing of the sort happened. However, as I always say, nothing will discourage me. I know one day my helper will come," James says, oozing sheer resolve and defiance.

"When I see disabled people begging, it breaks my heart; but it's understandable. It's not easy being in our situation. But I can never see myself begging on the streets. I will keep pushing until I succeed in this job."
The way I see it, he will. Much like his mentor Pep Guardiola, who redefined the way the modern game is played with his tiki-taka revolution at Barcelona, James will need something similar as he strives to achieve more with KSV First Light.
"I want to see my team play in the MTN FA Cup someday and do well there, while also trying to secure promotion to the Division One League. That's my target right now."
It was the American philosopher Andrew Bernstein who said: "Nothing is given to man on earth – struggle is built into the nature of life. The hero is the man who lets no obstacle prevent him from pursuing the values he has chosen."
He might have been describing James, a man who chose to traverse a field deemed a no-go area for people like him. But there's no stopping him now, is there?
On a wheelchair — even on his hands and feet — he keeps going.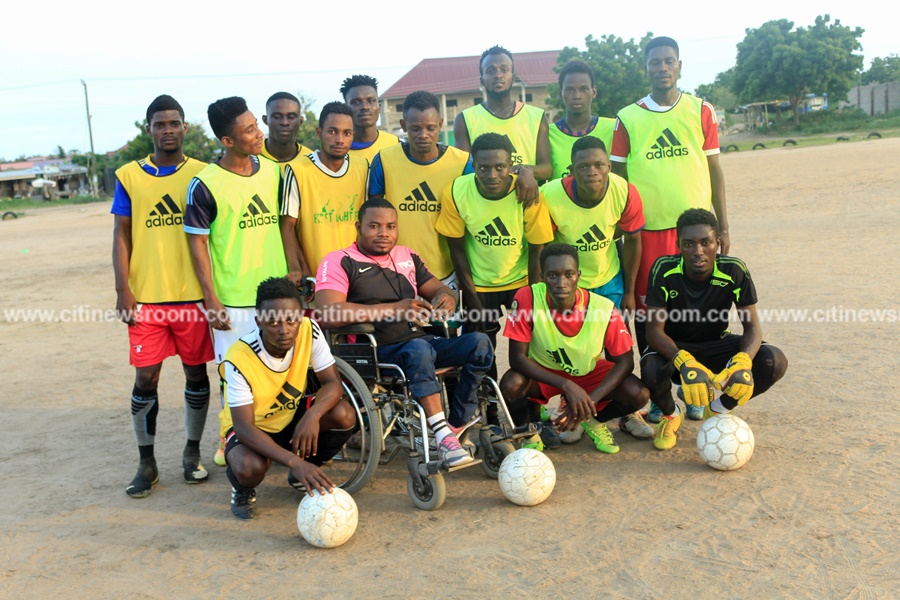 Photos: Yaw Antwi Owusu | citisportsonline.com | Ghana
Watch the full documentary below: