Liverpool manager Jurgen Klopp has been named Coach of the Year at FIFA's The Best Awards in Milan on Monday night.
Klopp had a brilliant year in charge of the Reds, guiding them to their sixth Champions League crown in May.
His side also finished with 97 points in the Premier League, just one shy of Premier League Champions Manchester City.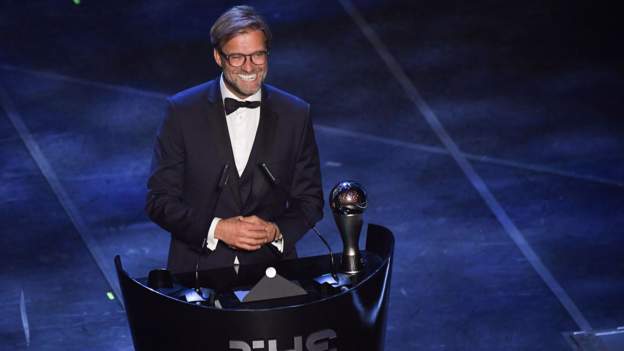 Speaking after being presented with his award, Klopp thanked Liverpool's owners and his players for the work they put into the Reds' successes over the last year.
"It is great, nobody expected this 20, 10, five, four years ago that I would be standing here. We know what an incredible job you [Mauricio Pochettino] did and what Pep did. I have to say thank you to my outstanding club Liverpool FC.

"To the owners thank you, they gave me an incredible team. I have to thank my team – as a coach you can only be as good as your team is. I'm really proud of being manager of such an incredible bunch of players. This is an individual prize, I don't 100% understand individual prize, I'm here for a lot of people."
Unlucky Pep
Pep Guardiola's dominant Man City side clinched their second straight Premier League crown in May after beating Chelsea in the League Cup Final.
They then became the first English club to win the domestic treble in a one-sided FA Cup final against Watford at Wembley.
Man City also reached the quarter-finals of the Champions League where they lost to eventual finalists, Tottenham.
Mauricio Pochettino was least-favoured to win the award after he led Spurs to the Champions League final and fourth place in the Premier League.
Daniel Zsori also picked up the PSKAS Award for the best goal while Silvia Grecco picked up the FIFA Fan Award.
Sari van Veenendaal, who won the Golden Glove at the Women's Wolrd Cup was named the Women's Best Keeper while  Leeds United and their manager Marcelo Bielsa picked up the Fair Play Award.