The duo of Divine Oduduru & Blessing Okagbare, have been disqualified from partaking in the 200m following their withdrawal from the 100m events.
They have also been automatically excluded from taking part in the relays which begin on Friday.
The duo pulled out of the 100m events despite confirming their participation and being assigned lanes, preferring to focus on only the 200m.
Their actions, however, contravene IAAF competition rules which disqualify athletes from competing in subsequent events at a competition if they pull out of one event after confirmation.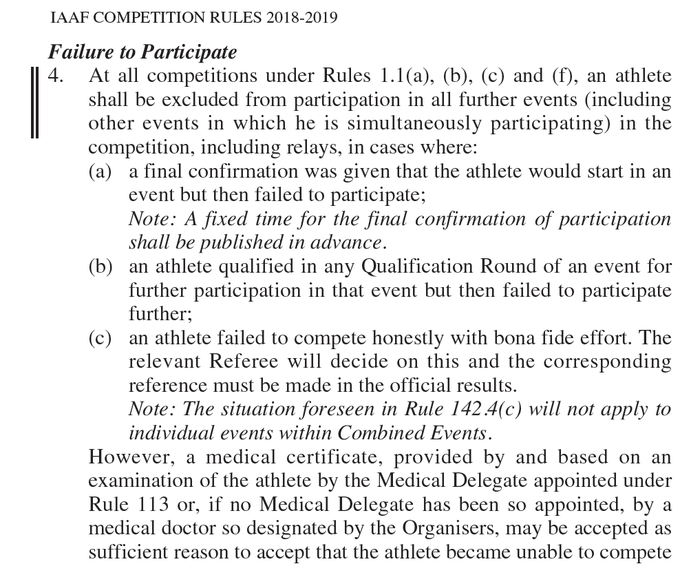 This means Oduduru will miss today's men's 200m heats which is scheduled for 17:05 GMT.
The news is an embarrassing turn of events for Athletics Federation of Nigeria whose complete unawareness of the rule has resulted in the athletes' disqualification.
Women's 100m final, 20:20GMT
After the drama of last night's men's 100m final, the women's 100m final will be expected to produce similar fireworks just before midnight as it's scheduled to come off at 11:20pm local time.
Before that though, the favorites will have to make the final first, with the semi final events scheduled for 3 hours prior.
Cote d'Ivoire's Marie Josee Ta Lou, after narrowly missing out on gold at the last Championships, will be hoping to make amends in a field that also includes multiple world championships gold medalist Shelly-Anne Fraser-Pryce, double Olympic gold medalist Elaine Thompson and defending Champion Tori Bowie.
Country woman Murielle Ahoure and Gambia's Gina Bass will also be out to make the continent proud.
Other events to keep an eye on in Day 3 includes the men's 800m semi finals and the 4*400m mixed relays final.