GFA Presidential aspirant, Fred Pappoe, has denied falling out with former GFA boss, Kwesi Nyantakyi.
Pappoe, an Accra Great Olympics Board Member, worked under Kwesi Nyantakyi as GFA Vice President from 2005 to 2010 before leaving the post after the World Cup in South Africa amid rumours of disagreements between the pair.
Speaking on Citi TV's The Tracker, Pappoe cleared the air on his relationship with the former GFA Boss and even went as far as describing himself and Mr. Nyantakyi as friends.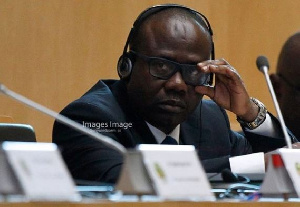 "There has never been a fallout with respect to my relationship with Mr. Nyantakyi, we had a very good cordial working relationship to quite a great extent"

"It depends on what you describe as friends, I think we were friends but there are levels of friendship"
Fred Pappoe and 5 others are contesting for the position of the GFA presidency which will be decided on October 25, 2019.
He launched his manifesto on Thursday in Accra and he stated his vision to take care of Ghana football under his 5Rs: recover, restore, redeem, repair and revive Ghana football.