Paraguay vs Argentina
Diego Duarte's 86th-minute winner put an exclamation point on a stirring comeback for Paraguay, who vanquished Argentina 3-2 on Thursday in the Round of 16 at the FIFA U-17 World Cup Brazil 2019™.
Behind 2-0 at half-time, La Albirroja netted three times while shutting out their South American rivals in the second period. Paraguay will move ahead to the quarter-finals, where they are pitted against the Netherlands on 10 November in Vitoria.
Paraguay
The first half brought plenty of trouble for the Paraguayans, who struggled to keep Argentina's playmakers under wraps. Exequiel Zeballos and Matias Godoy scored 15 minutes apart to give the South American champions what looked like an insurmountable lead three minutes from half-time.
Then Paraguay came out of the dressing room with an attacking fire, unlike anything they had shown in the opening period. Substitute Matias Segovia's energy forced Argentina's own goal in the 58th minute.
Fifteen minutes later, Diego Torres skilfully turned and fired from the top of the box to beat goalkeeper Rocco Rios.
Duarte's decider ticked the boxes of expert No9 play: he chased down a ball played over the top, outmuscled and turned his defender, then blasted a shot past the goalkeeper.
Argentina
Argentina bested Paraguay 3-0 during this year's South American Championship back in April, and for a time it looked as if La Albiceleste could be on their way to a similar result.
Zeballos put his side in front with a far-post header in the 27th minute, speeding to connect with Luciano Vera's service. Matias Godoy shook free of his marker to convert inside the box in the 42nd minute, doubling Argentina's advantage. But when the Paraguay rally began during the second half, Argentina had no answer defensively.
Rios did well to deny what could have been La Albirroja's fourth goal in the second minute of second-half stoppage time.
Stunned at the full-time whistle, the Argentinians will have to keep waiting for their first FIFA U-17 World Cup title.
Ecuador vs Italy
Substitute Gaetano Oristanio's swerving free-kick goal in the 76th minute pushed Italy past Ecuador 1-0 in Round of 16 actions on Thursday at the FIFA U-17 World Cup Brazil 2019™.
Italy's No20 lined up from 35 yards and imparted significant left-to-right movement on the ball, confounding goalkeeper Joan Lopez as the shot settled in the back of the net.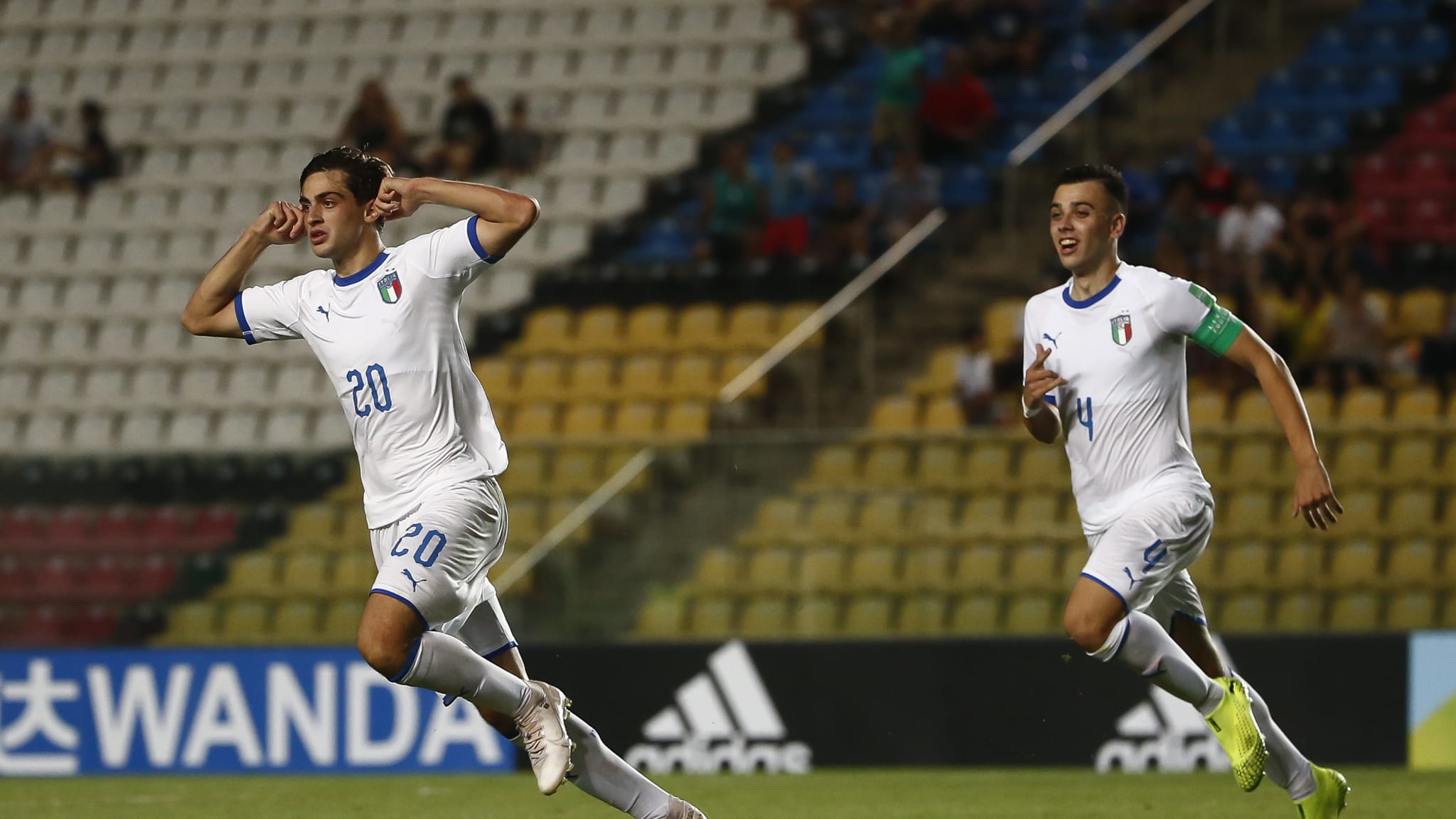 The Italians' triumph sets up a meeting with hosts Brazil in the quarter-finals on 11 November at Goiania's Estadio Olimpico.
Italy
It was an even match-up overall, though Italy enjoyed the better chances in the first half due in large part to some defensive lapses from their opponents.
Ecuadorian defender Hanssel Delgado twice lost possession playing out of his own penalty area, and the first time Nicolo Cudrig forced a close-range save out of the Ecuadorian goalkeeper.
Degnand Gnonto intercepted a botched pass from Lopez in the 40th minute and fired on an open net from 40 yards, but his shot skidded wide right.
Finally, Gli Azzurrini found their second-half hero in Oristanio, whose free-kick thoroughly vexed the goalkeeper.
Ecuador
The tie turned completely in a span of two minutes for La Tri. When Italy defender Matteo Ruggeri appeared to drag down Roberto Cabezas in the box, Ecuador was awarded a penalty in the 75th minute.
The call on the field came under VAR review, however, and was overturned.
The South Americans conceded seconds later, reversing what was otherwise a superior second half.
Ecuador comes up short in its bid for a quarter-finals berth.