Jordan Ayew's goal for Crystal Palace against Brighton did more than just hand the Eagles three points this weekend.
It also took him just one behind Anthony Yeboah – Ghana's highest ever scorer in the Premier League.
The goal was Jordan's seventh of the season and, perhaps even more importantly, his 23rd overall in the Premier League.
Tony Yeboah's tally of 24 Premier League goals is the highest ever notched by a Ghanaian.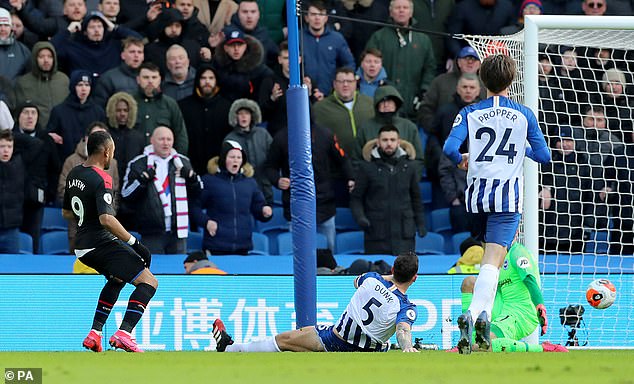 Jordan passed his brother Andre's tally of 21 goals when he scored Palace's leveller against Arsenal in January.
His 23 goals have come in 127 appearances in the Premier League.
He amassed his tally playing in the English top-flight with Aston Villa, Swansea City and Palace.
He scored seven goals in his first season in the Premier League with Villa before netting once in the 2016-17 season while at Swansea.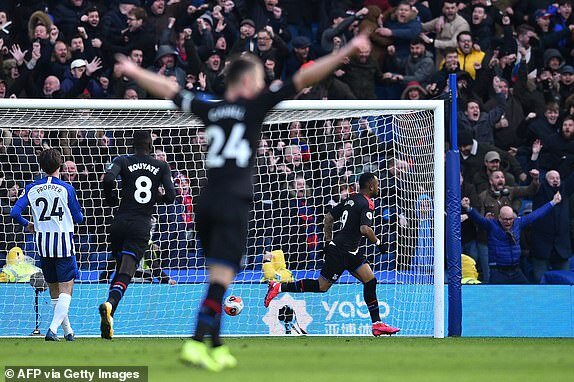 The next season he scored seven more for the Welsh club.
He earned a loan move to Palace after Swansea went down to the Championship but endured a difficult goalscoring season, finding the net just once in 20 appearances.
Jordan is now two goals clear of his brother Andre Ayew, who scored 21 times for Swansea and West Ham while in the Premier League, although Andre scored his in considerably fewer games.
He'll be hoping to match or even surpass Anthony Yeboah's tally of 24 goals in 47 appearances for Leeds United.
Yeboah scored 12 goals in each of the 1994-95 and 1995-96 Premier League seasons.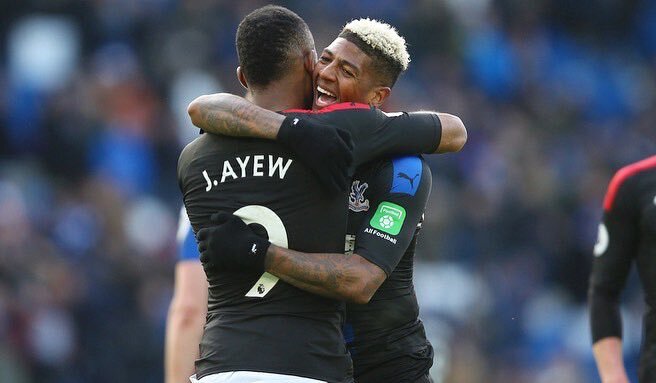 Top five Ghanaian goalscorers in the Premier League
Anthony Yeboah – 47 appearances – 24 goals
Jordan Ayew – 127 appearances – 23 goals
Andre Ayew – 89 appearances – 21 goals
Michael Essien – 168 appearances – 17 goals
Asamoah Gyan – 34 appearances – 10 goals
Take a look at Jordan's goal below:
🤩 How many times have you watched this?#CPFC pic.twitter.com/jlAtFdVl98

— Crystal Palace F.C. (@CPFC) March 1, 2020
Jordan Ayew's career in the Premier League
2015-16 – 30 appearances – 7 goals (Aston Villa)
2016-17 – 14 appearances – 1 goal (Swansea)
2017-18 – 36 appearances – 7 goals (Swansea)
2018-19 – 20 appearances – 1 goal (Crystal Palace [loan])
2019-20 – 27 appearances – 7 goals (Crystal Palace) – **current season
Games Ayew has scored in this season
Man United 1-2 Crystal Palace
West Ham 1-2 Crystal Palace
Arsenal 2-2 Crystal Palace
Crystal Palace 2-1 West Ham
Crystal Palace 1-1 Arsenal
Brighton 0-1 Crystal Palace
Ayew and Crystal Palace's remaining Premier League games
Saturday 7 March 2020 – vs Watford (H)
Saturday 14 March 2020 – vs Bournemouth (A)
Saturday 21 March 2020 – vs Liverpool (A)
Saturday 4 April 2020 – vs Burnley (H)
Saturday 11 April 2020 – vs Leicester City (A)
Saturday 18 April 2020 – vs Chelsea (H)
Monday 27 April 2020 – vs Aston Villa (A)
Saturday 2 May 2020 – vs Manchester United (H)
Saturday 9 May 2020 – vs Wolverhampton Wanderers (A)
Sunday 17 May 2020 – vs Tottenham Hotspur (H)