Former Barcelona star, Ronaldinho, has had a tough time lately, spending a month in a Paraguayan jail for entering the country with a fake passport.
His career also fizzled out long before it was expected to and he was nowhere near the dazzling player he had once been.
However, at his peak, Ronaldinho was unstoppable.
He had a storied career that spanned just over two decades, playing for some of Europe's biggest sides including Barcelona and AC Milan.
He enjoyed the most successful period of his career at the Catalan club, where he scored 94 goals and assisted 71 more.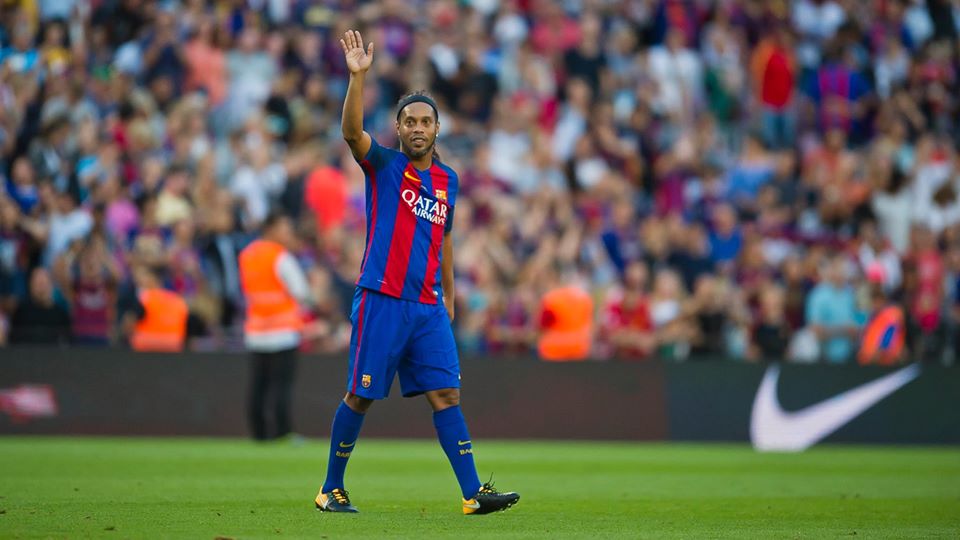 He was also named the World Footballer of the Year in 2004 and 2005, winning the Ballon d'Or in 2005.
Ronaldinho's love for the game was apparent every time he took to the field, with his famous smile remaining in place as he danced past markers, rolled away from tackles and made almost impossible passes.
Before Neymar and Messi, Ronaldinho was the ultimate entertainer and remains untouched by either of them in terms of pure genius.
A two-minute video, posted by Twitter User, AllThingsSeleção captured some of Ronaldinho's best moments of the field and perfectly encapsulated why the Brazilian was loved by all in his heyday.
On Twitter, some people admitted that watching Ronaldinho was what got them to love football while others were just in awe of his brilliance.
I'm sorry but, for me, the greatest player there's ever been. Pure entertainment and brilliance, no one comes close.

— AJ Daghorn (@ADaghorn) May 22, 2020
Amazing player!! Sadly he wasn't at the top for too long ,while he was at his peak he gave us so many moments

— Muna Andolini🍁 (@munacorleone) May 22, 2020
This was the man that made me fall in love with football, used to be a barca fan just cos of him

— E (@Eben_Ik) May 22, 2020
This guy made me fall in love with football 🔥

— D!M 🙂 (@dimheyji) May 22, 2020
One of the best players I've ever seen 🔥most entertaining ever

— JD (@JD___8) May 22, 2020
Absolute joke , what a player

— tony gravelwoodcarsales (@tonygravelwood) May 22, 2020
Ronaldinho was never about goals, he wasn't goal hungry, he was a team player who got more pleasure in playmaking
He scored when it mattered in his prime, cut it short on a difference making level he was on a Neymar & Messi level.

— Tiger (@Tiger30653273) May 22, 2020
Check out the video below:
Ronaldinho could do almost anything he wanted with a football.

This stats obsessed era will never truly appreciate his genius. pic.twitter.com/p2mgz7VDc9

— AllThingsSeleção ™ (@SelecaoTalk) May 22, 2020
More from Citi Sports