Lazio defender Patric has been banned for four matches and fined 10,000 euros after he was sent off for biting an opponent in a Serie A game.
Patric was captured sinking his teeth into the arm of Lecce player Guilo Donati.
The referee did not see the incident but sent off Patric after a review by the Video Assistant Referee (VAR).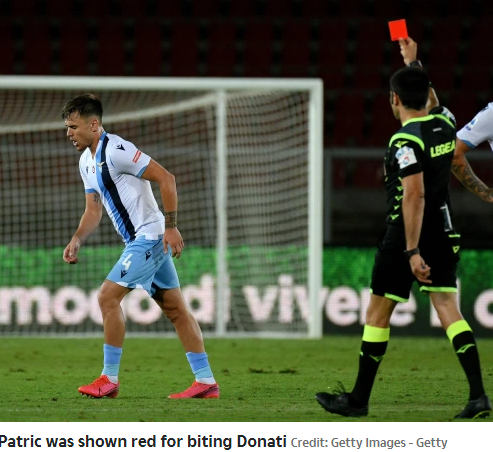 Second-placed Lazio who has been seriously challenging Juventus for the title prior to the lockdown have fallen off the pace since the resumption of the season.
They are now seven points of the top having won just two out of their five matches since the restart, including last night's 2-1 loss to Lecce.
Patric will now miss Lazio's crucial encounter against Juventus later in July.€
Take a look at a video of the incident and the reaction on social media below.
Kejadian dini hari tadi saat Lazio bertemu Lecce,

bek Lazio Patric kedapatan menggigit Giulio Donati.

Apa itu corona 👀pic.twitter.com/wTHseB8wsZ

— Takisho ID (@takishoID) July 8, 2020
@RonnieStokie the Italian spurs 😋

— Phillip Pritchard (@TweetPhillip) July 7, 2020
One of the worst players I have ever seen, hopefully he's banned for the remainder of his contract

— Dave Stacey (@Dave_Stacey87) July 7, 2020
@csilvestre09 @strazzy7 so dumb

— Donato Daniel Grossi (@Donatog87) July 7, 2020
mate, even I wouldn't mind to bite some donati pic.twitter.com/QEZrMsyLSe

— Castelldefels Citizen (@alexkiryutin) July 7, 2020
Suarez has had some impact on the Football world.

— Himmatt.🇾🇪 (@FootyHimmatt7) July 7, 2020
Suarez is proud

— shwn ➐ (@Totaldeligt) July 7, 2020
Someone give Patric a snack ffs
man is hungry pic.twitter.com/3LgZxxGSls

— Karim (@Futball_Karim) July 7, 2020