Thiago Silva
Chelsea's defense was the butt of too many jokes last season and every bit of the jest thrown at them was justified.
Led by Azpilicueta at the back Chelsea conceded 54 goals which ranks in the bottom half of the league despite an elite offense.
It's safe to say that had Chelsea shown more resilience at the back their story would have been much different.
This perhaps prompted Chelsea to break their own rules to bring in a 35-year-old center back Thiago Silva who is regarded as one of the best of his generation despite being on the wrong side of his career.
His pace has deserted him, thus positioning, game reading, and leadership will be the main tools on which he will rely to help stabilize this backline.
Despite all the years of winning and basking in the spotlight as one of the world's best defenders in the last decade at Milan and PSG, he faces his most competitive season yet as a professional.
It will be interesting to observe how he navigates his first few weeks in the league due to the language barrier especially in perhaps the department of the pitch where it is required the most.
He isn't Chelsea's most glamorous signing this season but based on their numbers in the defensive department might be their most important if he can live up to his reputation. All eyes are watching
Harry Maguire
Despite a debut season that was riddled with individual errors Harry Maguire, the world's most expensive defender featured in a Man United defense that ranked 3rd at the end of the campaign.
Fans waited all season to witness a lot of the attributes that endeared him to Man United during his Leicester days but waited in vain.
The marauding runs through the middle, the long searching passes upfront to initiate attacks as well as the aerial dominance were all missing as he was seen on countless occasions blaming teammates for breakdowns he was responsible for.
It doesn't help his case that he spent his holidays getting arrested in Greece, shouting obscenities at police personnel, and attempting to bribe his way out. A new season means heightened expectations from fans and most of all from himself.
His price tag might suggest that he is the best defender in the world or among the best but it remains clear that he isn't even considered the best defender in his team. That needs to change.
James Rodriguez
There was once a time when James was the top scorer in the world cup, scored the best goal, and was named among the team of the tournament but all that seems like a lifetime ago.
His talent has never been in doubt despite troubled spells with Real Madrid and later Bayern Munich. However, the third reunion with Carlo Ancelotti, the one man that has proven to know how to maximize his skillset should revive the beast in him.
Set to feature in a new-look Everton midfield the Toffees look ready to take the next step as a team and possibly fight for a top-four spot.
All that will be heavily dependent on the Columbian's ability to adjust to life in the Premier League because he is regarded as a superstar talent. If he does be ready to be treated to jaw-dropping goals and defense splitting passes.
Nicholas Pepe
His flamboyance isn't in question and certainly not his technique but when Arsenal, a team that barely spends big go out of their way to splurge 75 million euros they expect that you are a major change agent for their project.
He wasn't expected to surpass the 22 goals and 11 assists that attracted the Gunners to him in his last season at Lille but 5 goals and 6 assists were certainly underwhelming.
Occasionally he pulls off plays that wow the audience but if he is to become an integral part of Arteta's team going forward he will need to put all his qualities together and chain together a good stretch of games where he is either scoring, assisting, or is the man behind the assist.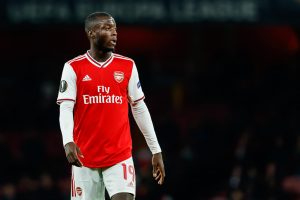 He is capable but needs to be more aggressive and put himself in a position to become a bigger part of the team's game plan.
If he takes his game up another level and can double his numbers from last season Arsenal are likely to make progress on their 8th placed finish.
Wilfred Zaha
If Arsenal had more financial wriggle room Nicholas Pepe would probably still be at Lille while his Ivorian counterpart Zaha would be linking up with Lacazette and Aubameyang.
Crystal Palace was confident that they could earn a fee in the region of 80 million pounds for the speed demon. That is how valuable he became to the franchise and teams seeking a player that can create and score in equal measure.
However, the form and game-changing ability has slowly diminished since the 2018/2019 season. His 10 goals and 5 assists were a major reason why a team that limped through the season still managed a respectable 12th place finish.
In the 2019/2020 season he recorded 4 goals and 3 assists.
Truth be told Zaha has a few levels to go if he wants to rub shoulders with the best in the business but he has also shown that when in the mood he can single-handedly take over a game.
Those moments though are few and far between.
His inconsistent and indifferent displays have ensured that he isn't even the best player at Palace any longer.
He is fast becoming a forgotten man in a Palace team that already lacks depth and that can't be good news.
He has started the new campaign on a positive note by scoring in the first game of the season where he looked more involved and willing.
He will have to maintain the momentum if he still harbors hope of leaving Crystal Palace for a team competing in the Champion League.