Chelsea have had a mixed start to the 2020/21 season.
Big wins over Brighton and Crystal Palace in the Premier League have been offset by a loss to Liverpool and shock draws with West Brom and Southampton.
An exit from the League Cup at the hands of Tottenham and an opening night draw in the Champions League with Sevilla on Tuesday night has turned what looked to be a promising season after a summer of spending slightly sour.
Chelsea fans who had been the happiest bunch you could find around after the splurge are struggling to understand how their side isn't running away with certain games despite having the better players in most of them.
Tuesday night's draw with Sevilla had some Blues fans fuming, with a few aiming some criticism at the manager, Frank Lampard, for some choices they deemed poor.
A few of them have started calling for his head while many believe that if the team's results and performances continue to disappoint, a change is inevitable at Stamford Bridge.
With Chelsea set to face Man United in a huge match on Saturday, most fans are apprehensive, particularly after United manager Ole Gunnar Solksjaer finished last season with a superior record against Lampard.
Here are the major changes the fans expect from Frank Lampard lest he meets the same fate as most of his predecessors at the club.
Don't bench the club's best wingers
Following the departures of Willian and Pedro in the summer, a lot of Chelsea fans were hoping to see Christian Pulisic and Hakim Ziyech terrorising teams down the flanks. Injuries to both players meant that that fantasy had to be put on hold for a bit.
The club's third winger, Callum Hudson Odoi was expected to be called on to fill either of those gaps. Lampard, however, opted to go with Mason Mount, Kai Havertz and even Timo Werner on the wings. Of the six matches Chelsea have failed to win this season, Hudson Odoi has started only one; the Carabao Cup loss to Tottenham.
Most fans believed that it was unpardonable for Lampard to leave his only available winger on the bench for most of these games, and play other players out of position. Against Southampton in the Premier League, Lampard started Pulisic and Mount out wide, bringing on Ziyech with 18 minutes to play – Hudson-Odoi remained on the bench.
Against Sevilla, Mount and Pulisic were started in the wings by Lampard with Ziyech replacing the Englishman in the 62nd minute and Odoi taking the American's place in stoppage time. The argument raised is that players forced into wide positions are always drawn back into the middle putting more pressure on the full-backs to go higher up the pitch, leaving huge gaps in the defence. And Chelsea really can't afford any more gaps in their defence, can they?
Don't start Mount in every game
Coaches always have favourites and there's no doubt that Mason Mount is Frank Lampard's. In fact, Mount has started every one of Chelsea's eight games so far this season, along with a couple of caps for the English national team. This trend has led to a number of Chelsea's fans accusing their manager of favouritism.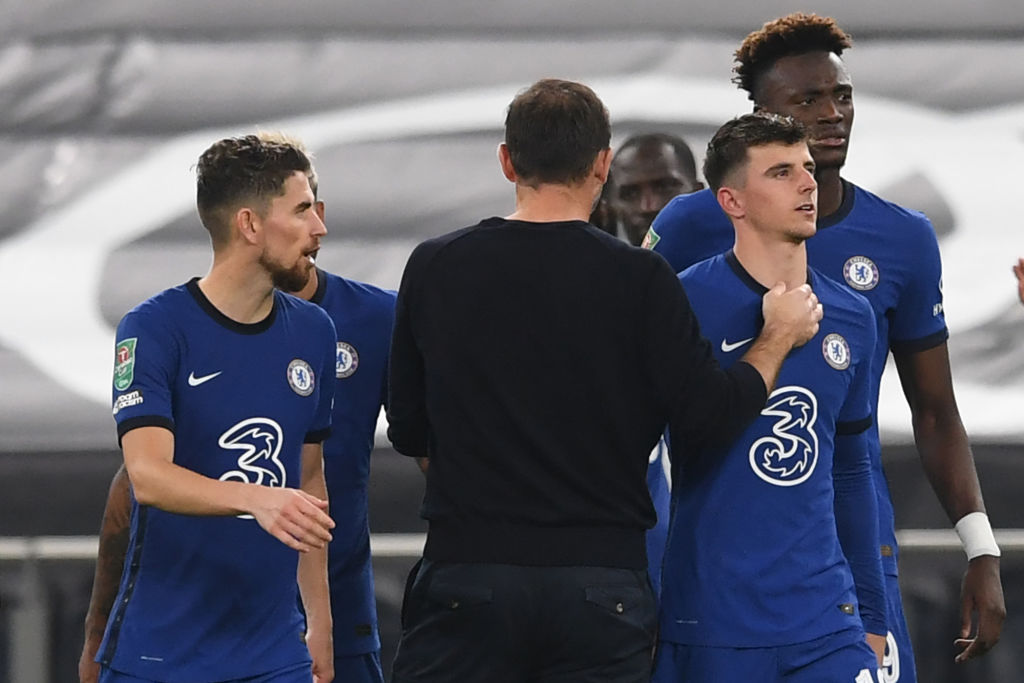 They believe Lampard's unwillingness to drop the player is creating an imbalance in the side, with other players being shunted to uncomfortable roles or left out of the side completely to accommodate him. At the start of the season, new signing Kai Havertz found himself on the right side while Mount played as the central attacking midfielder.
A few fans have also expressed concerns about the player's fitness, arguing that his performance levels have dropped in the last few games, perhaps because of fatigue. The player's work rate has constantly been praised by his managers at club and national level but a lot of Chelsea fans are not convinced that he's as crucial to the team as they're being made to believe. Mount missing the deciding penalty in the Carabao Cup loss will certainly not have endeared to any of his critics.
Don't play Christian Pulisic out of position
Christian Pulisic was Chelsea's star man last season, when he was fit anyway.
Chelsea fans were thrilled when he was handed the number 10 jersey and were looking forward to him tearing up their left-hand side like he did last season. However, injuries and a lack of fitness have forced Lampard to limit Pulisic's gametime this season. His first Premier League start came against Southampton at the weekend and he followed that up with another start against Sevilla on Tuesday.
While he showed flashes of the brilliance Chelsea fans have come to expect from him (including a very crucial role in Chelsea's third against the Saints), he was still not the unstoppable force he's used to being. One thing Chelsea fans have pointed to as a major reason for this is the fact that Lampard started Pulisic on the right wing for both those games. Mason Mount (yeah, we're back on him) has been preferred on the left-wing in both of those matches to the anger of Blues fans. It's often left Pulisic cutting onto his weaker left foot, when we know that despite his proficiency with both feet, he'd much rather cut onto his right, and often to devastating effect.
Stop making substitutions when it's too late…and make better ones
One criticism of Lampard's reign as Chelsea manager is his hesitancy in making changes to his team when things aren't going well. He's often accused of making a change where's no chance of it making a difference. Take the Sevilla game for instance; Lampard brought on Ziyech for Mount in the 62nd minute and Kovacic in the 65th but waited until stoppage time to replace the obviously fatigued Timo Werner with Tammy Abraham, and Pulisic, who had not had much luck on the night, with a fresher Hudson-Odoi. Neither of the two more important subs was given much time to actually make an impact.
It's not just the timing of the subs that's peeving fans but the kind of subs being made as well.
Against West Brom, Lampard responded brutally to being 3-0 down at the break by hooking both Alonso and Kovacic for Azpilicueta and Hudson-Odoi. Two goals later and with Chelsea looking like they would steamroll the Baggies and win, Lampard decided to bring on Olivier Giroud for Thiago Silva in the 73rd minute. While the change was obviously an attacking one, it completely unbalanced the fine shape Chelsea had picked up since the break. As such, they struggled to create as prolifically as they'd been doing before the substitution and only ended up with a very late equaliser instead of the win that had seemed more likely earlier.
'Super Frankie' Lampard might be a legend at Chelsea but even his legendary status might not save him from the wrath of Chelsea fans if he can't get his side to start picking up consistently positive results soon.
Blues fans are used to winning but they aren't doing a lot of that recently. It's only a matter of time before they crack and start baying for blood. And, more often than not, it's the manager who bites the dust.
READ ALSO: