Football is a short career.
Some make the most of it; many others leave the scene with no trace of their sweats on the badly beaten grass playing surface.
In 2016, Philip Aseweh was on the books of Ghana Premier League side, Medeama Sporting Club, with big dreams of making it out of the rugged fields of Tarkwa back onto the lush fields of Europe. It's a dream he has nurtured as long as he can remember.
But dreams don't always come true. This reality dawned on Aseweh at age 27. This is the age professional footballers are supposed to be at the peak of their prowess but he had seen enough and called it quit at the end of the 2016 season.
With his football career taking a nosedive, Aseweh began to explore other means of making a living, and that's how PA Gym was born.
"I stopped playing the game because life happened and football is all about opportunities and sometimes you are fortunate to get these opportunities to come your way and other times you don't. You basically work hard to get these chances but sometimes they don't come by.

I think for guys like me, I am fortunate because I have an education and it is always an opportunity to have that in your closet so if football does not work out, you have something to rely on.

I stopped football also because time was going, I was not growing any younger and I had to pull my life together but it was a tough decision to stop playing the game officially but I am glad I made that decision".
Education had always been the priority of the ex-footballer, but despite achieving good grades in school, he needed football to be able to travel out of the country to pursue an undergraduate degree in accounting.
"I had my secondary education in Pope John Senior High School, and so I am a proud Pojoba and after Pope John, I had the opportunity to go to the United States of America through a man called Prince Owusu who has coached several clubs in Ghana like Tema Youth, Medeama SC and he is now with Vision FC.

So it was through him I had the chance to go to Virginia Tech and that is where I started my undergrad, I did a year there and then transferred to Liberty University and it was there I played three seasons and then won the big south championship in my senior year.
Despite playing football on a regular, he remained diligent in his books and graduated with first-class honours in 2012 with a CGPA of 3.62 from Liberty University.
"I think I did well in school because of the structure these American colleges have in place. Back then, all you think of is training hard and playing the game.

Before every game, your kits are already prepared for you so you are fully focused on the game, and over there, before every semester, you have an outline of everything, from when you train to games so you talk to your professors and then you take tests and exams before everyone or everyone else.

Despite the structure, you are made to understand that you are a student first before an athlete and that was something I had left during my years in Pope John. So over there, before you are even allowed to compete, you have to make a certain grade.

Despite the minor challenges, the feeling and treatment were very professional and you could always thrive".
After school, the then forward was determined to make the cut in football. He got drafted in the Major League Soccer supplementary draft in 2012 but things did not work out too well for him.
"It was true that I got drafted into the MLS supplementary draft in 2012 by Houston Dynamo and I played there for about two months and things didn't turn out as expected.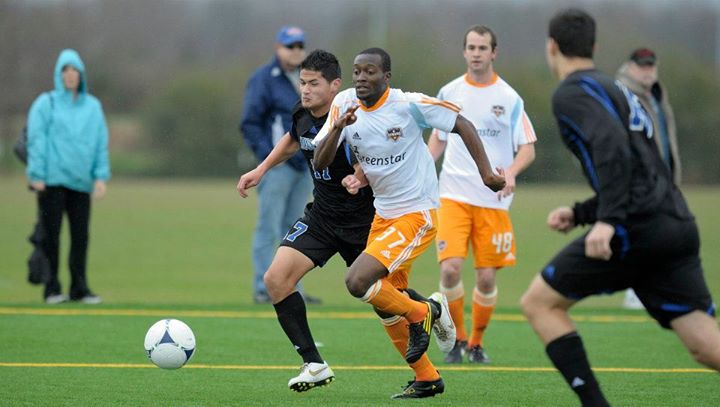 You know how these things are, you come out from a less popular school and there is always the issue of the cap space. These teams have a number of foreign nationals they are supposed to have, so they always preferred players in and around the Americas and a team like Houston always think through the lines of marketing and all".
With time ticking on his stay in the United States of America and not getting into Houston Dynamo, Aseweh decided to go to Europe to try his luck, a decision which only landed him back in Ghana.
"After everything, I realized I had about three or four months on my visa to expire, so I decided to go and try my luck in Europe, so I went to Lugano and at that time, I really wanted to go professional.

Honestly going to Switzerland was a gamble and you know very well that if you leave, you are not coming back. I left with the intention of making it, and I was also young so it was good to actually try my luck.

Things did not really work out there, and so I had to come back to Ghana. I was disappointed back then but with the way my life has turned around, I think it is all good".
With an expired American visa and not getting the needed opportunity with the Swiss side, Lugano, the forward decided to relocate and join his family back in Ghana and try his luck in the country of his birth.
"After my episode in Europe, I moved to Ghana and about that time, coach Prince was handling Dawhenya United, and so he told me to come train with them in order to keep fit and wait for an opportunity to come knocking.

It was not easy when I was with the team. I lived around Lakeside at Ashaley Botwe, and I always had to drive hours to meet up with my teammates, and I was doing all of that by myself and these teams cannot really pay you much, so I did it for the passion.

After the preseason training, the coach told me to sign up with the team, and so I did, and we played very well. We actually went unbeaten for the season and also had a very good run in the FA Cup. We actually got knocked out in the round of 16 by Aduana Stars by a lone goal at Dormaa.

In the team, we had guys like Moses Sarpong, Amoako Kwame Antwi, Abass Mohammed, Moro Salifu, to mention a few.

After that season, I moved to Medeama after Coach Prince got the job to lead them".
Aseweh joined Medeama with the hope that it will unlock bigger opportunities for him.
Moving to Medeama was a bit of a cultural shock to me because of the environment I was used to in the US.

Over there, everything is prepared for you but here, you have two training gears, and after every session, you have to wash your own things and reuse.

I had to cook, go by the roadside and wait for the team bus and it was a totally different experience from what I knew.
According to Prince Owusu, his coach at Dawhenya United, he acquired the services of Aseweh because he was the player he needed to compliment his striker.
"Philip is a very smart player, because of his education, he played with his brains and not too much of the physical side and it put him above all his colleagues.

I always used him as a second striker and that worked very well for me. He could pass the ball very well, and he had great pace too, which was important for me".
The lanky centre-forward made 20 appearances in his first stint with Medeama and five more in the second season. He could not manage a goal but provided eight assists during his two seasons with the Mauve and Yellow lads.
"The Ghana Premier League is tough and a bit brutal when you look at the turfs these players have to play games on.

These pitches are not good enough for any professional to play on. These turfs do not promote the quality and players cannot basically grow and learn the game better in these fields.

When you come from a place the pitches are great, you will usually take just a touch or two and move the ball quickly but not in Ghana.

Sometimes, you will see the ball coming alright, but it will hit a stone or an object and the ball will take a different turn which makes it difficult to control.

All these things make the games a bit slower and the way the pitches are, it makes it difficult".
The Ghanaian believes every team in the league is on level ground and teams have a better chance of winning when they play at home than away.
"I did not have a difficult game in Ghana, all the games are pretty much standard and when you observe the league logs, you can tell.

You often win at home and lose away and that is how the game is set up and so if you lose a game at home, you risk going on relegation".
Philip Aseweh, after hanging his boots now runs a fitness gym and says he is leveraging on every opportunity that comes his way.
"Life is all about opportunities and I have not left completely what I studied in the university. It is all about leveraging on the exposure you get and what makes businessmen gain is identifying a problem and solving it: That is exactly what I have done here. I saw a problem and I solved it.

Running a business like this is as difficult as running any other job. You have people coming at you to get freebies and others trying to cut corners or to take advantage of the system to their benefits.

Sometimes it's exhausting and you wouldn't want to engage with people anymore but that's the job, you just have to do it and then meet their needs and wants with regard to the work we do here.

So in all, we just put in place the right equipment and structures, so they will always come asking for more and that is what we have here.
His coach, Prince Owusu does not think Philip Aseweh made a wrong decision after hanging his boots and describes the player as a role model to his colleagues who have continued playing football.
He is like a son to me and I don't think he made a wrong choice at all. In fact, he is a blessing to his colleagues because he is helping them with investing their funds among many other things.

He is a great guy and that is his greatest asset.
The ex-Medeama forward now has a wife and a daughter and says balancing work and family is fun.
"Balancing this job and work is fun. When we started this business, my wife and I used to be here often before she got pregnant and had to stay at home.

I have her by my side, and she is the talker, and so she does well with relating to the customers and engaging with new people.

But now we have a baby and so when it's my break time, I rush home and spend time with my family and when I don't have to be here very early, I love the feeling when she wakes up with a smile, and she is always bubbly so it's a good time for me and this is not a thing you would not want to miss out on".
The one-time MLS drafted player says he is not returning to the game again: not as a player or a coach, but he still plays with Monday Stars to keep himself fit.
"I am not returning to football. When I text with my friends, they always go like when are you coming back, we want to see you score goals again and all but I tell them that I am done with it.

I really don't miss football and when I made the decision to quit, that is it. You have no idea what it takes to get into games, psyching yourself.

Team owners always try to extort from you and all. So that's part of my decision to quit.

But I have not lost touch with the game totally, I sometimes go and train with Monday Stars and all.

Currently, also, I help my colleagues in investing after football, and I am available to them.

Most of them sweat their blood out and only to be ripped off here. I try and present them with opportunities with business investments and all.

I am also back in school, doing my masters at the University of Ghana studying international business at the school of business just to upgrade myself".
Aseweh may have no interest in returning to 'beautiful game, but he is inadvertently contributing to the game in many ways than he is aware himself, with his gym providing work out opportunities for both current and future footballers.
The perception about Ghana Premier League players has often been negative, especially when their abilities outside the football pitch are discussed. But Aseweh has carved a way, an exception that has become an example that is will be a reference for many years to come.