Officiating has come under the spotlight in recent weeks, with many referees in various leagues around the world including the Ghana Premier League and the Premier League in England being massively criticised for errors.
However, not even the referees would have failed to award a red card for this outrageous tackle.
Paulo Otavio's Wolfsburg side were 2-1 down with all three minutes of added time played.
After Wolfsburg's goalkeeper had gone up for a late corner, Hoffenheim won the ball back and countered.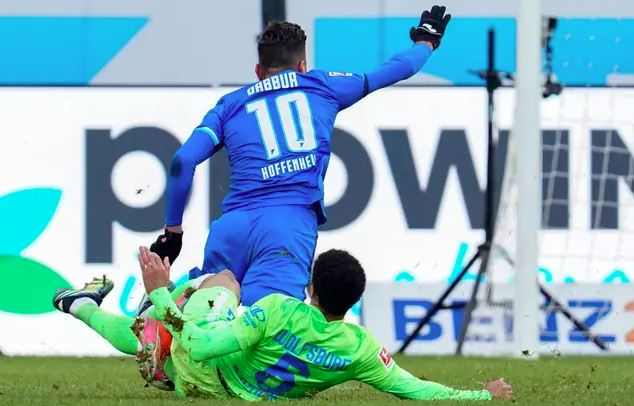 Mu'nas Dabbur led the charge sprinting forward towards the empty goal while he was chased down by Otavio and the backtracking keeper.
However, Otavio, sensing a lost cause, lunged forward with both feet in the air and scissored down Dabbur.
The referee did not hesitate in sending off Otavio, who knew what was coming and didn't bother to look back as he walked off the field.
Take a look at the video below:
— Football Shithousery (@FootyRustling) March 6, 2021
On social media while some people applauded the sacrifice, others wondered whether it was necessary since the game was almost over anyway.
If only Dabbur would've just taken the shot, Chris Richards would've had an assist😡. #USMNT pic.twitter.com/C33isNEiuw

— USMNT Universe (@UsmntU) March 6, 2021
Took one for the team lol

— Shane (oldybaldy) Balding (@shane42530672) March 7, 2021
That's a hell of a challenge on the slo mo. What an effort 😂😂 ✂️ snip

— Paul Chilton (@chilly866) March 7, 2021
Losing 2-1, last minute, not going to gain anything. Whats the point?

— Andy Atch (@andyatch) March 7, 2021
Man … this should be a 3season ban. For a player to deliberately attempt to end the career of a fellow footballer should be a crime

— Chukrulle, PhD (@chuckrulle) March 7, 2021