Lionel Messi is widely acknowledged currently as one of football's greatest-ever players but even at the age of 19, he was the source of headaches for some of the world's best managers.
While the six-time Ballon d'Or may have lost a yard of pace now, when he was much younger, Messi's blistering pace and technical prowess was a nightmare to deal with.
Back in the early 2000s, then-Chelsea boss, Jose Mourinho was quite concerned with Messi ahead of the Blues' encounter with Barcelona and tasked his assistant Andre Villas-Boas to compile a scouting report on the mercurial Argentine.
The report from Villas-Boas noted Messi's amazing dribbling ability, even comparing him with then Barcelona talisman Ronaldinho.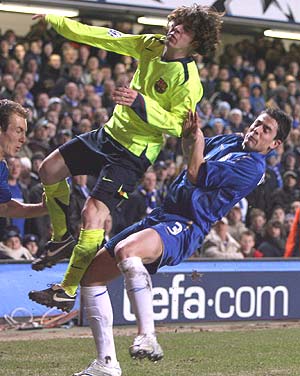 It also noted that Messi was almost unstoppable when he was 1v1 against a defender but also that he was "very left-footed."
Also interesting was a note that if the team did decide to stop Messi by fouling him, it should be done "as early as possible."
"Quality + speed but very left-footed. Exactly the same behaviours as Ronaldinho. Inside between lines or diagonals. Encourages team forward by ball driving. Amazing 1 vs 1. If option is to foul him it's important to do it outside the box and as early as possible. [Has] recovered from an injury recently," the report said.
Mourinho's Chelsea and Barcelona had a number of huge battles in the 2000s, which Messi said at the time were probably more intense than rivalries between Boca Juniors and River Plate, and between Brazil and Argentina.
However, the forward wasn't on the scoresheet against the Blues until a 1-1 draw at Stamford Bridge in 2018.
On Friday, Messi scored a hat-trick to overtake Pele and became South America's greatest goalscorer in men's international matches.