The UEFA Champions League returns tonight and Ghanaian players will be in action.
Here's a wrap of Ghanaian players in action in match day 5 of the UEFA Champions League.
Edmund Addo (Sheriff Tiraspol – Moldova/Transnistria)
After an improbable hot start Sheriff Tiraspol's form has cooled down with back-to-back 3-1 defeats at the hands of Inter Milan mean they have dropped to 3rd in the group 1 point behind the Nerazzurri. Addo started both games and played 74 and 60 minutes respectively picking up a yellow card.
Sheriff have been flying in the Moldovan National Division with 12 wins, 1 draw, 1 defeat in 14 games. Despite this they are second due to having played 3 matches less than FC Petrocub who are a solitary point ahead of them.
Addo is a key cog in the Sheriff midfield and expect him to shield the defence against Real Madrid this week.
Kamal Sowah (Club Brugge – Belgium)
Kamal Sowah has started 3 of 4 games for his club in this season's Champions League. Due to Brugge's role as underdogs he has largely played a more defensive role on the wing recording 0 goals and assists in Europe this season.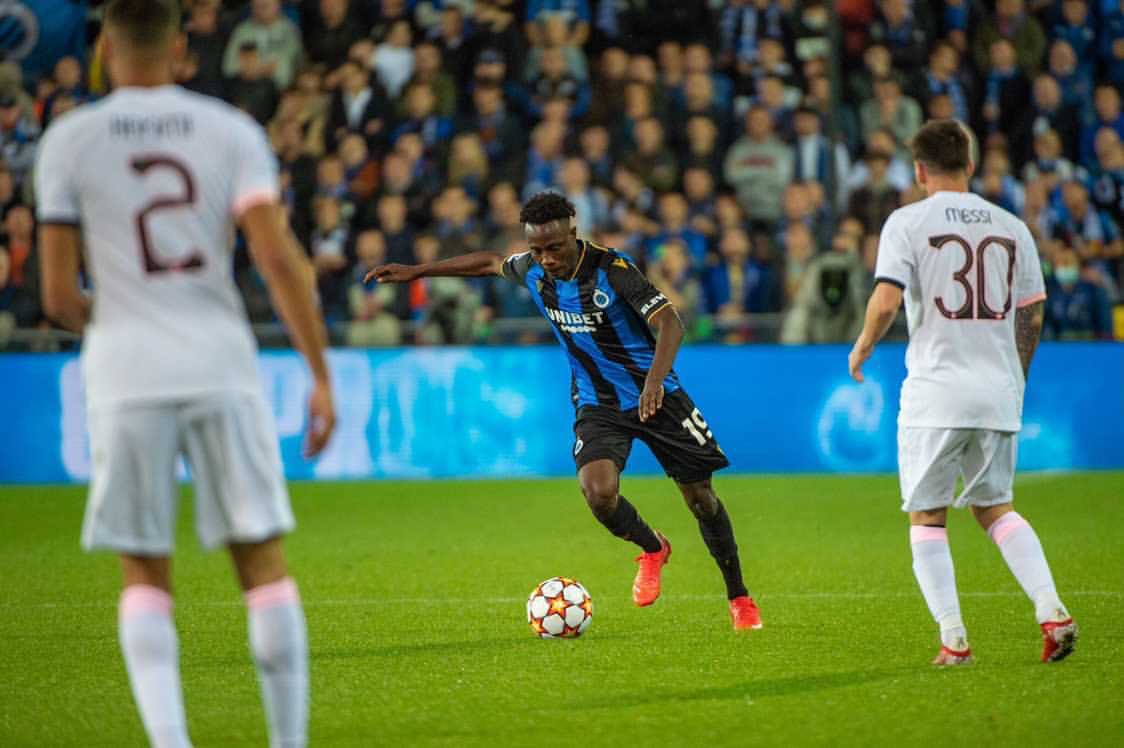 His league form hasn't been much better with a solitary assist in 6 games. Sowah seems to have fallen out of favour in recent weeks and started on the bench in his teams last Champions League game.
Brugge have 4 points from 4 games and are 4 points behind 2nd placed Paris St. Germain. If PSG lose and they beat RB Leipzig at home on Wednesday they would need another win to qualify for the next round. However, their last game is away to PSG which presents a daunting task.
Malik Abubakari (Malmö – Sweden)
Malmö have been poor; they have not scored a single goal and only Leipzig have conceded more. They are out of the competition and only a possible Europa League place is available to them.
Abubakari has appeared 3 times off the bench for a grand total of 106 minutes. He has managed 2 shots and 2 touches in the penalty area. The 21 year old has had a miserable campaign in Europe but 3 goals in 5 starts, 13 appearances overall in the league is a bit better and hopefully he will get more chances soon.
Mohammed Kudus (Ajax – Netherlands)
Ajax have been excellent in the Champions League this season. A 100% record, 14 goals scored and just two conceded has elevated them to dark horse status. And along with Liverpool and Bayern they were the first teams to qualify for the next stage.
Unfortunately, Kudus has played virtually no part in this success. He has played only 24 mins and is unlikely to play anymore until the knockout rounds in February as he has sustained another injury. He has started just two league games and scored just 1 goal.
We have to hope that he will get past these problems and become a reliable contributor for Ajax.