Ghana's Amputee Men's Football Team have arrived in the country after their Africa Cup of Nations triumph in Tanzania.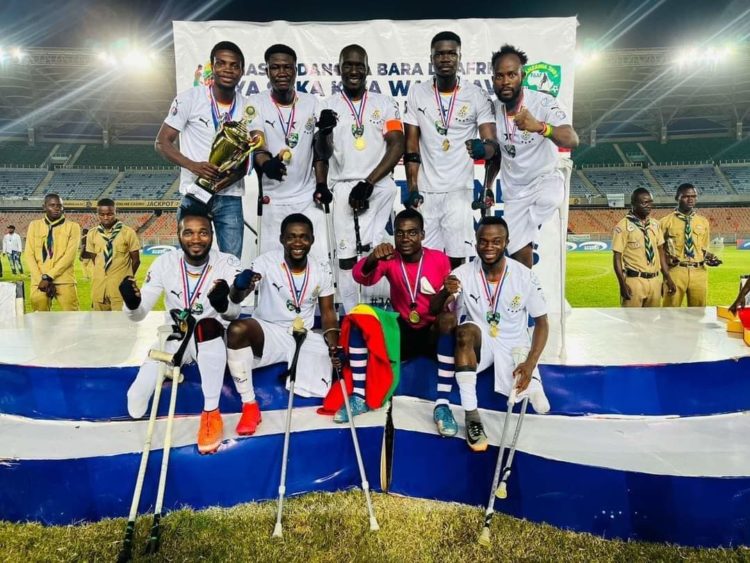 The team arrived at the Kotoka International Airport in the early hours of Wednesday, December 8, 2021 via a sponsored Turkish Airlines flight by the Ministry of Youth and Sports from Dodoma, Tanzania to Istanbul before landing in Accra.
Prior to the arrival of the nine players in Accra, in a video shared by Sports Journalist, Saddick Adams, the captain of Ghana's Amputee Men's Football Team, Richard Arthur stated that the 10-man contingent was stranded in Tanzania after their quest for continental glory.
Luckily, the Sports Ministry came to their rescue, ensuring the team arrived in the country after conquering the continent in the maiden edition of the Amputee Africa Cup of Nations hosted in Tanzania.
According to multiple reports, the trophy will be presented to President of Ghana and Youth & Sports Minister later.
The Black Challenge started the tournament just the way they wanted to end it, with a big opening day 3-0 win over Egypt before handing Nigeria a 4-0 mauling, booking a slot in the semi-finals against Angola.
Ghana walked away with a comfortable 3-1 win over Angola, setting up a final with West Africa neighbors, Liberia.
In a keenly contested final, Ghana's Amputee Men's Football Team defeated Liberia in a five-goal thriller, winning 3-2.