In their eagerly awaited first match of the (delayed) 2021 Africa Cup of Nations, Ghana met the Atlas Lions of Morocco. Coming into the tournament, Morocco were one of the form sides on the continent & the Black Stars had looked shorn of identity. True to form and despite being weakened, Morocco were able to triumph, scoring a late goal to win 1-0. In this analysis, we will investigate how Ghana set up and played against Morocco, before looking ahead to their clash with Gabon.
Lineups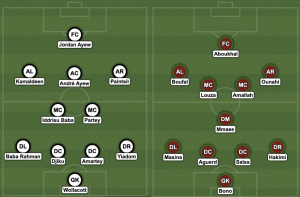 Ghana lined up in the 4-2-3-1 formation they have favoured for some time. Joe Wollacott was in goal, continuing his run in the team. Andy Yiadom returned at right-back with Baba Rahman on the left, allowing Milovan Rajevac to play his preferred centre-back duo of Daniel Amartey and Alexander Djiku. Thomas Partey was joined in the double pivot by Iddrisu Baba, whilst Joseph Paintsil, Kamaldeen Sulemana, André Ayew & Jordan Ayew made a versatile front four.
Morocco utilised a 4-1-4-1 formation. Bono played in goal behind a back four of Adam Masina, Nayef Aguerd, Romain Saïss & PSG's Achraf Hakimi. Samy Mmaee was tasked with anchoring the midfield as the 6, behind a more attacking quartet of Azzeddine Ounahi, Selim Amallah, Imrân Louza and Sofiane Boufal. Zakaria Aboukhal led the line.
Ghana's attacking woes
Continuing their recent trend of attacking debility, that saw them enter the AFCON moving the ball into the final third and creating chances at a below average rate on the continent, Ghana were thoroughly lacking cohesion in attack. They did nevertheless appear to have a plan to move the ball forwards, playing a direct game that saw them play 13.6% of their passes long, manage just 42.3% possession & sustain possessions for a pitiful 1.96 passes, on average.
To give Morocco some credit, their 4-1-4-1 defensive shape appeared to be chosen specifically to neutralise Ghana's shape. Their striker and four more advanced midfielders could press Ghana's back six, going more man-orientated to block shorter passing avenues when Ghana were more static. Ghana's structures were often far too predictable, making this easy for Morocco. Their poor spatial occupation and the inefficiency of their positioning often left players isolated between the lines and made quick link-play difficult, due to the distances between players.
Even so, whether forced by Morocco's defensive shape or by design, Ghana's plan to play direct was not particularly well-executed. 
Starting from the goalkeeper, Wollacott played 6 open-play passes, 4 of which were long that he completed just 1 of. He also sent all 16 goal-kicks & free-kicks long, none of which were completed. At centre-back, Amartey completed just 1 of 6 long passes. They were not the only culprits, with various teammates making sloppy passes. Ghana needed better distribution from their whole team.
In addition to their passing inaccuracy, both Ghana's structures and personnel were rarely well-suited to playing a direct brand of football. Their compactness around the target area was often lacking, making it more difficult to win the second-ball. They also lacked height upfield & rarely made deliberate, coordinated movements to open and exploit space upfield that would complement their direct style. Such movements could have also reduced the degree of difficulty for the passers, reducing the requirements for pinpoint accuracy.
When playing a direct game, there can inherently be more chaotic transition moments as teams jostle for field position and possession. If anything, this style therefore increased Ghana's over-reliance on individual's partaking in offensive duels to create attack. Ghana entered AFCON ranking fourth in offensive duels attempted per 90 & they were heavily reliant on isolation dribbles from the likes of Paintsil, Kamaldeen and Baba Rahman to progress and penetrate. At times they benefited from the chaotic pitch situations, including in more general transition situations, but they also looked vulnerable.
The numbers sum up Ghana's offensive ineptitude: Just 0.31 xG from only 5 shots at a poor 0.062 xG/Shot, 4 touches in the penalty area (in contrast, Senegal managed 23 vs Zimbabwe) and 17 successful passes into the final third (the average amongst AFCON-qualified teams in the past year is 32.3).
Ghana's defensive structure
As true to form as their offensive issues, Ghana's defence continues to be the strength of the team. Coming into AFCON, they were above average on the continent at limiting shot volume and shot quality, showing improvement since Rajevac's arrival. Against Morocco, Ghana limited Morocco to 10 shots at an xG/Shot of 0.088 – both some way below Morocco's averages in the past year.
This was built upon a relatively compact 4-4-1-1 block, that prioritised control of the centre of the pitch. Depending on how high upfield Ghana were, the aggressiveness of their double pivot varied. In principle however, the team adopted a narrow shape, with the Ayew brothers combining in central areas to limit access to Morocco's centre-midfielders (particularly Mmaee) whilst Paintsil and Kamaldeen sought to close the half-spaces and the double pivot controlled the space in front of their defence and/or Morcco's number 8s.
In this way, Ghana were in some ways able to neutralise Morocco's progressive penetrative abilities in possession, ensuring they were below their average in progressive passes, final third entries and touches in the penalty area.
Even so, Morocco were still able to show their quality, particularly as the game wore on. Using positional rotations, particularly down their right flank with Hakimi, Amallah & Ounahi combining intelligently, they were able to create, occupy and exploit spaces in and around the Ghanaian block. The Black Stars could undoubtedly learn from the positional fluidity and problem-solving ability of their opponents. 
Morocco's goal arrived in this way, with the Atlas Lions showing patience, intelligence and technical quality to penetrate before showing composure to finish after benefiting from some luck. Rajevac may well have bemoaned the lucky break, but you make your own luck in football by accessing dangerous spaces.
Rajevac's lack of substitutions may also have had a hand in Morocco's increasing offensive success. Ghana were increasingly passive as the game wore on, with the number of passes per Ghana defensive action (a measure of Ghana's defensive activity) rising from 5.92 in the first half-hour to 12.67 in the final third of the second half – Ghana became increasingly less active defensively. His reactivity on the bench may well have cost the Black Stars, with fresh legs only emerging after Ghana went behind.
Looking forwards to Gabon
Moving forwards, with Gabon next on the agenda, one would expect that Ghana can continue to build on their defensive efforts against Morocco. In the short timelines international managers are afforded, working on producing a solid defence is often highly productive, with clean sheets correlating more than anything else to victories in the international game. They will need to identify additional solutions to rotations, improve their discipline and perhaps consider being more proactive with their changes.
In attack, there is much that needs to be done. At a bare minimum, the team should be working on set pieces. Ghana took 5 corners without managing a shot, their fourth successive match without creating a shot from a corner (having taken 21 corners). Set pieces are another area where significant results can be produced in a short time.
Additionally, there were brief glimpses of quality in attack, particularly when Ghana applied various offensive principles cohesively: stretching play to make the pitch as big as possible using as few players as possible; creating overloads around the ball; using positional rotations to unbalance defensive structures and create spaces to exploit; and having efficient spacing and positional occupation to ensure there are a number of passing options at various angles and depths. Hopefully these become increasingly numerous, ideally along with increasing cohesion on the counter-attack to utilise the strengths of Kamaldeen and Paintsil.
With Gabon a relatively capable defensive outfit and with Ghana likely to remain without the services of Mohammed Kudus, the Black Stars may be well-suited to prioritise progression in wider areas. The Ayew brothers, Paintsil and Kamaldeen, as well as backups Daniel Kofi-Kyereh and Fatawu Issahaku, are comfortable operating in wider areas. Combined with the energy of Baba, Yiadom and backup left-back Gideon Mensah, Ghana could do worse than look to exploit the soft edges of Gabon's shape, rather than attempt to attack so centrally. They had some decent moments doing as such vs Morocco. 
Preferred lineup vs Gabon:
(4-2-3-1) Zigi; Yiadom, Amartey, Djiku, A. Baba; Partey, I. Baba; Paintsil, A. Ayew, Kamaldeen; J. Ayew
Stats from Wyscout, analysis provided by AfroStat.