Berekum Arsenal goalkeeper Julius Naanio will be having nightmares after he scored a ridiculous own goal in his side's 2-2 draw against Bolga All Stars.
Everything seemed fine when an under-pressure Arsenal defender passed back to his goalkeeper on a terrible pitch.
Naanio, apparently spotting a teammate offscreen to the left, fired the ball in that general direction.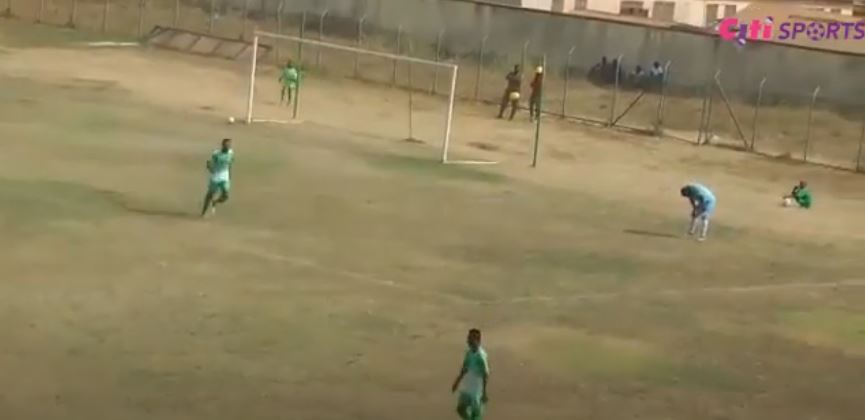 Tragedy struck when instead of landing at the feet of a red-shirted player, the ball landed in the back of the net.
Naanio appeared to be so distraught by what he had done that he bowed his head while his hands dropped to his knees.
A video of the incident was reshared on Twitter by Citi Sports Editor, Fentuo Tahiru from original poster, George Duah, and has since gone viral.
Berekum Arsenal goalkeeper gifting Bolga All Stars a goal in a 2-2 draw in the National Division League. I can't even laugh 😏 pic.twitter.com/6nMaNLcs3h

— Fentuo Tahiru Fentuo (@Fentuo_) February 7, 2022
Reactions on social media have been varied; while some were amused by the keeper's misfortune others suspected something more sinister.
If you'll fix matches at least perfect the art of match fixing erhh na what's this?😂😂

— Dexter (@_perezdex) February 7, 2022
They set the precedent last season! We've not seen anything yet

— EddyKayOfficial (@EdwardGyasi) February 7, 2022
You can't make this up 😂😂😂

— JAMES (@james_man__) February 7, 2022
Match fixing😆😆🤔🤔🤔

— J.K (@jeromek699) February 7, 2022
Wey nonsense this? They need to learn so match fixing tricks cos this is ugly

— Da Don (@Opresii) February 7, 2022
What happened in July?
Last year, the Ghana Premier League was thrown into some confusion after match-fixing claims surfaced in the aftermath of Ashgold's 7-0 win over Inter Allies last season.
Ashgold's seemingly routine win over already-relegated Inter Allies sparked controversy after footage of Allies' Hasmin Musah scoring two deliberate own goals went viral.
Musah netted two own goals in the space of four minutes, with 12 minutes to play in the final match of the season.
Musah said afterwards that his technical team commended him for his actions after the game.
"After the game, my technical team commended me for spoiling the bet they had staked," he said.
I promised my coach that if he allows me to play from the bench I will spoil the bet. And after the game, my team congratulated me."
The two teams are facing charges of match manipulation.