As one of the brightest spots for the Ajax Amsterdam side in the lead up to a new Eredivisie Season, many believe the 2022-2023 campaign is the take over year for Ghana's talented midfielder Mohammed Kudus. Heading into his third year at the Dutch club, not dealing with lingering injuries and scoring an eye candy of a goal against PSV Eindhoven in the Dutch Super Cup fueled optimism that the 22 year old Ghanaian international will torch opposing teams and move on to a richer, stronger league.
However, that hope took a nose dive in the opening week of the new season as Kudus made a cameo appearance in Ajax's 3-2 against Fortuna Sittard. Kudus replaced Steven Bergwijn in the 90th minute to the disappointment of many and leading to major questions about the hand Mohammed has been dealt at Ajax.
Such questions are legitimate considering Kudus Mohammed is the brightest creator on a Black Stars team that has so far struggled to consistently create sustained goal scoring opportunities under new Head Coach Otto Addo.
His influence is crucial to Ghana's quest to either match its best run in the history of the World Cup via a quarterfinal appearance or go a step or two steps further when the 2022 edition commences in Qatar. Mercurial players like Kudus barring indulging in nefarious activities see the field a ton especially for clubs that believe in young players like Ajax. So why is the former Right To Dream Academy standout youngster still struggling for game time at his club?
The basic denominator at Ajax is top level quality and all players on the four time European Champions payroll are quality. All advantages, no matter how slight they could be end up being the deal clincher for players to earn minutes for the team. In the case of Kudus, he is in a fight against Dutch Football's Grand Establishment and that is no mean beast to conquer in spite of Kudus' immense talent.
For Dutch football, Ajax is what Juventus, AC Milan and Inter Milan are to Italian football, what Bayern Munich is to German football, what Barcelona and Real Madrid are to Spanish football and what Manchester United and Liverpool are to English football.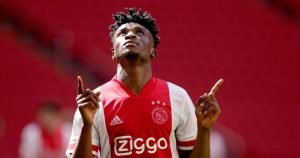 Every detail is scrutinized to fall in line with ideals started by Rinus Michels and propagated by Johann Cruyff with the Dutch National Football Team's success always eyed in the broad scheme. There is always a "me first nationalist" twist these clubs deal with and this trait is ubiquitous in all leagues. In the just ended Ghana Premier League, a strong contingent of Ghanaian football fans pushed for Yaw Annor, a native of the land, to win the League's Goal King Race ahead of Cameroonian Franck Etouga Mbella.
Ajax lined up in a 4-3-3 formation in the win over Fortuna, while fielding nine Dutch players in its starting unit with only Brazilian Antony and Serb Dusan Tadic as the exceptions. Out of the nine Dutch players in the starting lineup, five including Daley Blind, Jurrien Timber and Steven Berghuis) are regulars in Louis Van Gaal's National setup.
The remaining quartet is primed to move into the national setup at the senior level in a couple of years after starring in the junior national teams. Kenneth Taylor and Right Full Back Devyne Rensch fall into this category after starring in the Netherlands European title winning team at the Under 17 level in 2019.
The midfield trio that started against Fortuna had Blind, Taylor and Berghuis in it; Blind operated as a Defensive Midfielder a role Kudus isn't suited to play and Taylor is too highly regarded by the Ajax establishment to make way for Kudus. Mexican Edson Alvarez mans the middle of Ajax's three man midfield but missed the tie due to suspension.
In attack, Tadic is the Captain, Antony is untouchable and Bergwijn is Ajax's high profile signing this offseason. This essentially means there is no room for Kudus in the starting lineup barring an injury to a player manning a position either side of Blind/Alvarez in midfield or a player manning the laterals in attack.
20 year old Taylor worked his way into the Ajax setup from the team's junior outfit Jong Ajax at a time where Kudus was dealing with a knee injury that kept him out of action for months.  The tables could turn in Kudus favour later this season but Kudus' best shot at landing a spot in the starting unit or moving on to see extensive playing time at a top team goes through the dunes of Qatar.
Mohammed needs an excellent tournament at the 2022 World Cup to push his market value up and give him an easier path to claim a prominent role in his club career as he did at Nordsjaelland in Denmark.
Patience, a bit of luck and timely performances is what Kudus needs to have that career defining moment all the greats have; whether that moment comes immediately at Ajax or another team is to be determined in the coming months.