Ghana's Amateur Boxing team the Black Bombers returned to the country after winning three medals at the recently ended 2022 Commonwealth Games in Birmingham. Ghana ranked eighth overall in the event.
The Black Bombers medal tally forms part of five total medals Ghana won at the multisport competition; Boxers Joseph Commey and Abraham Mensah were the only Ghanaian athletes to win Silver at the Games.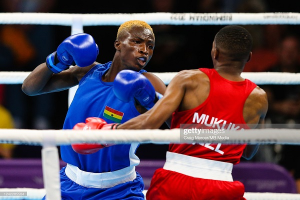 Ghana's medal count in Boxing was good enough to make it into a Top 10 spot in the rankings that had athletes from 55 countries compete in.
Commey settled for a silver medal after forfeiting his final bout against England's Jude Gallagher in the Featherweight Division after falling ill.
Fellow African nation Mozambique tied Ghana's medal count and ranking spot ahead of Nigeria, Zambia and Mauritius in the standings.
Mozambique and Ghana ended the competition as the best performing African nations in Boxing as Northern Ireland topped the rankings with five gold medals, a silver medal and a bronze medal.
India and Scotland ranked second and third respectively in the standings.