Erling Haaland is not one to waste time.
The Norwegian striker scored within 47 minutes of his debut for Molde FK, found the net in his first start for RB Salzburg and scored a hattrick within 23 minutes of his Borussia Dortmund debut.
It is unsurprising that he scored a hattrick on his Champions League debut and went on to become the youngest player to find the net 20 times in the competition doing so quicker than anyone in the competition's history.
He won his first Bundesliga player of the month in his debut month, despite playing just 59 minutes – he did score five goals in that time frame, so it does add up. With all this in mind, Haaland peeling off in celebration against Bayern Munich a fortnight ago was an easy event to imagine.
The fact that he was debuting in Manchester City blue was the slightly more perplexing thing. Pep Guardiola and Haaland are not exactly the most compatible match at first glance, but the upside for this combination is enormous. Over the next couple of years, Erling Haaland and Pep Guardiola are going to terrorize Europe and here is why.
Manchester City has won four of the last five Premier League titles. In each successful campaign, Pep Guardiola has slightly tweaked his side to create a new version of his all-conquering machine that seems even more impenetrable than the last.
In theory, these teams should have walked to the PL title on all four occasions, but rather, they have needed every advantage Guardiola could get out of them to hold off Jurgen Klopp's intense, gegenpressing Liverpool side. Last season was no different.
The Cityzens needed two Ilkay Gundogan goals to wrestle the title back from Liverpool on the last day, with just a point separating the two sides when the dust settled.
This state of affairs made some of City's transfer business this summer look slightly questionable. Gabriel Jesus was shipped out to Arsenal and Raheem Sterling became the marquee signing of the new Todd Boehly era at Chelsea. City's attacking depth has always been the envy of other clubs, but these departures, combined with the loss of Ferran Torres earlier in the season left the club looking a bit light up front.
Not just in terms of bodies either, Sterling and Gabriel Jesus scored a combined 21 Premier League goals; goals that were crucial in keeping City above water in the title race at various points in the season. These two were also quality players that provided options for Guardiola at all three positions in the front line. Essentially, the loss of Jesus and Sterling in the same window left a significant hole in the City attack; some would say an Erling Haaland-sized hole and City would agree.
Erling Haaland was unveiled at the Etihad to a lot of fanfare, one of the biggest talents in the game would be playing under the lights in the blue half of Manchester. The way City has done business after the signing of Haaland speaks to the confidence the club has in the Norwegian striker to be the focal point for the next iteration of Guardiola's record-breaking side. This confidence is not without robust basis.
Haaland's goal record at Dortmund speaks for itself. The Norwegian striker scored an outrageous 62 goals in 67 Bundesliga matches.
Despite this, there is still uncertainty from some quarters about his ability to translate that form to the Premier League. Apart from the slightly tongue-in-cheek "Bundesliga tax" accusations, there are some reasonable concerns about the manner in which he came by his goals in Germany as teams simply do not play the same way against Manchester City and in the Premier League in general.
Haaland very obviously thrives playing in transition situations, in counter-attacks or when Dortmund recovered the ball high up the field and attacked an unsettled defence. His direct running, strength and technical ability allowed him to convert a high number of these types of opportunities to goals for himself or good chances for teammates.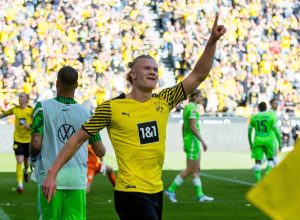 In more settled play, however, Haaland found the most success running beyond the opposition line in anticipation of balls in behind. Bundesliga defences play with lines that are higher on average than most Premier League, but Haaland does not need a vast amount of space to make defences pay. At Dortmund he played with quality chance creators like Jadon Sancho and Marco Reus, this, combined with the ability of other players such as Emre Can and Mats Hummels to go direct, with accurate long balls shaped the Norwegian's tendencies.
Haaland is very often looking to dart in behind to latch onto a ball in between opposition centrebacks or a pass over the top and this will be an obvious asset to Manchester City.
Guardiola has had experience playing with a recognized striker at City having used Sergio Aguero and Gabriel Jesus many times as the focal point of the attack. However, these strikers (Jesus more than Aguero) ended up being involved with build-up play, dropping back to link up with midfielder and drawing defenders out of position.
Haaland has not yet shown an inclination towards that, he prefers to move around in the neighbourhood of the opposition centrebacks, keeping them occupied and preventing them from stepping up much. This ends up creating space in the middle of the park for his midfielders but perhaps, more importantly, it puts him in the best position to make those aggressive runs in behind.
The quintessential Erling Haaland most likely involves a direct run in between the opposition centrebacks, a ball through or over the top of the defence, a competent first touch, the setup for and then a sweeping left foot finish into the bottom left corner. With de Bruyne, Foden, Bernardo Silva and many others at his service, we will most likely be treated to this finish many times over the coming season.
These players will very lucky to have the now 6 foot-4 phenom on the end of their passes. Haaland makes full use of his upper body strength, holding off defenders and finishing with great poise and composure; Dayot Upamecano can attest to that fact. Even at that size, Haaland is fearfully quick. He was the third fastest player in last season's Bundesliga at a speed that would have also put him in the Premier League's top three. A 22-year old monster as tall as Virgil van Dijk and quicker than most of the league is a frightening prospect to consider.
What fascinates me most, however, is how Guardiola uses Haaland against defences that sit deep and keep multiple bodies in the Norwegian's vicinity. In such situations, there would be a much smaller risk of Haaland exploiting the space in behind with his pace. This may require City to tweak their approach slightly in order to get the best out of Haaland. Another possibility is for Haaland to slightly modify or rather lean into his qualities that most suitably complement his teammates. Haaland scored 14 out of his 86 Dortmund directly from cutbacks, a modus operandi that is all too  familiar to Guardiola and Manchester City.
Smart, instinctive movement to attack either the near or far post and quick reactions once the ball is put across have made Haaland elite at that situation even though it was not one Dortmund systematically created. At his size as well, he is just a very big target and sometimes it is that simple. Haaland scored just about seven headed goals in his two Dortmund seasons, and this is a strength of his that has probably been underutilized to this point. And no, I am not advocating for Manchester City to start lobbing crosses into the Norwegian like an all-star Burnley side, but it puts another arrow into a quiver that could have done with a few more options.
In last season's penultimate game away at West Ham, with Liverpool breathing down their necks, City tossed in a desperate 26 crosses to a frontline that consisted of Gabriel Jesus, Riyad Mahrez and Jack Grealish, not forgetting the formidable Bernardo Silva making runs into the box. They were fortunate to see Vladimir Coufal score an own that handed them a crucial point in the title race, but they will not always be that lucky. With Haaland they do not need to rely solely on luck in those situations.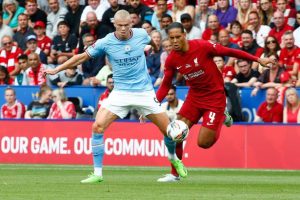 Erling Haaland's transfer does not just further cement City as a title contender (or even favourite) but keeps them in that tier for the foreseeable future. In many ways, he is the perfect player for City's current situation. Before Jack Grealish was brought in for £100m last summer, Manchester City had never spent beyond £68m on a transfer. It may be slightly counter-intuitive to say this about their now 9th most expensive signing but Erling Haaland is the first genuine superstar Manchester City has paid for in a while.
Commercially, Haaland is going to be one of the biggest names in this sport for years to come, and the growth of his personal brand will accelerate interest in Manchester City as well and vice versa.
We often gravitate to the narrative of stories like this, but in Haaland's case, his pitch to be one of the players to carry the mantle Messi and Ronaldo have carried for the last decade and a half is unusually strong. Bar a certain Kylian Mbappe, Haaland is without a doubt the most exciting young player around and is playing at a level that has been unseen at his age for a truly long time; this man has the potential to be an absolute legend of the game, and he is City's for the next five years.
The Champions League is a trophy that has eluded Guardiola in his five years at the Etihad and his continued stay at Manchester City may be an indication that he believes it is a prize that is well within reach. Erling Haaland is a unique solution to that problem and may well be what pushes the Cityzens over the hump in Europe.
Surely Guardiola and City are holding on to the belief that much like everywhere else he has been, the Norwegian menace will waste no time doing what he does best; scoring goals, loads and loads of goals.