The Premier League was back to its tempestuous best this weekend as England's finest played out 10 games of dramatic football. As usual, the referees had some difficult split-second decisions to make and VAR was there to assist them. We will review the weekend's controversies and offer our learned opinions on them.
The incident: Jordan Ayew seems to have given Crystal Palace a 3-goal lead, but the goal is disallowed.
This is a very simple and correct decision. As Ederson rolls the ball out Odsonne Édouard tries to kick the ball so the referee blows the whistle before Ayew scores the goal.
Under Law 12 Section 2: An indirect free kick is awarded if a player prevents the goalkeeper from releasing the ball from the hands or kicks or attempts to kick the ball when the goalkeeper is in the process of releasing it. So clearly, Ederson has been fouled and the goal cannot stand.
I have seen many people comparing this incident to the 2018 Champions League final but in that case, the ball had left the keeper's hands before the ball was intercepted. So the incidents are not comparable.
The incident: Steve Cook palms the ball over the bar. He receives a yellow card and a penalty was given
This was a very strange handball and nearly resulted in a red card. Due to the flight of the ball and Harry Kane's positioning, there was a check to see if Cook had denied Spurs a clear goalscoring opportunity.
I believe Cook avoided a red card for two reasons. The flight of the ball meant it was going away from goal and the fact Dean Henderson was in the goal meant there was a possibility it could be saved. I disagree with this reading because whilst he did not deny a goal, I would consider the potential header a clear goal-scoring opportunity therefore Cook was lucky to not be sent off per Law 12 section 3.
The incident: Fabian Schär catches Pedro Neto on the shin with his studs. He is given a yellow card despite a VAR check.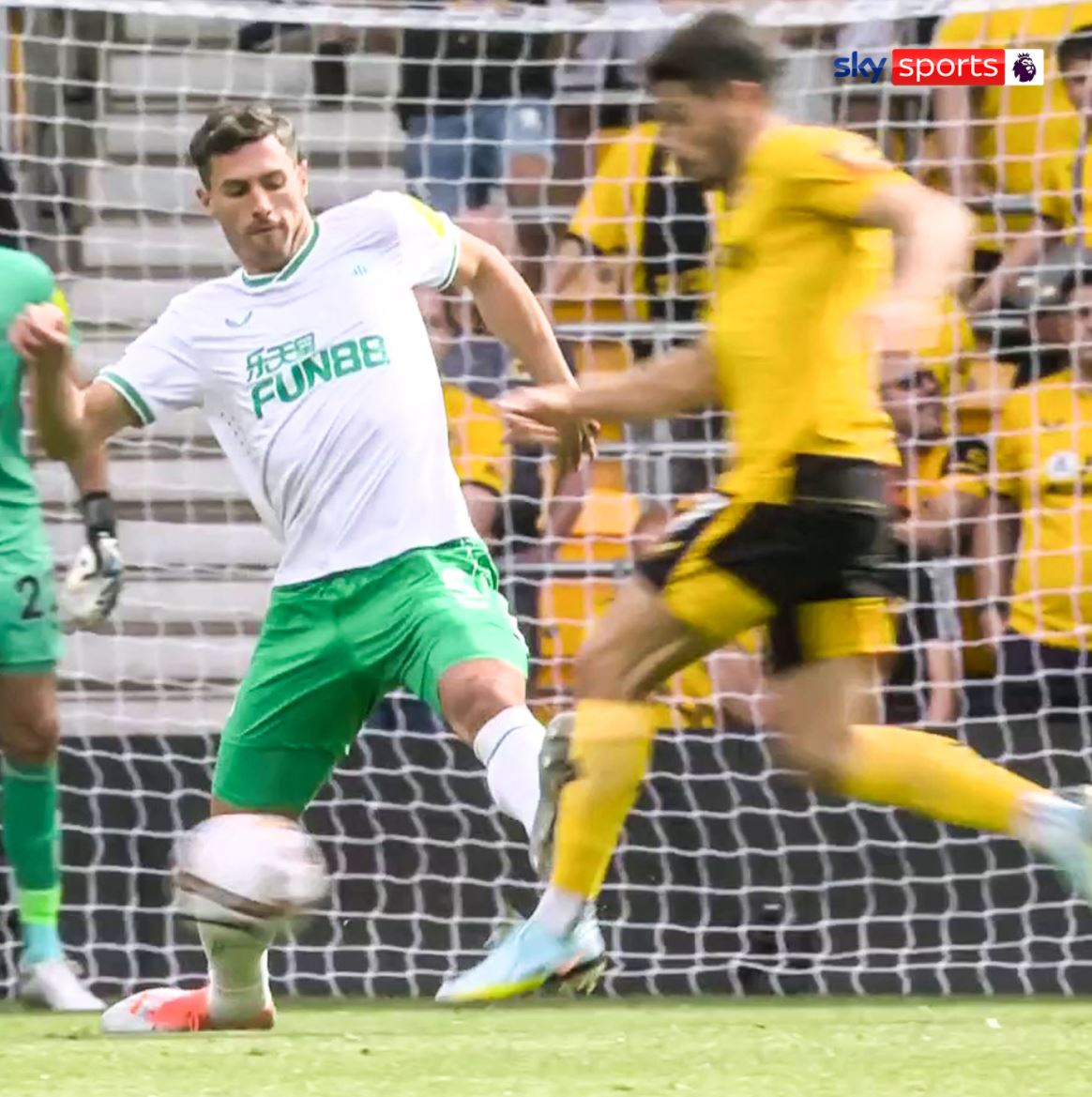 This is another borderline incident where a red would not have been out of place. Per my viewing the two things that help the Newcastle defender are the proximity of the ball and the angle of his foot.
Neto pushes the ball away just before Schär can get to it. So there was a clear attempt to play the ball, concerning his foot, his studs are pointing down which could be understood to indicate the contact is not intentionally malicious and therefore the tackle was not excessively forceful or dangerous.
A red would have been harsh but not unwarranted based on past incidents.