It was a smaller Premier League weekend as the Carabao Cup final was played at Wembley and featured Manchester United and Newcastle United with the former coming out victorious. However, even with fewer matches, there was enough controversy for us to dissect.
The incident: Hakim Ziyech is sent off for putting his hand in Emerson Royal's face, the VAR calls the referee to the monitor, and he changes his mind and downgrades it to a yellow card.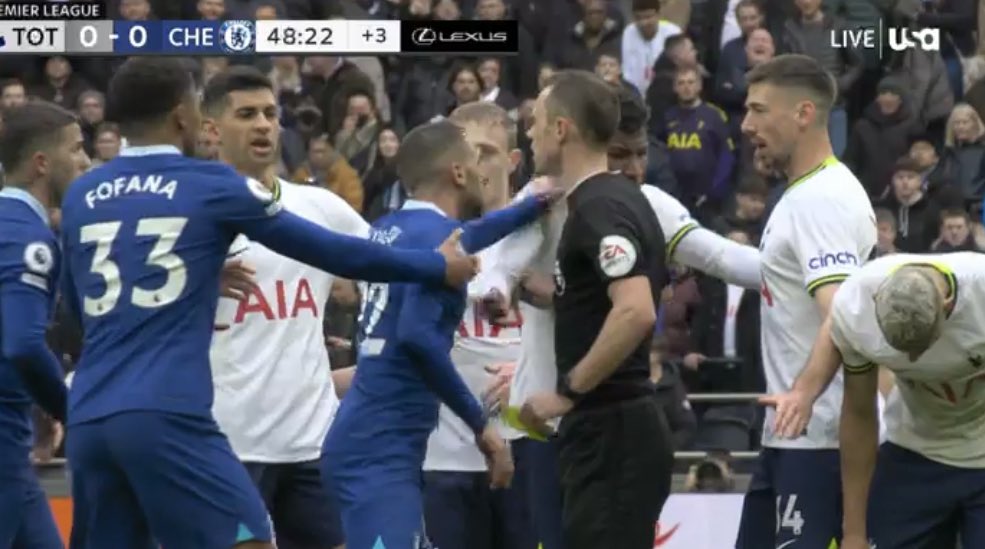 This was a very strange sequence of events and left many confused by the outcome and the process.
Let us break it down, Kai Havertz and Hakim Ziyech both foul Richarlison. This results in a lot of pushing and shoving involving the players. Havertz is given a yellow card for the foul, Emerson Royal also receives one for charging into the crowd and then Hakim Ziyech, a red card, for putting his hand in Royal's face. The referee then goes to the monitor and downgrades the red card.
From what has been revealed it seems the referee and his assistant deduced a hand had been put in the face of a player, and he was unsure which player it was so needed the VAR to identify the player (Ziyech). Once the player was identified, the referee issued the red card. Once the red card was issued the VAR identified the red card as a clear and obvious error and asked the referee to rewatch the footage, the red was subsequently downgraded to a yellow.
What needs to be understood is that VAR only identified Ziyech as the player whose hand was in Royal's face, it then advised the referee to look at the full incident and see that Ziyech was pushing Royal's shoulder but in the process, it hits his face so the act was not inherently violent.
While I understand the reasoning I can't entirely agree with the outcome. Even if Ziyech did not mean to push Royal's face, he meant to push him. I understand the intention was not an act that constitutes violent conduct, but the intention was aggressive in nature therefore Ziyech should be judged on the outcome not the intention of his actions.
They were also suggestions Ziyech should have gotten two yellow cards, one for the tackle and one for the push, the referee had no intention of carding Ziyech for the foul, I believe he planned to play advantage after the foul but Ziyech interfered with that so he was only being punished for the push, the only offence the referee had taken seriously