On Wednesday, 26th April 2023, Mikel Arteta's Arsenal will travel to the Northwest to face defending Premier League Champions Manchester City. The title race is finely poised with 6 games left; Arsenal are 5 points ahead but have played 2 more games.
Arsenal have dropped 6 points in the last 3 games which has made their lives much more difficult. City on the other hand have won 11 of their last 12 games in all competitions, scoring 40 goals in that period.
They are hitting form at the right time and look poised to end the Gunner's faltering title charge at the Etihad.
Worryingly, Arsenal have failed to score at the Etihad under Mikel Arteta and if that does not change on Wednesday the season could end in disappointment.
Manchester City have melded physicality and finesse to reach a new level this season. Pep Guardiola regularly starts four natural centre-backs and Rodri who featured at the recently ended World Cup as a centreback in his starting lineup.
Nathan Aké, John Stones, Rúben Dias, and Manuel Akanji are all recording tackle success rates above 60% when players attempt to challenge them and of the 5 aforementioned aside Akanji they all have aerial duel success rates above 60%.
These 5 behemoths have committed 2 errors this season between them showing how consistent they have been.
By comparison Arsenal's first-choice backline committed 8 errors. Despite this change to a more physical team Manchester City's ball retention has not suffered and they lead the league with a pass percentage of 87.1%.
Arsenal in comparison are 3rd with 83.2%. Arsenal's sloppiness on the ball has been a huge issue as they lead the league in errors with 19, Manchester City however despite their volume of passing are 18th with 6.
In fact, Aaron Ramsdale alone has committed 6, a league-high number. Manchester City's formidable 5 also rank in the top 7 for pass completion in the league this season with Ake's 7th preventing a clean sweep of the top 5 by Manchester City players.
Manchester City do have a weakness, his name is Ederson.
The Manchester City keeper is the most protected in the league facing a theatrically low 2.2 shots on target per game. He also has an extremely low save percentage for the season at 62.1%, 18th in the league, by comparison, his rival Ramsdale faces 3.44 shots on target per 90 and saves 71.8% of them, which ranks better in 11th.
Both players lead their sides in errors with Ederson managing two to Ramsdale's 6 but both account for about a third of their teams' errors and it will be interesting to see how both keepers react to being pressed on Wednesday night.
Manchester City's attack is built around getting the ball to Erling Braut Haaland. The Norwegian marksman has taken to the Premier League like a duck to water. Haaland is enjoying his best season in front of goal.
His previous best 41 has long been eclipsed and the striker is enjoying his best goals per 90 rate (1.29) since his last season in Salzburg. Haaland has taken the 3rd most shots (90) in the Premier League this season and has the 2nd best conversion rate 29% from an average distance of 12.4 yards.
He is getting chances consistently and very close to the goal too. Arsenal will need to cut the supply to him. This has come mostly from Kevin De Bruyne who has created 22 chances for him. This is 3rd highest of a single player to another.
Arsenal however, cannot rely on their main striker.
Where Haaland has succeeded Gabriel Jesus has failed. At the time of writing of all players in the Premier League only Danny Welbeck had underperformed his xG by a bigger margin (-3.9) than the Brazil number 9.
By comparison, Haaland has overperformed his xG by 9.6 a gargantuan number. Indeed only Robert Lewandowski (2021), Lionel Messi (2019), and Paulo Dybala (2018) have recorded higher figures in the data that is available and the only player to record an overperformance greater than 10 is Messi showing the rarefied heights Haaland is approaching.
Luckily for Arsenal, the young trio of Bukayo Saka, Martin Ødegaard, and Gabriel Martinelli have stepped up with a collective xG overperformance of 12.1 for their 40 goals. Most of that is due to Gabriel Martinelli who ranks 2nd in the league with an overperformance of 6.1 for his 15 goals this season.
The trio have wonderful chemistry with Ødegaard and Saka creating 33 chances for each other the highest in the league. Saka and Martinelli rank 6th, same as Haaland and De Brunye, and Ødegaard and Martinelli rank 8th showing the developing telepathy of Arsenal's young guns.
They will have to be at their best to create something for Arsenal against the trees in the Manchester defence.
Arsenal's task will be made harder as they are without standout centreback William Saliba. Saliba's return to Arsenal has gone swimmingly. His 91.0% pass completion is 6th in the league. His 83.3% tackle success when players attempt to dribble him is the highest of any player who has faced at least 3 attempts for the club.
He has the 3rd most interceptions at the club and the 2nd most clearances and recoveries showing his importance to Arsenal's great defensive record. His current replacement is Rob Holding a significant downgrade who has struggled to keep up the same standards.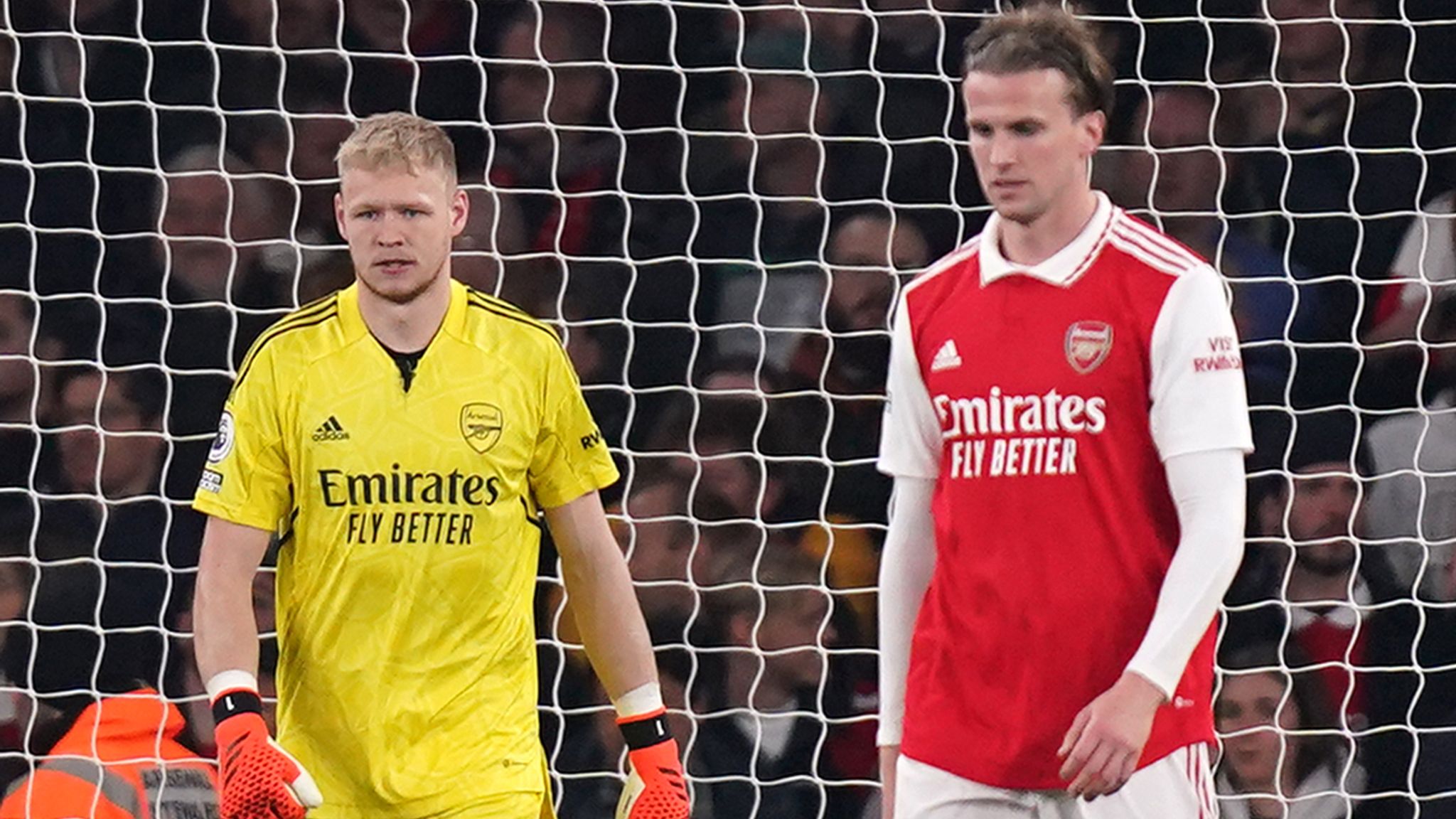 It will be a titanic clash on Wednesday and Arsenal will have a lot to do if they are to claim the 3 points in this exciting title race.