Ernest Nuamah is the newest name in line to make an impact in wide areas for the Black Stars in their next round of AFCON qualifiers. The young forward has lit up the Danish Superliga for Nordsjælland by winning player of the season, and is in line to make his Black Stars bow.
Another graduate of the Right to Dream academy, he is following in the footsteps of Kamaldeen Sulemana, Mohammed Kudus and many others.
Nuamah is an explosive player with bags of tricks and the ability to use both feet. Though primarily left footed, he has the ability to score and create with both feet. This has led to him playing various positions with his 34 matches being almost equally distributed between the right, left and centre of an attacking 3.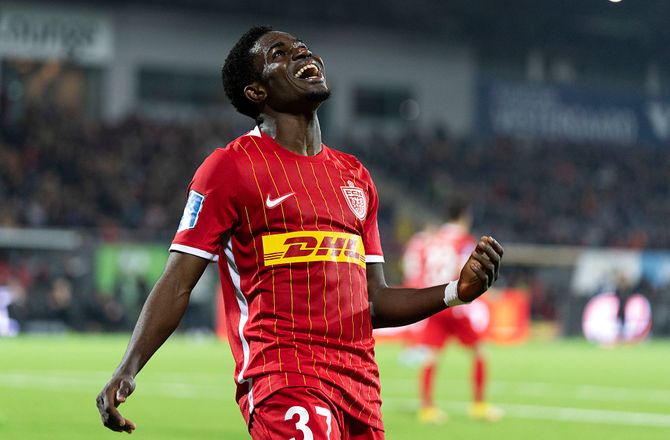 His best position is undoubtedly on the right wing where he has scored 9 of his 16 goals in all competitions. He has been less effective on the left and through the middle where he has 6 goals in total with 4 assists in 21 games. However this would still be a solid contribution for a forward in his first full season of professional football.
Nuamah powered the Tigers to first place in the regular season. with 8 goals and 4 assists starting in all but 1 of his side's games, that form has translated into the Championship Round where Nuamah has plundered 4 goals in his 9 appearances. It is quite astonishing that after joining in January 2022 for the second half of last season, Nuamah has become an undisputed starter missing only 2 league games this season, through suspension, and starting the rest.
Nuamah deserves his accolades. His 12 goals rank 4th in the league and is the most for his club. He is responsible for close to 25% of his sides goals this season and scores 0.43 goals per 90 minutes. His 4 assists also mean he ranks 3rd in total goal contributions and has a per 90 rate of 0.57 meaning can be relied upon to score or assist every other game.
The explosive wide man is not afraid to shoot. His 81 shots rank 2nd in the league with 34 of them being on target, which also ranks second in the league. The issue with Nuamah is that his shooting leaves a little to be desired with only 42% of his shots hitting the target and his conversion rate standing at 14%. This is quite low compared to most elite goal scorers who are closer to 20%. This is not a big deal at his age as there is vast room for improvement.
His ability to draw fouls could be a key weapon for the Black Stars. He has drawn 41 fouls this season at a rate of 1.46 a game. This is no surprise as a quick look on Youtube will show him bamboozling defenders with cheeky ease.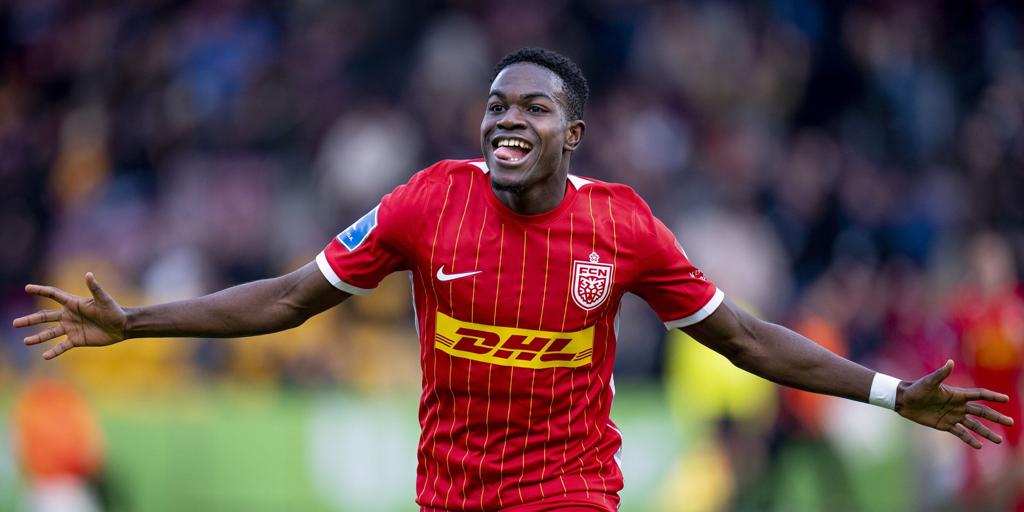 Nuamah has already had an impact at National Team level helping the Black Meteors qualify for the U23 AFCON. His cross set up their winner in their final qualifier against Algeria.
The real question is how he would fit in the Black Stars set up.
Ghana's wide areas are turning into a key battleground for the Black Stars as players have struggled to impact games from wide and no player being able to hold a place down.
He would be in direct competition with Abdul Fatawu Issahaku who has played a few games on the right hand side for Ghana. However, Nuamah has had a way more impressive season than Issahaku.
Another player he has to compete against is Jordan Ayew. No player drew more fouls in the Premier League than Jordan Ayew this season. Jordan Ayew has been one of the consistent wide players for the Black Stars in recent years. However, his lack of end product means his place is under scrutiny and a goal scoring winger like Nuamah could be the answer to frustrated fans who have demanded more from Ayew.
Nuamah is an exciting talent and he looks poised to make an instant impact for the Black Stars.