Angelique Kerber beat seven-time champion Serena Williams to win her first Wimbledon title and spoil the American's dream comeback as a mum.
The German 11th seed, 30, beat the 23-time Grand Slam champion 6-3 6-3 to add this title to her 2016 Australian Open and US Open crowns.
Williams had been the favourite despite it being only her fourth tournament since giving birth in September.
Kerber dropped to the grass when a netted service return gave her victory.
"It is a dream come true," said Kerber, who is the first German woman to win the title since Steffi Graf in 1996.
"I know I had to play my best tennis against a champion like Serena. Serena is a great person and a great champion and she is a great inspiration for all of us."
Williams said she had been happy to simply get to the final so soon into her comeback, adding: "It is obviously a disappointment but I can't be disappointed. I'm literally getting started.
"To the other mums out there I was playing for you today and I tried. But Angelique played really well. I look forward to continuing to be out there and do what I do best."
Kerber's gameplan pays off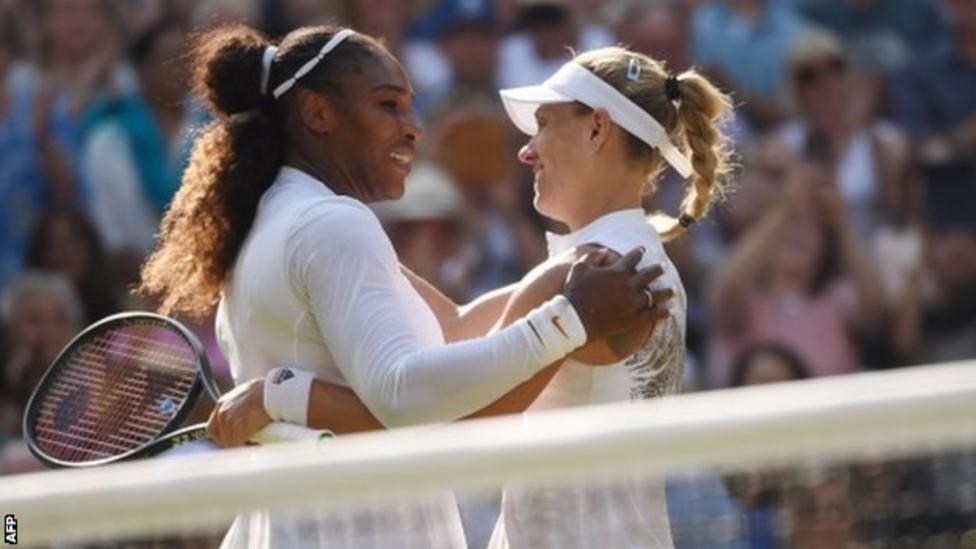 Kerber, known for her defensive style, came to the match with a more attacking plan in mind – keep the point going and exploit Williams' lack of mobility around the court.
And it paid off handsomely with the 36-year-old's dashes to the net ending in errors half of the 24 times she came forward.
The German former world number one showed her intent in the first game, breaking the Williams serve that forms the backbone of her game.
Williams broke back to level at 2-2 before Kerber re-established the advantage in the seventh game when the American hit long, and she took the set when Williams sent a backhand into the net.
Kerber stuck with her tactics in the second set, breaking in the sixth, and the sight of Williams falling to the ground in frustration when she missed a straightforward lob for 30-0 when Kerber was serving for the match summed up her day.
The German struck a forehand winner to bring up championship point and sealed the victory on the next point when Williams could only return a serve into the net.
Overcome by the magnitude of what she had achieved against a player who beat her in the 2016 Wimbledon final, Kerber collapsed on to the ground and covered her eyes, while Williams came over to her side of the net to share a warm embrace.
Williams' dreams dashed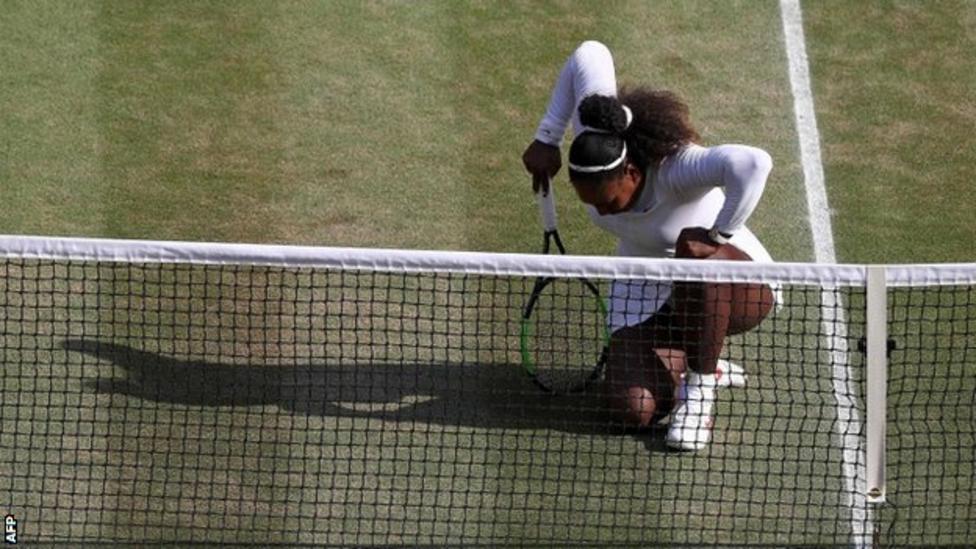 Williams, like Kerber, had dropped just one set on her way to the final but she had also faced only one player ranked in the top 50 here before Saturday's showpiece.
Despite her world ranking of 181 and special seeding of 25, she has been favourite for the title, with pundits and players pointing to the potent combination of her intimidating aura – created by titles, fitness and mental strength – and the fact that her power game is perfectly suited to the fast surface of grass.
However, Kerber did not let her play that game with Williams managing just four aces and hitting 24 unforced errors as the German bided her time and capitalised on the fact her opponent was not quite back to her best 10 months after giving birth to her daughter.
Williams, in fact, hit more than twice as many winners as the German (23-11) but was let down by some rash forehands and below-par net play in front of a packed Centre Court, where her friend the Duchess of Sussex was watching from the Royal Box.
It means her bid for a record-equalling 24th Grand Slam title must wait until next month's US Open at least.
Analysis
Billie Jean King, six-time Wimbledon champion on BBC TV: "After that very first game, you could see Kerber thinking 'woah, this is great, good start'. You could see it in her body language, she really settled in.
"Kerber was so consistent. Keeps getting one, two, three, four balls back, and when Serena's not had that match play…
"Serena could never get any rhythm, if you can keep her out there long enough, keep the rallies long, and see how fit she is… she looked a bit like she was sucking it up, out of breath a few times. Kerber always gets that one more ball back."
Martina Navratilova, nine-time Wimbledon singles champion on BBC TV: "More balls came back, Kerber returned Serena's serve well. Serena didn't get the payoff from her ground strokes, tried to hit harder and made more errors.
"She came to the net more often which she doesn't do a lot.
"Kerber has a shot at being world number one. She will get so much confidence from this win, so you have to look at her as one of the favourites. The year is so young."
–
Source: BBC