Despite winning his second international trophy with Portugal over the weekend, it's not pictures and videos of Cristiano Ronaldo celebrating with his teammates that have been trending today.
A video, purportedly taken of the Portuguese superstar and his jubilant mates while the announcement was made for the best player of the UEFA Nations League has made the rounds on social media, and is making the headlines for all the wrong reasons, at least for Ronaldo.
Ronaldo, according to some people on social media anyway, looked taken aback when Manchester City winger Bernardo Silva was named as the tournament's best player.
Other users pointed out that Bernardo who was standing beside Ronaldo and seemed a little embarrassed tried to console him but was met with a blank stare by Ronaldo.
The video prompted critics of Ronaldo to accuse him of being conceited, stating that he'd obviously expected to be given the award despite Silva's greater contribution to Portugal's success.
He doesn't even hide it anymore lol

— Harsh (@FCBHarsh) June 9, 2019
He doesn't even hide it anymore lol

— Harsh (@FCBHarsh) June 9, 2019
he always want to take credit for everything 😂

— 🐐. (@chohpa) June 10, 2019
Ronaldos like "No. Who know you aint deserve it. No."

— ☀️🦊🏀[Will Michaels]🇺🇸🇩🇴🌙 (@MikeMelrose01) June 9, 2019
Ronaldo is so bitter 🤷🏼‍♂️
Bernardo Silva is trying to play it down, so he doesn't upset Ronaldo 🙏🏼🔥

— Alexis' Kavkas View (@AlexisIsKavkas) June 9, 2019
Ronaldo's reaction when he learns Bernardo Silva won the player of the tournament ahead of him. Always jealous to see his teammates take the spotlight.

Can't script this🤦🏽‍♂️#messi #ronaldo #jealousbyfireboy pic.twitter.com/enlKza6RfF

— Julian Campbell🇳🇬 (@campbellworld_) June 10, 2019
This has prompted Ronaldo's backers to come to his support stating that the video was taken out of context as Ronaldo was the first to congratulate Silva after the announcement was made.
This out of context clip is when they were applauding the Dutch team & when Bernardo's name was announced Ronaldo was the first to hug and congratulate him

The agenda and obsession in degrading Ronaldo from Messi fans is unbelievable, the insecurity. https://t.co/hakC1XDjhB

— Ryan. (@Rygista) June 9, 2019
Brilliant stuff, they'll do anything to make out as though Ronaldo is a bad teammate, clutching for straws whilst Messi prepares to bottle another big tournament

— Chief (@leftwingfielder) June 9, 2019
He was talking to Bernardo that time, and then joined to pat his back and ruffle his head after to congratulate him. Why cut the clip earlier and not show it to people who didn't watch the match ? pic.twitter.com/srqCLFzHWq

— Eine🌟 (@vulcaffeine) June 10, 2019
This is fake. He was the first to hug him when his name was announced this was after and is totally out of context.

— 🔴⚪️Arsenal FC Boston (@Arsenal_Boston) June 10, 2019
Oh my days, they were probably having banter between them on who will win it 😶, nothing wrong with his reaction at all!

— Jordan Holmes (@18JHolmes) June 10, 2019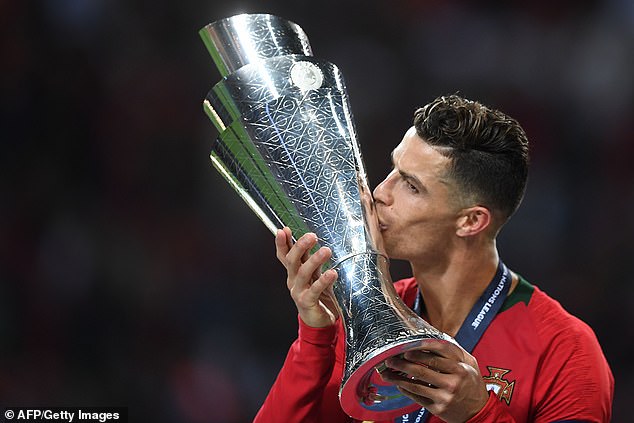 Others weren't bothered at all and believed that even if he was upset, it showed how determined he was to win.
Bad loser. That's how he's become so fantastic. He hates losing anything and has winner written all over him.

— James Stretford (@Jamesstretford) June 10, 2019
Give me always a player like him. He wants everything

— Carlos Serrano (@piercar25) June 10, 2019