Awal Suleman's sprint across the Cape Coast Stadium's pitch appears to have paid off after all as the Black Stars fan finally got a photo with his 'hero', Thomas Partey.
A photo of the Atletico Madrid star holding a Black Stars shirt with Awal is making the rounds on social media.
He was apparently given a signed jersey by the midfielder.
Awal shot to fame, or perhaps infamy, depending on which side of the divide you belong on, when he made his way onto the pitch at the tail end of Ghana's 2-0 win over South Africa and led security officials on a hilarious chase inside the Cape Coast Stadium.
That incident, however, landed the 25-year-old in police trouble and left him facing a public disturbance charge.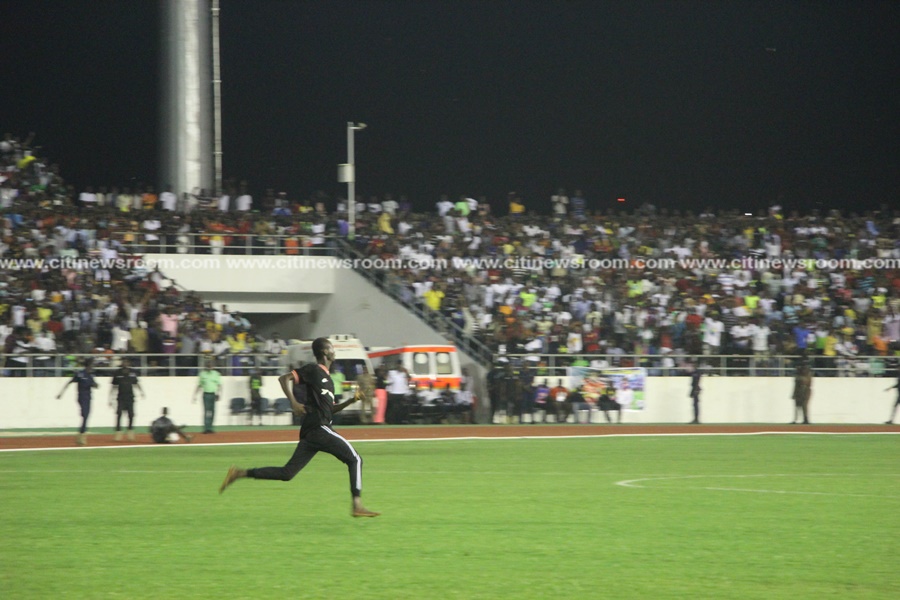 Various reports following the incident had indicated that Awal had been fulfilling a dare, as he had promised to complete the crazy celebration should Ghana win the match against South Africa by two goals to nil.
Others indicated that Awal was an avid admirer of Thomas Partey and just wanted a photo with him.
'Apam SHS Usain Bolt'
Jumping from the stands, Awal, a former 400 metres champion at Apam SHS, sprinted onto the pitch and evaded a number of the security officers who were chasing him.
With one officer in hot pursuit, he showed a clean pair of heels, and left the officer literally on the floor.
It was later revealed that Mr. Suleman was a 400m runner at Apam Senior High School.
Luck eventually ran out for Awal who was wearing a Chelsea jersey as he ran out of steam, stumbled and was tackled to the ground.
While the players stood around bemused, the fans in the stadium had cheered as the pitch invader made his way around the pitch.
He was hauled off the pitch by the police and spent the night at the University of Cape Coast police station.
His predicament led to many people including Black Stars captain, Andre Ayew pleading for his release, with the hashtag #FreeAwal trending as a result.
Awal was eventually let out of jail on bail with the aid of the Ghana Football Association and was cheered as he made his way through the streets of Cape Coast.
Partey also stated that he would have taken a photo with Awal.
Now it appears that this eager fan has finally had his wish.
Watch Awal's sprint below:
This pitch invader is such an idiot.. Guy just stressed our Ghana 🇬🇭 Police for nothing😆😆😆😆😆😆😆😆😆

Only God knows the slaps he will receive tonight 😂😂😂😂😂😂😂💔#BlackStars
pic.twitter.com/QCo7orItSf

— KB 🎭🇬🇭♂️ (@kwamebenaiah) November 14, 2019