The University of Cape Coast (UCC) has been crowned tennis champions in the ongoing Ghana Universities Sports Association (GUSA) Games held at the University of Ghana (UG).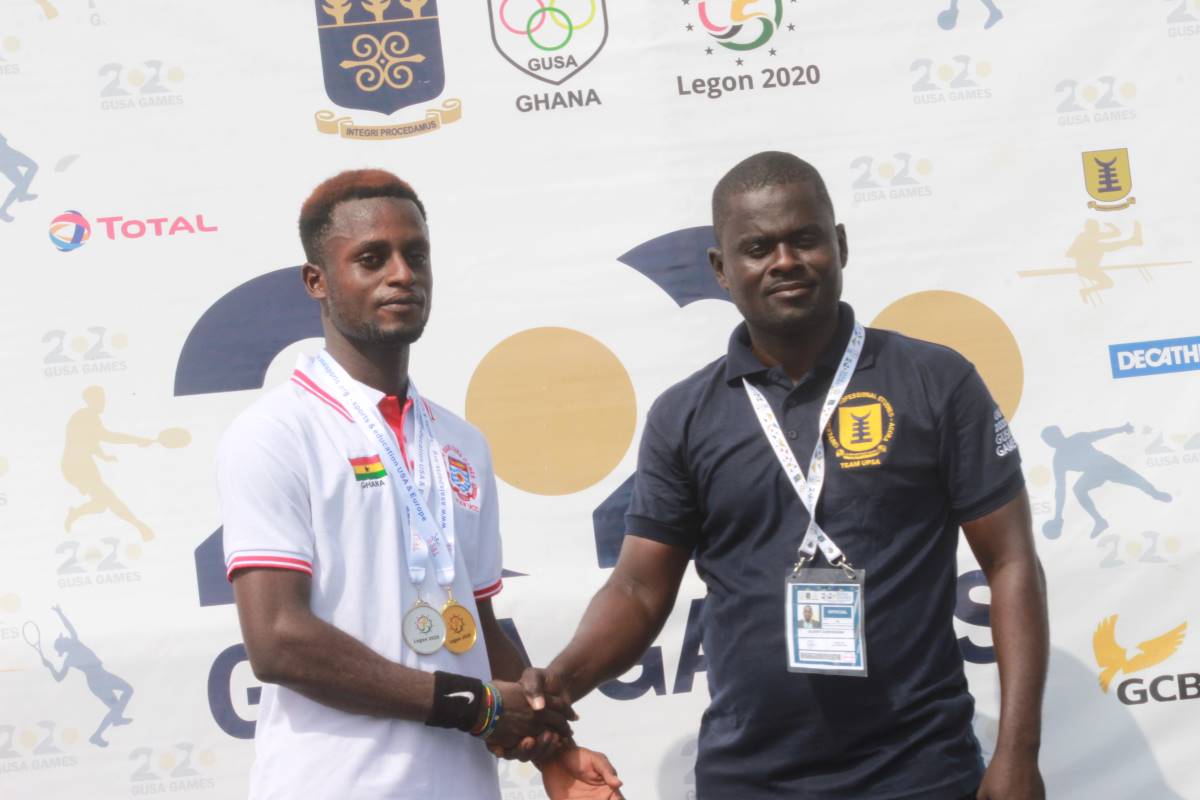 UCC proved too dominant for their opponents as they won 4 gold medals, 2 silver medals, and a bronze medal.
Benjamin Fumi and Emmanuel Plange dominated the men's category as they won both the singles and doubles events.
Antoinette Cruickshank of UCC defeated the likes of Naa Shika Adu of UG and Mariam Ibrahim of the University of Education, Winneba to win gold for her school.
Naa Shika Adu and Priscilla Dosoo representing the University of Ghana won gold in the ladies doubles defeating Mariam Ibrahim and Fatima Saliu of the University of Education, Winneba.
GUSA 2020 MEDAL WINNERS
MEN'S SINGLES
| | | |
| --- | --- | --- |
| 3RD | BERNARD ARMAAH       (UEW) | BRONZE |
| 2ND | EMMANUEL PLANGE  (UCC) | SILVER |
| 1ST | BENJAMIN FUMI         (UCC) | GOLD |
MEN'S DOUBLES
| | | |
| --- | --- | --- |
| 3RD | FRANCIS AKPESE/ AARON ASANTE                 (UG) | BRONZE |
| 2ND | BERNARD ARMAAH/ RICHMOND ARMAAH (UEW) | SILVER |
| 1ST | BENJAMIN FUMI/ EMMANUEL PLANGE    (UCC) | GOLD |
LADIES SINGLES
| | | |
| --- | --- | --- |
| 3RD | NAA SHIKA ADU                      (UG) | BRONZE |
| 2ND | MARIAM IBRAHIM                    (UEW) | SILVER |
| 1ST | ANTOINETTE CRUICKSHANK         (UCC) | GOLD |
LADIES DOUBLES
| | | |
| --- | --- | --- |
| 3RD | ANTOINETTE CRUICKSHANK / SHEMIMA COBBLAH          (UCC) | BRONZE |
| 2ND | MARIAM IBRAHIM / FATIMA SALIU                         (UEW) | SILVER |
| 1ST | NAA SHIKA ADU / PRISCILLA DOSOO                               (UG) | GOLD |
MIXED DOUBLES
| | | |
| --- | --- | --- |
| 3RD | ISAAC KOFI MARTEY/GERTRUDE AKWELEY QUARTEY (KNUST) | BRONZE |
| 2ND | FRANCIS AKPESE/NAA SHIKA ADU (UG) | SILVER |
| 1ST | EMMANUEL PLANGE/ANTOINETTE CRUICKSHANK (UCC) | GOLD |
TEAM EVENT (MEN)
| | | |
| --- | --- | --- |
| 3RD | UG | BRONZE |
| 2ND | UCC | SILVER |
| 1ST | UEW | GOLD |
TEAM EVENT (LADIES)
| | | |
| --- | --- | --- |
| 3RD | UG | BRONZE |
| 2ND | UCC | SILVER |
| 1ST | UEW | GOLD |
GUSA 2020 TENNIS MEDALS TABLE
| | | | | |
| --- | --- | --- | --- | --- |
| INSTITUTION | GOLD | SILVER | BRONZE | TOTAL |
| UCC | 4 | 2 | 1 | 7 |
| UEW | 2 | 3 | 1 | 5 |
| UG | 1 | 1 | 4 | 6 |
| KNUST | | | 1 | 1 |
Images from the closing ceremony