Ghanaian defender, Leroy Kwadwo, who plays for German lower division side, Würzburger Kickers, was racially abused by a fan over the weekend in a game against Preussen Munster.
However, in a brilliant gesture, fans in the stadium who noticed the man hurling racial slurs at the player in the stands, pointed him out to security.
The man was escorted out of the stadium by security to loud cheers.
Opposition players also approached the clearly upset Kwadwo, with some hugging him and others clapping the German-born player on the back in a very heartwarming gesture.
Once the perpetrator was escorted out, all the fans at the stadium stood up and chanted "Nazis Out!".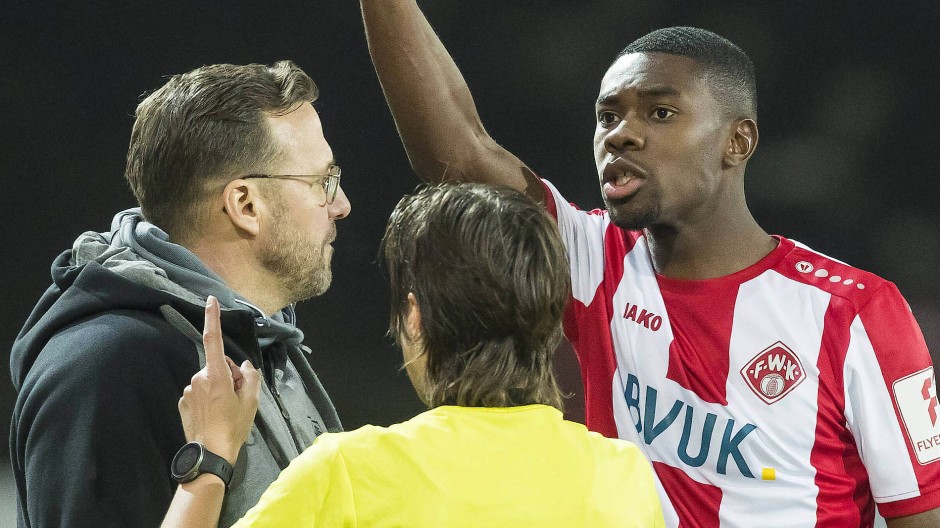 Their actions were widely praised on social media, with many people commending the fans and players for their show of support for Kwadwo.
Sometimes out of something vile and reprehensible comes a shared humanity ❤️

— MakeSensePsychotherapy (@donna_MakeSense) February 15, 2020
This happened in Münster. The people here are awesome when it comes to fight racism and inequality!

— Sofia Morais (@SofiWithlove) February 15, 2020
Hate is menacing and powerful but love is considerate and overpowering

— Sagal (@SRaage) February 15, 2020
Bad things happen when good people do nothing, well done to them all,time to show these racist thugs are vastly outnumbered.

— Julie Preece #FBPE (@julipreece) February 16, 2020
There's hope.

— Jeff Anderson (@JeffJoAnderson) February 15, 2020
Thing about Germany, despite its issues, tries to educate the wrongs done in the past in order to prepare for the present and future. Not perfect, I still hear of issues but this and many others show the good side.
Well done Deutschland!!!!

— Mswahili Bandia (@MswahiliBandia) February 16, 2020
After the game, Leroy released a statement expressing his appreciation for the fans, his teammates and opposition players.
He also spoke of his disappointment at the action of the fan who was kicked out.
"Something like yesterday just makes me sad and angry because everyone has to know" #Racism doesn't belong in OUR world. We all have the opportunity to tackle it and prevent it from happening."
Watch a video of the incident, posted on Twitter by Muhammad Lila below:
Chills.

In Germany, a fan hurled racist slurs towards Leroy Kwadwo, a Ghanian football player.

When other fans saw it, they alerted security, who escorted the man out.

Then, as opposing players came to hug Kwadwo, the entire stadium stood up and chanted "Nazis Out!" pic.twitter.com/FHQP9Pe18J

— Muhammad Lila (@MuhammadLila) February 15, 2020