Tottenham Hotspur's loss to Norwich on penalties on Wednesday night in the fifth round of the FA Cup put more than a few tempers on edge at the Tottenham Stadium.
As Spurs' players made their way off of the pitch following the disappointing loss, their fans made their anger clear to them.
One fan must have gone a little too far, however, as Spurs player, Eric Dier abandoned his trek to the dressing room and instead darted to the touchline, leapt over the advertising hoardings and raced up the stands.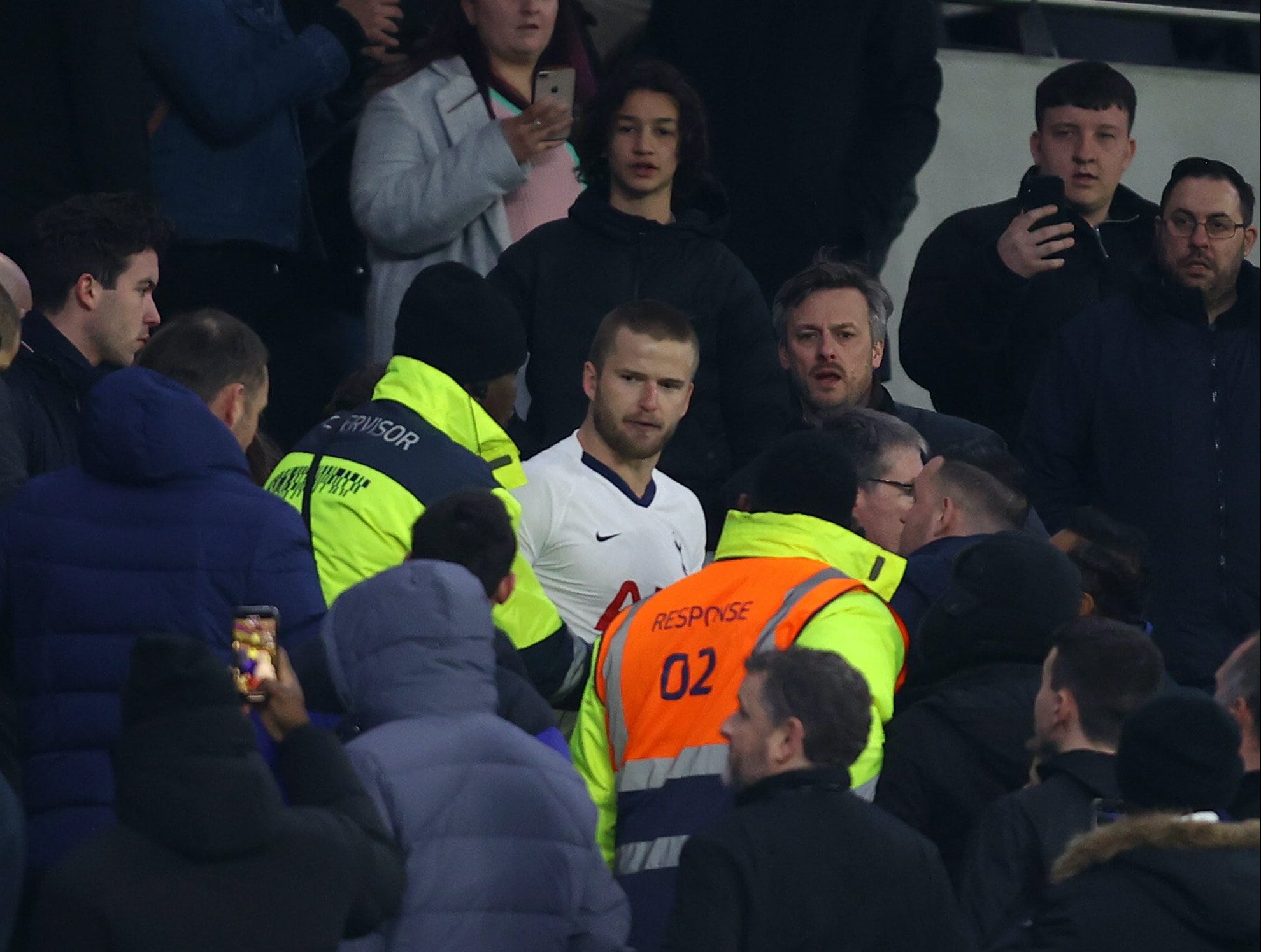 Dier shrugged off several attempts to stop him as he progressed up the stands to confront the fan.
He was eventually restrained, with a great deal of effort, by the stewards.
The whole incident was captured by the fans as the England international went past them.
One angle showed Dier jumping over the hoardings ad darting up the stands and was posted by Twitter user, Futbol Bible.
Full footage of Eric Dier jumping over the stands and going over to confront a fan who was insulting & abusing his brother. Brotherly love, I respect that. pic.twitter.com/5xeSQ8Vj5a

— FutbolBible (@FutbolBible) March 4, 2020
Another, much closer shot, showed Dier being restrained as he tried to confront the fan.
Eric Dier just came into the stand and had a fight with fan next to me 😱 pic.twitter.com/nMGVcDWegX

— Jascha Selby (@jselby123) March 4, 2020
Some social media accounts claim Dier went to fight the fan after he shouted racial abuse at Spurs player, Gedson Fernandes who had missed his kick in the shootout.
Eric Dier apparently confronting a fan after the fan allegedly racially abused Gedson Fernandes.

Chaos at our club currently – on and off the pitch #THFC pic.twitter.com/CDtWkyykBk

— Spurs Unfiltered (@SpursUnfiltered) March 4, 2020
After the match, Spurs head coach, Jose Mourinho said Dier, who had his family in the stands, had been insulted by the fan.
Although Mourinho believes the player did not act too professionally, he added that the circumstances involved made the player's response at least understandable.
"I think Eric did what we professionals cannot do but probably every one of us would do," he said
"I repeat we professionals cannot do it, but I repeat I am with the player and I understand the player. The fans were with the team until the last penalty kick that we missed. This person insulted Eric, the family was there, the younger brother was not happy with the situation."
Dier played the entire 90 minutes and extra-time for Spurs against Norwich.
He scored from the spot in the shootout but two saves from Norwich keeper Tim Krul knocked Spurs out of the cup.
More from Citi Sports