Chapter One: Alpha
The olive green leather couch was weathered, but he sat in it like a king, slightly slumped with his head cocked back and his right arm held close to his face, fist mildly clenched.
His eyelids tended to shut when he spoke, almost as though he wanted to snooze off.
Still, when he rose to his feet to demonstrate a ring scenario, he moved with the agility of a cat, and when he swung an arm, all in the room exchanged looks of shock.
There stood D.K. Poison, nimble and durable as ever, ready to walk us through his journey.
Behind him, high up the wall, hung his soul and pride, the first-ever world boxing title that Ghana could call its own.
It was green and made of leather that had seen better days, it lacked the glint and sparkle of the present-day titles, and as we picked it up to examine, he poked fun at how it could have used some real gold in it.
It would bring him joy and adventure beyond his wildest dreams but would also plunge him into a dark place.
The living room itself was adorned with so many heirlooms and citations gathered on his sacred journey, it had the feel of a museum about it.
Before he wore gloves before his prize money was hijacked by an entire nation to allegedly purchase mackerel for the State, before he sunk into depression and cut off the world he was on his way to becoming an electrical technician.
The quality of his own decisions, however, would turn a rather ordinary and even mundane existence into one that would be documented years down the line.
He received his technical education at the Government Boys secondary school now Kinbu Junior High but dropped out midway through the process which according to him, was way too lengthy.
Belonging to a large family with seven other siblings, Kotei's boxing journey did not start at a young age nor in Bukom, the famous suburb in the heart of Accra which has churned out a good number of Ghana's World Champions.
He was born and bred in Adabraka before his large family moved to Nima.
It was on that fateful day, when he and his friends huddled around the daily sports newspapers, gloating over the photograph of Joseph Kpakpo Allotey, that something within him snapped.
"During our school days, some of us always bought the newspapers, and the first page we always opened was the sports page.

"We opened the paper on one of such days and saw a boxer who said he was going to defend his title.

"The guy was so small, his name was Bob Allotey.
"I told my friends that if this guy has a title, then I am going to become a boxer and also become a champion.

"From then I found a pole and an old military sack which I stuffed and started doing my own thing," he revealed on The Tracker on Citi TV.
At the time he was already 17 years old and had never even seen the inside of a boxing gym, but his own defiance and ambition told him that a life spent fixing electrical gadgets while stressing over negative and positive terminals was not his calling.
The decision to act on this inspiration would create a chasm between him and his parents, who incessantly made their displeasure known that their backyard would not become a makeshift gym.
He was labelled a vagabond by his old man and their relationship deteriorated to the point where he was compelled to move from home and take up residence with a friend in Lagos town (New Town).
It all finally begun to come together for him as he established contact with his first-ever gym, the J.K Mensah boxing club in Kotobaabi with Joe Tetteh as his trainer.
His technique and progression within the short spell he had been in the gym shocked his trainers.
"They started me right from scratch and had me doing nothing but basic techniques of shadow boxing in my first two weeks, and then in my third week, they asked me to put all I had learnt into practice.

"They didn't believe that I had never boxed in my life before," he stated.
He kept training and seeking a shot until he signed a contract of 3 GHC to fight Famous Lartey in his first-ever professional bout at the Accra Sports Stadium.
He went on to annex the featherweight title in 1966 in 6 rounds and followed it up with another devastating performance against Hassan Taher for the African Union Boxing title in a bout that lasted only one round.
He confessed that had he been savvier about the political workings of the boxing industry he would have sidestepped certain bouts including the Commonwealth title bout against Scot, David Armstrong in search of World glory.
Nonetheless, he had become the complete dominant force of the sport in the land, so much so that he had to vacate his title due to a lack of willing opponents.
Chapter Two: A date with Destiny
With an enviable bout record of 20 wins in 22 fights including 12 K.O.'s and 2 draws, his thirst for a larger slice of the pie grew stronger and so with manager Sammy Doherty in his wake he left Ghana and settled in Melbourne and later Sydney in Australia.
His reputation as one who ended careers had spread so wide that not a single opponent he considered worthy was willing to fight him.
He had to make do with a bunch of journeymen in the twilight of the careers.
The situation was so bad that Commonwealth Champion of Australia at the time George Toure declined an invitation to fight Poison despite the latter offering his purse to the champ.
The situation became dire he and his manager departed for the United States of America where they encountered a similar situation after he had campaigned to fight between 1973 and 1974 with no luck.
His manager Sam Doherty decided to play his final card by travelling to the United Kingdom to convince Jack Solomons, promoter of the first-ever world title bout in Ghana in 1964 to play the chess game of boxing matchmaking in their honour.
He obliged to take on the challenge of getting D. K Poison a shot at the world featherweight title but only under the condition that the State of Ghana would fund all the bout expenses.
Hungry and unrelenting in his will to fight for a world title Poison devised a plan to speak to the State about his intentions.
After several key conversations he hit the right notes with the right people including Colonel Nkegbe, Ghana's Commissioner for Education, Culture and Sports as well as the late Justice D.F Annan.
Through them, a boxing syndicate was created, and finally, the wheels were in motion.
His world title ambitions coincided with those of then military Head of State General Kutu Acheampong who viewed sports and specifically D.K. Poison as a great opportunity to legitimize his rule and also gain the popular support of the people.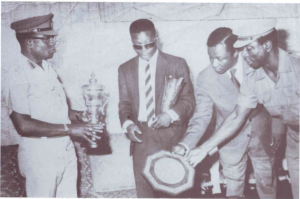 Before the syndicate could secure him a shot at the world title, the bureaucracies of the process angered Sammy Doherty who abandoned his boxer midway and returned to his country, but it didn't matter.
Because the boy who had been inspired by newspapers, disapproving parents and a career that looked to have hit a snag would finally have the opportunity to take his talents to the highest possible level.
D.K. Poison had been presented with the third opportunity to finally win Ghana a world boxing title where Love Allotey and Floyd Klutei Robertson had failed.
He was set to fight Reuben "Rockabye" Olivares in his title defence on September 5th 1975 at the Forum in California.
Upon arrival with his entourage, which also included his wife in the United States, he would soon discover that the path to a world title was more than a mere 15 round fistfight.
Camp Olivares had never witnessed this much talked about African box but were keen to avoid any surprises while gaining a psychological edge in the process.
"They refused me a proper gym in the beginning and asked that I train outside in the cold so they could examine my fighting style, but I refused and insisted on the right thing being done until they put me in a proper gym with a heating system.
Even then, they sent several boxers of theirs to spar with me, but I was smart and didn't give away much about my skills.
They dismissed me as a hungry boxer from Africa looking to make some quick money," he indicated.
Olivares even dared to make jokes about Poison based on inside information he had gathered.
"At the official bout presser, Olivares had found out that I liked to go to bed by 8pm regardless of what I was doing and joked that he would put me to sleep and knock me out by the 8th round.

"I told him that his belt would soon be mine." He smiled.
In a last-ditch attempt to knock off his focus they sent beautiful and seductively dressed women to his hotel room a day before the bout, but he remained steadfast.
"They sent some beautiful girls to tempt me, and some of them could speak English, so I told them that as for my manhood, I had left it in Africa," he revealed while laughing.
The bout itself proved an easier task than the process of actually getting there.
He knocked Olivares down 3 times and dominated him all throughout the fight while the referees ignored and failed to dock points from his opponent for several illegal punches.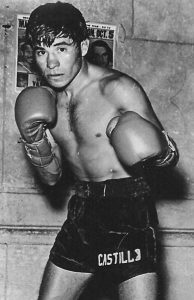 The victory for the Ghanaian was so glaring that the crowd at the Forum begun throwing missiles into the ring in disgust that their favourite had lost.
So tense was the atmosphere at the Forum that D.K. Poison was not immediately declared the winner but rather whisked away to a quiet room somewhere in the arena.
After an hour, when tempers had subsided, he was finally declared the winner and a world champion.
He earned an amount of 7,000 USD but believes he should have picked up a purse of 15,000 USD along with his belt which would eventually arrive in Ghana three weeks later.
Nonetheless, he had forever etched his name in the history books of the sport and was ready to return home.
"When we arrived in Ghana, I was overwhelmed by the crowd that awaited us because I had never seen anything like it in my life.
I experienced mix feelings, and before I could hold myself, tears were rolling down my face.
Ghanaians had lined up right from the airport through the principal streets, through UTC and then to the Castle,"
He jokingly admitted that the act of waving at the crowd for an hour was harder than the bout against Olivares.
The biggest shock, however, came upon arrival at the Castle, where he saw his parents, the same ones that had bastardized and ostracized him for his career choice.
They were dressed in fine clothes and with beaming faces sipped on champagne to celebrate his conquest.
He would go on to successfully defend his belt against Uehara Flipper and Shig Fukuyama both from Japan.
It was after his bout with Fukuyama that his tussle with his managers, the State of Ghana, over money would begin.
Chapter Three: A lonely place
He had barely started basking in the euphoria of the night, a successful title defence against Fukuyama when he was pulled aside by the head of delegation Colonel John Slater from the rest of the crowd who could not get enough of him.
It happened at the Ghana embassy in Tokyo, two hours after the fight, at a party thrown in his honour or perhaps to condition him for what was to come.
It was then that he was informed not asked, that a portion of his purse to the amount of 45,000 USD would be taken away to alleviate the dire needs of a nation.
Here he was, surrounded by politicians and underworld figures from the world of combat sports in faraway Asia, agitated but helpless to prevent a situation that would become cancerous to his existence.
"In the business of boxing, the promoter always deals with the manager when it comes to the details.

"You could sign a contract in their presence, but later they will agree on things that did not appear in the documents.
After the fight, the promoter hands the check to your manager and not you the boxer, so it was given to Colonel Slater.
They didn't tell me how much of my purse would be deducted until I got to Ghana," he revealed.
D.K. Poison had suspected foul play with these dealings from the get-go.
To become a boxer eligible to be called a World Champion; however, he couldn't do it on his own.
Due to the system of governance that was run at the time, it was obvious that his only shot at a world title would have to be fully sponsored by his country.
Perhaps the government of Ghana, his managers felt a sense of entitlement to him and his talent in a way that he still doesn't appear to have come to terms with.
"I thought you gave the money to the state for free."
Nathan Quao, then first aid to President Jerry John Rawlings in the early and mid-nineties innocently retorted as he requested to be paid back.
His trips to sitting governments to present evidence had become routine and also more depressing each passing time.
He always carried the original copy of the telex of the transaction done through Barclays bank on which the amount of 30,000 USD which had been paid into his account was boldly written.
Acheampong who instigated everything gave him tales of reassurance and the run around until he passed away.
The Rawlings administration had clearly told him that Ghana was grateful for his benevolence, they didn't mince words.
Under the Mahama government, he was handed an amount of 1,500 Ghc to use as transportation home. He promised a follow-up meeting which never materialized.
But the real heartbreak and disrespect of his greatness occurred when he made an appearance in the latter days of the sittings of the Dzamefe Commission.
The Black Stars 2014 scandal was the main agenda. Still, such commissions also had the power to rectify through policies and recommendations other discrepancies within Ghana's sports structure.
He was barely audible as he struggled to talk through a crowd of media men jostling for position with their tripods at the rear of the press room, they barely recognized him.
He used colonial day words like Tinapa and Telex while summarizing his story, the modern generation could not even relate to those.
The entire scene reeked of desperation and anarchy, attributes that were alien and could never occupy the same room with D.K. Poison.
Unfortunately, that had become his story.
Living in isolation and subtle anger in a house that shows signs of its old grandeur but needed its old shine just like it's master.
Until people like Ekow Asmah, writer and former publicist of Ike Quartey took it upon himself to nurture the champ into a state of mind where he felt connected to the society and his country again.
He is currently waiting to follow up on a petition for his money from the current government.
Bureaucracy can be a bastard, but somewhere in that complicated maze human effort and compassion should be put into giving this hero his 45,000 USD while we still can.
It's more than legal tender to him, it will represent a sign of justice and diligence.
Ironically he believes that all the success and frustrations were written into his story by his maker.
"I believe it was my destiny to become a world champion.

"I believe that this situation with my money is also my destiny", he said rather casually.
World glory had brought noise, both pleasant and unpleasant, but now it was time to return to his life of solitude.
Tucked away between the wall and some paint buckets was an old black fading punching bag.
He confessed that he brought it out when he needed to give his grandson some pointers on the noble sport.
He smiled as he said it.
He still loves it with all his heart.