Former Black Starlets and Black Stars head coach, Otto Pfister, believes bad football agents ruined the career of former Ghana youth star Nii Odartey Lamptey.
Lamptey was hailed as the next Pele in his formative years, and age limit rules in Belgium were changed to allow him to debut at the age of 16 for Anderlecht.  Lamptey signed his first contract at Anderlecht when he was 16, becoming the youngest-ever player to play in the Belgian league.
But his career never quite took off, with loan spells at PSV Eindhoven and later Aston Villa, all proving unremarkable.
Lamptey, 45, was shuffled around the globe, from South America where he played for Union Sante Fe in Argentina, to Asia where he played for Shandong Luneng of China and Al Nasr of Dubai, and South Africa where he also played for Jomo Cosmos.
According to the 82-year-old Pfister who coached Odartey Lamptey when Ghana won the FIFA U-17 World Cup in 1991, Lamptey's career never reached the apex because of the bad choices agents made for him.
"Nii Odartey was a young lad with great talent. He has had so many bad transfers in his life as he was in the hands of agents who were not seeking his interest.

"Till today, I cannot believe he didn't have an amazing career like Sammy Kuffuor, Antony Yeboah and Abedi Pele," he told Fentuo Tahiru Fentuo in an interview on Citi TV

"Bad agents did that to him. He made so many transfers in his career. Moving to China, move to Germany in the second division, Argentina to play for Union Santafe. I don't know why.

"I believe he has played in all the continents of the world and I don't think he can pick a team he can say he played for long and that was his problem. He also had problems with his family and he has a very tragic story to tell," Pfister concluded.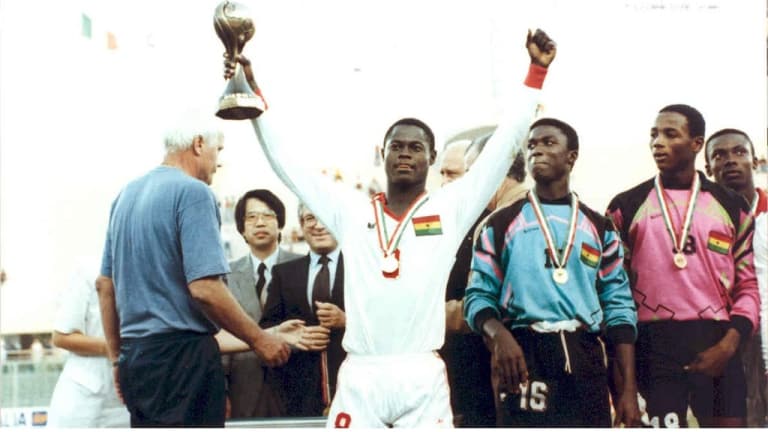 Background
Nii Odartey Lamptey featured in Ghana's team that won the U-17 FIFA World Championships in Italy beating Spain in the final and was named the best player of the competition.
Odartey Lamptey finished the tournament with four goals and was judged the Best Player of the tournament ahead of Brazil's Adriano.