Italy striker, Mario Balotelli has not doubt whatsoever, who he believes is the best player in world football at the moment.
For the former Liverpool, Man City and Inter Milan player, it is disrespectful to compare Lionel Messi and Cristiano Ronaldo.
According to him, even though he is a fantastic player, the Portugal star shouldn't be spoken in the same breath as the Argentine.
"For the good of football, please don't compare him [Messi] to Juve's Number 7 [Ronaldo] again," he said.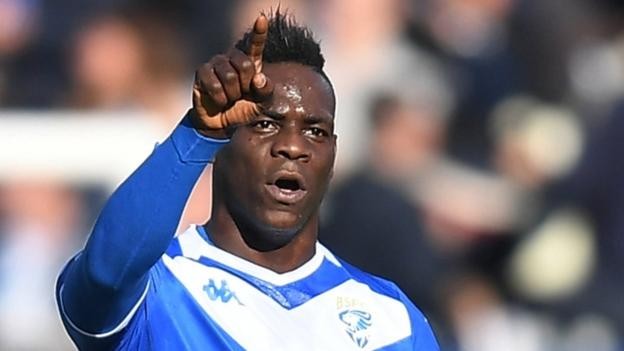 He then added that although the pair are pretty much similar in terms of stats, in terms of ability, there is no comparison.
"If we're talking statistically, they're the same. But as someone who played against both, I can say that, in my opinion, Messi is out of this world, embarrassing. You can never get the better of him.
"In terms of quality, Messi is better than everyone. I'm convinced that if you ask a defender if they would rather play against Messi or Ronaldo, they would have no doubts."
Balotelli, who despite featuring for a number of European giants, hasn't played with either player,  believes the debate over Messi and Ronaldo is a little like the ones involving Argentine, Diego Maradona and Brazilian, Pele.
"I leave the statistics to journalists, but it's like comparing [Diego] Maradona and Pelé. Pele scored more goals than Maradona, but when Maradona touched the ball, he was something else."
One player who did take to the field with and against Ronaldo and played multiple times against Messi as well was Wayne Rooney.
While Rooney acknowledges that Ronaldo is a superb player, he also believes that Messi is a level above.
"Ronaldo wasn't as focused on goals when we started playing together but you could see that all he wanted was to be the best player in the world," Rooney wrote in the Sunday Times.
"He practised and practised and began to produce. Cristiano has become an incredible scorer and he and Messi are arguably the best two players the game has seen.
"Ronaldo is ruthless in the box, a killer. But Messi will torture you before he kills you. With Messi you just get the impression he is having more fun. Those two have completely changed the game in terms of goalscoring numbers and I don't think they'll ever be matched."
---
More from Citi Sports
---
Former Barcelona and Brazil star, Ronaldinho, who played with Messi at the Catalan club believes his former teammate is more talented than Cristiano Ronaldo, although he admits the Juventus forward is a great player as well.
"He's the best in history, no doubt. Nobody has done what Messi's done. The other one [Ronaldo] is complete, he has it all," Ronaldinho said.
"So does Messi, but it's a question of taste and I prefer Messi's style."
His former Brazil teammate, Ronaldo, believes both Ronaldo and Messi are  "out of this world" but adds that he thinks Messi is the more complete player.
"He [Messi] is out of this world. Cristiano, too, but I see Leo as more complete," Ronaldo said.
"He's great. I like him much more than any other player. Everything he does is spectacular."
For former Manchester United, Real Madrid, AC Milan and England midfielder, David Beckham, despite how impressive Ronaldo is, he just doesn't match Messi's standard.
Beckham insisted that Ronaldo "doesn't reach the level" of Messi.
"I probably decided to retire when Messi was running past me," Beckham added.