29th November 2020, as at 15:00 GMT, Man Utd were staring down at their first away defeat in 8 games. A matador was all that was needed to give Man Utd a glimmer of hope.
Cavani was introduced at half time and spend the first 40 seconds of the half tying his boot laces as the game had started. He started Man United's come back with a brilliant assist for Bruno Fernandes and bagged a brace in fine fashion with some excellent instinctive goalscoring inside the box; first, from Fernandes' shot and second, Rashford's brilliant inch-perfect cross.
His man of the match performance has many fans calling for El Matador to start ahead of Anthony Martial (French Cristiano). We take a look at the statistics and pass judgement on whether this call is warranted at all.
We compare Edison Cavani and Anthony Martial's goals scored, goals assisted, in-game positions were their goals have come from and game-winning goals in their careers in English Premier League and French Ligue 1.
In terms of goals scored in EPL and L1, Cavani (141) has scored 79 more goals than Martial's 62 with an outstanding 78% of his goals being scored when he (Cavani) is deployed as the main Centre Forward (CF). Martial has only scored 61% of his goals as a CF.
It is worth noting Cavani (31) has also assisted as many goals as Anthony Martial over the period of their careers in EPL and L1. Martial has been at the supply end of goals with 42% assists when he starts the game as an out-and-out wide man whereas Cavani has only assisted 12% goals as a wide man.
With the majority of Cavani's assists and goals coming when he is deployed as a Centre Forward, it is a no-brainer that Ole needs to shelve any plans of using a young forward line of Martial, Rashford and Greenwood and focus on building a forward line around Cavani.
Chart 1 Goals Scored in EPL & Ligue 1                                                   Chart 2 Goals scored per role deployed in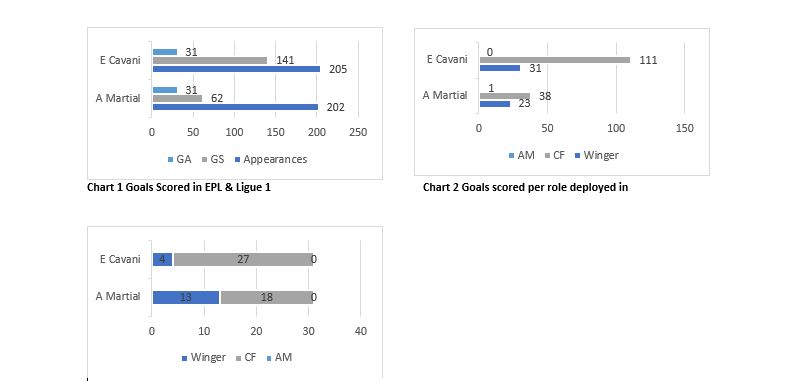 Chart 3 Goals Assisted per role deployed in
Cavani only recently joined the EPL and as such has been limited to appearances off the bench. He has played only 128 minutes this season and has contributed 3 goals already. Cavani has shown he has the composure to take big chances when presented to him as he has scored 3 times when these opportunities have arisen.
There are elements to Edison Cavani's approach to the game that makes him the ideal candidate to lead the Man Utd forward line.  His excellent movement off the ball, his decisiveness in the box and goal sniffing ability are just a few of these elements.
In United recent win over Istanbul Basaksehir, Cavani constantly caused havoc with his runs off the shoulder of Skrtel and his near post-movement.
A result was a brilliant volley from the edge of the box as the Turkish champions cleared the ball into the path of Fernandes.
As Fernandes struck the ball, Cavani was already positioning himself for a potential spillage by the keeper. Luckily, Bruno's volley was precise enough.
As evidenced against Southampton as well, he gambles on another ball from outside the box coming towards his path. This time, Cavani reaps for taking a chance.
On the evidence of the intelligent movement and ability to sniff out potential goal-scoring opportunities out of nothing definitely puts him in a league of his own in the current striking department of Man United.
Cavani's goalscoring record speaks for itself; to the extent that opposing teams tend to have two men on him as much as possible.
Cavani is very much aware of the attention he gets from opposing defenders and that awareness is something he uses to his advantage by creating space for his teammates to counter and create a goal-scoring opportunity.
When Cavani drops deep to get involved in the build-up play, he limits his touches onto the ball to two or three in order to create space for his midfielder to bring the ball further forward. Same cannot be said about Martial, who sometimes holds onto the ball a bit too long and easily gets dispossessed (10 times in 20/21 season).
In the 5 games, both Cavani and Martial have been involved in this season, the stats are stacked heavily in favour of Cavani. He has played fewer minutes, contributed more goals albeit a poorer shooting accuracy but most importantly, he is a fox in a box.
Edison is now Man United's joint-highest contributor of headed league goals since the start of 2018/19 and has only played 128 minutes. In terms of touches in the box as well, Cavani has had only 12 with 3 goals to show whilst Anthony has had 38 with no goal to show.
Finally, when it comes to game-winning goals, Cavani has contributed 37 goals whilst Martial have provided just 19 over the space of 8 seasons.
The statistics, the results and team play support the choice of Cavani as the number 9 for Man Utd. The onus remains on Ole to manage Cavani adequately to keep him fresh for the big ties and make the necessary changes in the United attacking phase to reap the benefits of such a lethal striker.