Romelu Lukaku and Zlatan Ibrahimovic's scuffle was the highlight of a night of football across Europe on Tuesday.
The Coppa Italia quarterfinal between AC Milan and Inter had to be halted for a few minutes after the two former Man United teammates clashed before the break.
The pair butted heads and hurled insults at each other, earning bookings, while teammates kept them apart at halt-time.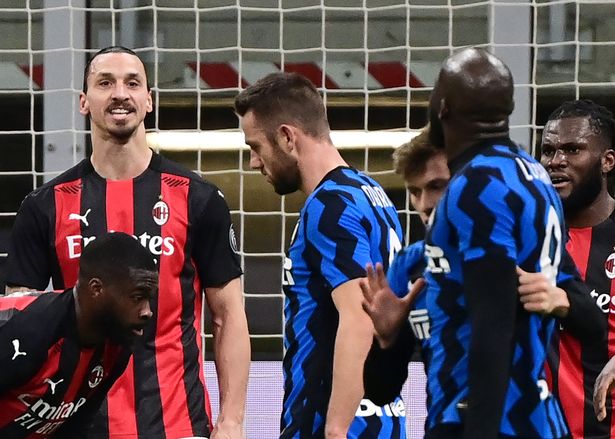 Social media, of course, remains unrivalled as a platform for the dissection of such matters.
While some users on Twitter debated over who was at fault for the confrontation and defended their favourite, others criticised both players for the words used in their verbal attacks.
War of words

Zlatan: "I'll give you €500 for every time you get your first touch right tonight" "Go do your voodoo s***, you little donkey!".

Lukaku: I will f**k u and your wife b**ch "He wants to talk about mothers? Son of a b****." #InterMilan#derbydellamadonnina pic.twitter.com/qWm0WygVBV

— Cosmos ChukwuEmeka (@Mrcosmos13) January 26, 2021
The Belgian is quoted as having said "f*** you and your wife" in the Swede's direction with Ibrahimovic seemingly referring to Lukaku as a "little donkey".
Zlatan said to Lukaku: "I'll give you €500 for every time you get your first touch right tonight" 😂🤣 pic.twitter.com/TpEMMrurBZ

— Footy Humour (@FootyHumour) January 26, 2021
Others were just content to make light of the situation, letting their memes do the talking.
Lukaku scored Inter's equaliser with a strongly hit penalty, leading to suggestions he might have channelled his anger at Zlatan into that hit.
Here are some of the best tweets:
It's all going down folks at Wrestlemania37 Lukaku vs Ibra, this one gna be a wild one! pic.twitter.com/azquhqTBy4

— Gaz Smackburn (@gazsmackburn) January 26, 2021
A very rare picture of Zlatan and Lukaku after the match ends! #Ibrahimovic #Lukaku pic.twitter.com/HcQhgCOFiS

— Dot Technologies (@dottechnet) January 27, 2021
Zlatan's wife wondering why she was talked about by lukaku pic.twitter.com/7hPbCFfLUc

— marvow😎🇺🇬 (@Mavow23) January 27, 2021
Scenes in Milan, Big Rom still looking for Zlatan 😅 #Milan pic.twitter.com/ShJAHFCCfa

— Football Fans Forum (@FootballFansFo2) January 27, 2021
What ever Ibramovic said to Lukaku, really hurt him. 😂😂 pic.twitter.com/P8oQVrpS2S

— Thanos Papa (@steveabbey_) January 27, 2021
Lukaku after the match pic.twitter.com/q6RKDWbftB

— Shan (@Shan11__) January 26, 2021
Ibra after being confronted by Lukaku. pic.twitter.com/8Wc67RYdL4

— SanchezSZN🏴󠁧󠁢󠁷󠁬󠁳󠁿 (@THFCdylz) January 27, 2021
Manchester United fans watching Zlatan and Lukaku fight against each other – pic.twitter.com/UUgA2uCHcy

— Omkar angane (@Upatsumbha) January 27, 2021
Pogba choosing between Zlatan and Lukaku after the beef pic.twitter.com/4bGFpx4gTl

— Fle (@antoineghz) January 26, 2021
Lukaku vs Zlatan
How its started vs How it's going.#InterMilan pic.twitter.com/HCWi0DccNE

— Pa'Diabel Mbaye 🇸🇳 (@PaDiabelM) January 26, 2021
Zlatan in the parking lot of San Siro with Lukaku (post game) pic.twitter.com/cAmow7gplX

— Emin (@EMINRGN) January 26, 2021