Citi Sports guest writer, Yaw Frimpong, explores Jose Mourinho's rather understated but masterful art of sending a message across without having to open his mouth.
---
If Jose Mourinho is known for one thing – apart from winning cups and games, that is – it's his mastery of the art of speaking.
Mourinho's tongue is a double-edged sword, capable of delivering witty remarks and scathing jibes. It inspires and deflates, depending on how he chooses to use it and who the subject is. It has won him fans and critics, both devoted in their passion, lifelong friends and foes.
But any expert communicator – and Mourinho is certainly one – knows there's more to getting a point across than just verbal eloquence.
Gesturing/gesticulating is just as powerful, and while all football managers are pretty good at it (key to getting through to their players during the game), Mourinho has perfected that skill over the years.
And his brilliance at it over the years has been rather understated. Some of his boldest and most controversial statements have, in fact, come without the 'Special One' having to part his lips at all. On more than one occasion – including career highlights – he has let his hands do the talking.
Here are five of the more notable instances:
CUFFED
Mourinho, in the heat of a Serie A title race, found the going tough against visiting Sampdoria, losing two of his players to red cards before it was all over.
Feeling he had just cause to protest the quality of officiating on the day, Mourinho was relentless, repeatedly raising crossed arms where the fans and TV cameras could see them, his wrists bound by invisible handcuffs.
Mourinho, through his spokesperson, later explained what those theatrics were all about: "You can take me away, arrest me, but my team is strong and will win anyway, even if we are reduced to nine men."
Inter didn't win the game, and Mourinho copped a fine for his remonstration – just a tiny slice of his wages, really – but he and his team would go on to bag the league title on the final day.
Any review of that season, especially by a manager who thrives in the presence of a siege mentality, would likely pick out the infamous 'cuffed' episode as a defining moment.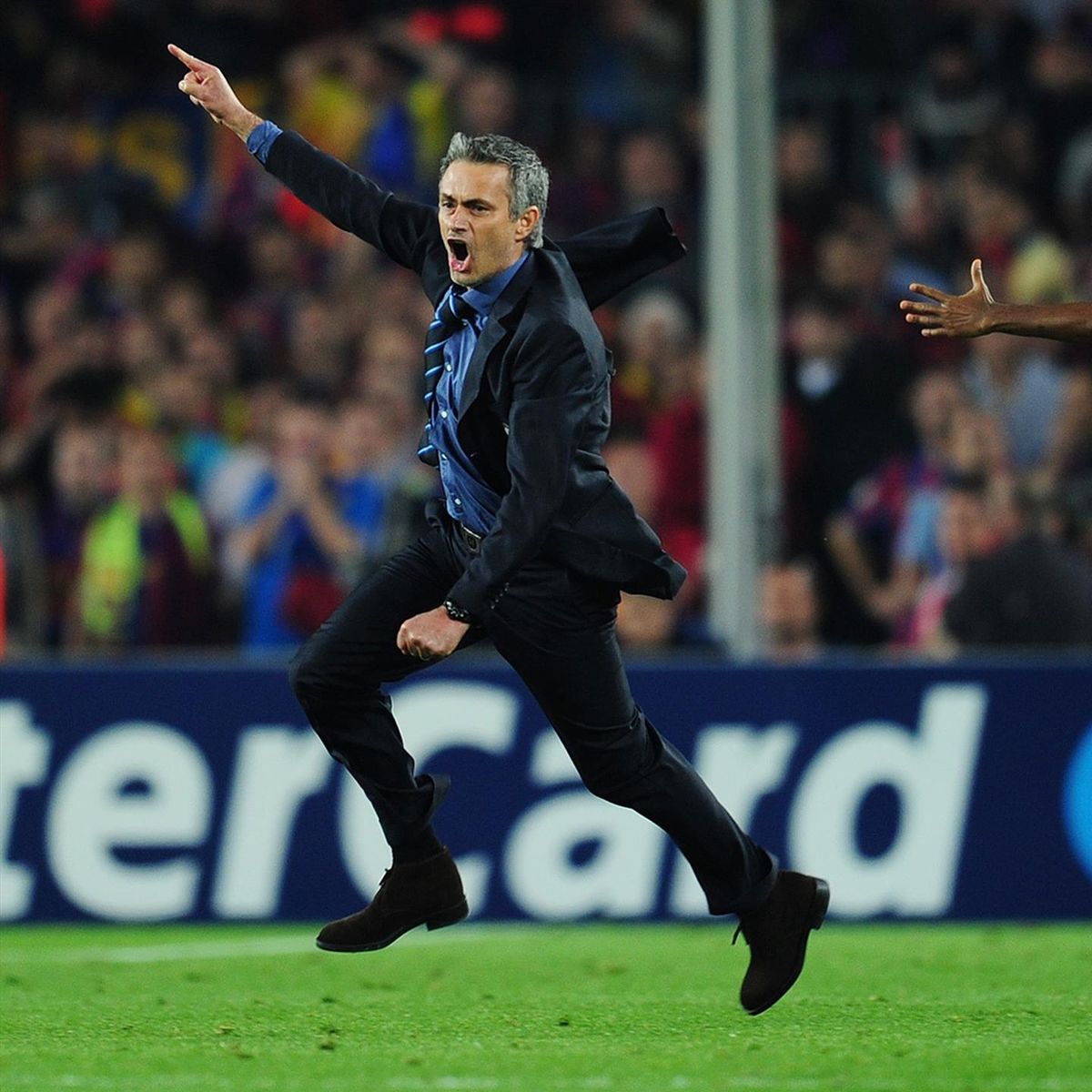 IN YOUR FACES, BARCA!
Mourinho had masterminded a defensive masterclass at the Camp Nou, successfully clinging to an advantage secured in the first leg by his Inter over Pep Guardiola's Barcelona.
The build-up to that decisive second game of their 2009/10 Champions League semi final tie featured no little animosity, with the home fans channelling as much energy into backing their team as in taunting the visiting manager, proof that there was no love lost between Mourinho and the club he once called home.
The feeling was mutual.
Guardiola had the job Mourinho had long fancied, one he was in fact set to be handed right up to the point the former Spain international got the nod. This aggregate triumph, then, felt like vindication for Mourinho, a fully-erect middle finger in the faces of the home fans.
Only that it wasn't the middle finger. Still, holding up his index finger, even as he went on a wild run, eating up the Camp Nou turf like he owned it, appeared just as vulgar to those of a Blaugrana persuasion – and just as satisfying for an unashamedly gloating Mourinho.
"I'm the one," he seemed to say. "The one y'all are so damn unfortunate not to have in your dugout."
THREE, FOUR…
In the aftermath of Mourinho's next European success, seven years on from that famous night in Barcelona, his hands – his fingers, specifically – went to work again.
And, this time, it wasn't just his. As Manchester United captain Wayne Rooney readied himself to hoist the Europa League trophy – the Red Devils' most significant acquisition post-Sir Alex Ferguson – Mourinho, their manager, turned to the waiting United squad and asked them to do as he was: wave three fingers, even as they bounced joyfully.
It was to remind the watching world, also the players themselves, that United had just won a third trophy of the season (even if one of those three, the Community Shield, wasn't exactly worth the esteem) with that 2-0 victory over Ajax Amsterdam.
He was also seen, at a point, flashing four fingers. Keep that detail in mind; we'll get back to it later.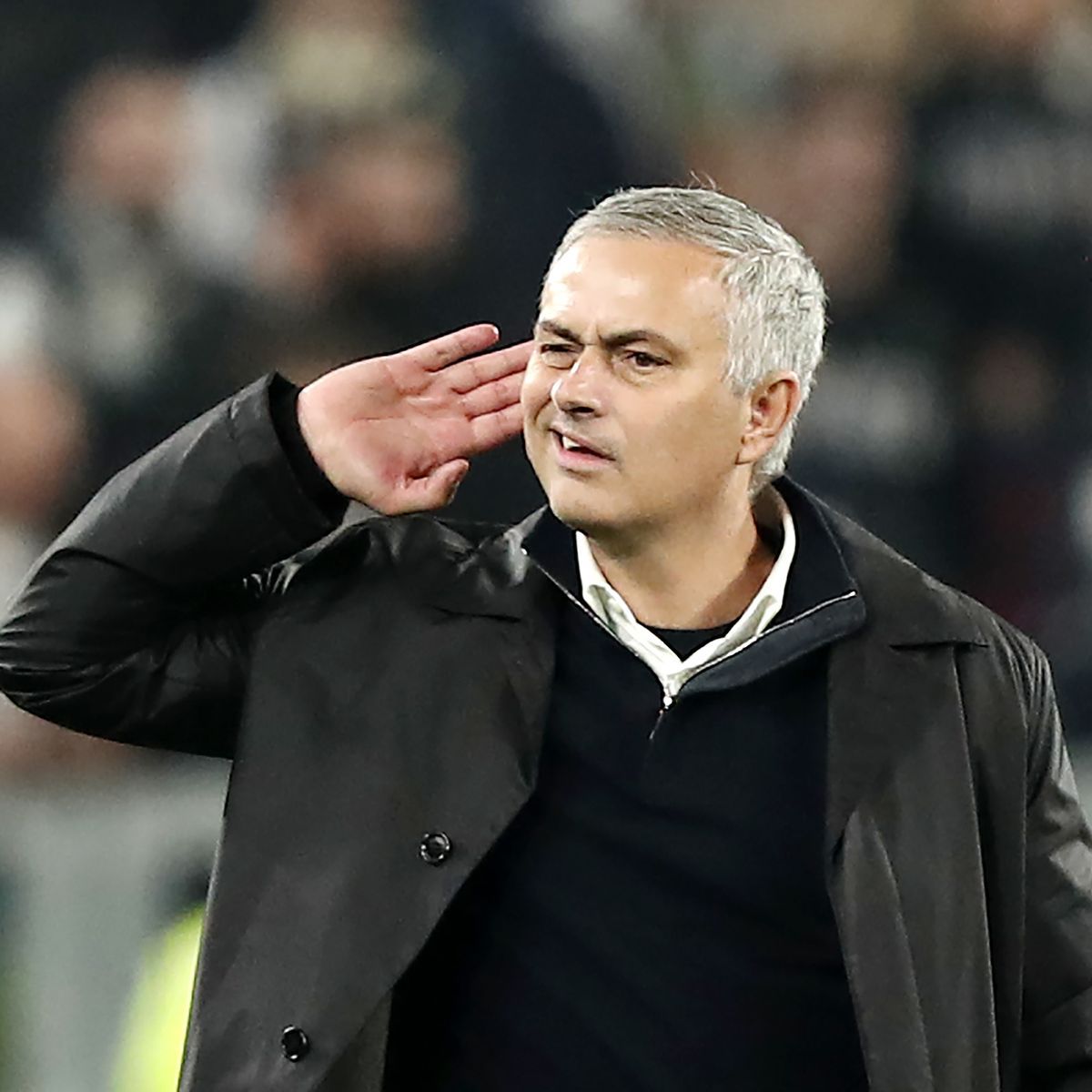 LOUDER, Y'ALL!
Rule No.1: Don't taunt Jose Mourinho unless you're sure you've got him cornered beaten.
A little less than a decade after Barca fans forgot that rule and fell foul of it, Juve's were none the wiser.
Mourinho's final season at Inter – during which that trip to Catalunya happened – had seen him achieve unprecedented success, guiding the Nerazzurri to Italian football's first-ever Treble.
That feat – and the lifetime adulation it earned him at the Giuseppe Meazza – made Mourinho, by default, a figure very despicable to juventini, Inter's archrivals.
And so when Mourinho, now in charge of United, came to town for a Champions League game, he found the atmosphere all too hostile.
Not that he was expecting much warmth, but Mourinho certainly didn't enjoy being stewed in the Juventus Stadium's cauldron. Thankfully, he only had to endure it until the very end, when a late Juan Mata finish and an Alex Sandro own goal rubbished Cristiano Ronaldo's fine opener for the hosts.
Cue full-time, when Mourinho's pent-up emotions were released at full force all over Juve's pristine pitch; not quite as energetically as at Barca, perhaps, but the message – transmitted through the imagery of a cupped ear, coupled with a "yea, right!" grin – was loud and clear.
"They insulted for 90 minutes," Mourinho told Sky Sports Italia post-match. "Me, my family and also the Interista [Inter Milan supporters] family.
"At the end of the match I just made the gesture that I wanted to hear them louder."
Needless to say, the Juve players and fans didn't like it any more than Barca's did. Mourinho, however, didn't care one bit.
To him, of course, it was but "a little thing".
THE CALM BEFORE THE… FIVE!
So, yes, back to the four-fingered message.
It was to point out the number of European finals he'd won at the time; with that explanation in mind, it isn't hard to understand why Mourinho put all five fingers up almost as soon as Romanian referee Istvan Kovacs had whistled to end the maiden UEFA Europa Conference League final in Tirana, Albania, last Wednesday.
Mourinho had led AS Roma to their very first trophy in a UEFA competition, the club's first piece of silverware of any sort since 2008, adding to his collection of laurels at a point in his career when many had declared him finished.
This final, too, was won – courtesy of a first-half Nicolo Zaniolo goal – against Dutch opposition, Feyenoord this time.
But even as all around him – most of whom were only taking in their first [major] final – erupted in ecstasy when Roma took the lead, Mourinho – who has been in the business long enough to know all too well how these things could go – urged calm… by motioning with his hands, yes.
Share with us, then: what's your favourite Mourinho 'hand' moment? Any of those five? Or some other?