Antony's debut goal in all important game even in this early part of the season against an improved Arsenal is bound to grab the headlines.
After all, the diminutive Brazilian winger was a surprise starter after completing his high profile move to Old Trafford a few days before and beyond that, there was the obvious issue of the hefty sum of money Manchester United doled out to get him from Ajax to live up to.
Antony not only showed the United faithful that he has the quality and temperament to excel but he repaid the enormous faith Head Coach Erik Ten Hag has in him.
So four wins in six games with all four wins coming on the bounce after two poor losses to open the new season but beneath the shining stat of a healthy goal count and accumulated points is the worrying reality of Man United's best goal outlet.
In the latest win for the Red Devils that came via a 3-1 win over Arsenal, all three goals scored by Man United came in transition the same way all but one goal scored by the team in the previous wins. Jadon Sancho's quick feet and composure inside the box before slotting the ball into the net against Liverpool is the only goal Man United has scored without transiting possession quickly.
As long as the wins keep coming is there a problem with that? Possibly so because if United is to play its way through the season this way, the fate that befell former Coach Ole Gunnar Solskjaer is likely to repeat itself.
While Ole's Manchester United run through a record setting 28 away game unbeaten record, his side failed to win when teams sat deep. Such failures to get his team pry other teams open minus quick transitional play cost Manchester United the Premier League title in the 2020-2021 season, the Europa League title and for Ole, that inability cost him the job.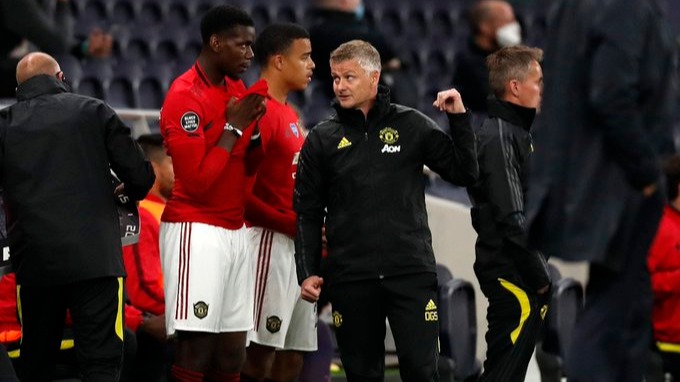 The Ten Hag era has commenced at Old Trafford and a simple look at the regular names in the starting unit tells a stark story from the one witnessed under Ole since only four players from that time are featured consistently under the new Coach. The entire starting back four is different while a holdover like Scott McTominay is set to move to the bench for Casemiro while an extra play maker in Christian Eriksen has been roped into the squad.
However, Ole's offensive fingerprints are still all over this team and it is clear Ten Hag has stolen a page from Ole's playbook. While the sample size is small considering the number of games Man United has played this season coupled with Ten Hag's "newness" in his role, a team can only be judged by what it has done.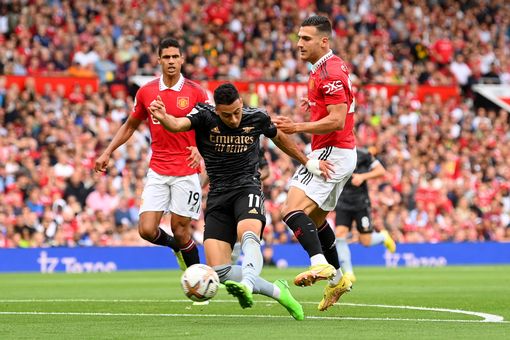 Thus far, judging by what Man United has been able to do, the team needs to build the vaunted Ten Hag identity that thrives on playing through teams to score goals and get wins fast before the losses roar back and kill off the renewed confidence of the team.
The Ten Hag style of attacking play as seen at Ajax is heavy on controlling the game but his new team has consistently done the opposite and surprisingly the Head Coach has a hand in it. In the first pair of games that opened the new season, Man United tried to play finesse football Ten Hag's teams are noted for but it didn't work and was bound not work against a Brentford side that has speedy forwards with a lot of physicality to overpower a high defensive line.
However, Ten Hag has quickly shown he is willing to switch from his idealist ways to more pragmatic ways to get the job done and having such a perspective to alter his style will serve him well. Four wins into the Ten Hag era, Man United has adopted the infamous "Rope -A- Dope" style that served legendary boxer Mohammed Ali so well in his colossal fight against George Foreman in "Rumble in the Jungle".
As witnessed against Arsenal, Man United lacked control of the game after grabbing the game's lead and Arsenal capitalized on it. Ten Hag didn't help his team by taking off Jadon Sancho and Antony and replacing them with Cristiano Ronaldo and Fred at the expense of Casemiro.
In an individual sport, controlling the level of risk is far less than the risks levels involved in a team sport like football where many factors are beyond the control of individuals in a team. This is why Old Trafford was very uncomfortable until Arsenal's high defensive line was broken twice by Marcus Rashford who finished off the moves to boot.
In disappointing losses to Brighton and Hove Albion and Brentford in games where United played the Ten Hag way (pressing high up the pitch, playing out from the back and dominating possession) the results were terrible. While largely blamed and flat out vilified by others for United's poor state before Ralf Rangnick's takeover, present results continue to cast a good light on Ole's style.
Since Tag Hag's side played like Ole's, the results have been successful which goes to show perhaps Solskjaer's ways of getting goals and wins weren't so bad after all.