Though Black Stars defender Daniel Amartey has stated that the 2010 World Cup meeting between Ghana and Uruguay didn't impact the Black Stars' latest loss to Uruguay, he didn't hold back on his keenness to play a role in preventing Uruguay from progressing to the Round of 16 stage.
At the 2010 World Cup, Ghana lost to Uruguay at the quarterfinal stage via a penalty shootout which was only necessitated by Uruguay forward Luis Suarez handling a goal-bound header from Ghana's Dominic Adiyiah with the game tied 1-1 in extra time.
Suarez was sent off but Ghana forward Asamoah Gyan missed the ensuing penalty kick.
Ghana lost 0-2 to Uruguay in the final round of games at the 2022 FIFA World Cup in Qatar to crash out of the tournament but South Korea's 2-1 win over Portugal meant Uruguay also failed to progress.
Uruguay needed to score more than two goals to qualify alongside Portugal from Group H but Ghana held on to deny the South Americans and Amartey revealed the role he played.
"I just told my teammates that we need a goal now, but they need a goal now, so we have to defend for ourselves so that if we can't go, they don't go. Uruguay needed one goal to go through, and you can see we defend four against five or three against two, but we managed to defend," Amartey said according to Agence France-Presse.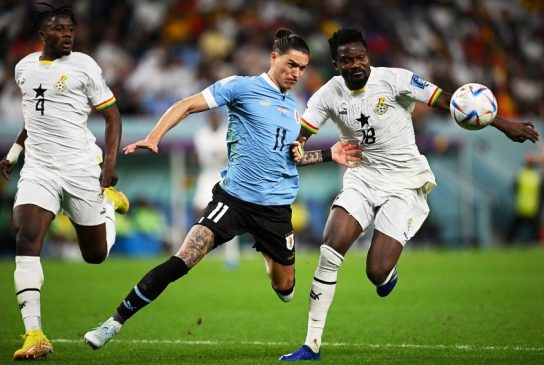 Suarez and several Uruguay players were captured weeping after South Korea's superior goal difference put them through to the next stage.