The roster of Ghanaian players playing out their professional careers in the English Premier League has increased to eight following the acquisition of top young talents by clubs in the division. Kamaldeen Sulemana and Antoine Semenyo joining Southampton and AFC Bournemouth respectively gives Ghanaian fans of the EPL more reasons to be invested in the best league in the world.
While Ghana has the talent pool to have its version of Enzo Fernandez's world record shattering transfer, players would need some help from the national team, the Black Stars to make this happen. Minus the World Cup gold medal and a non English passport, there is no way Fernandez would earn a $115 million move from Benfica to Chelsea.
For Semenyo, the verdict on his move from Bristol City is a consensus YES.
Many derive this positivity from Bournemouth's better chances of sticking in the EPL for another season on top of Bournemouth making a series of solid buys. Aside Semenyo, the Cherries have signed creative midfielder Hamed Traore and winger Dango Ouattara to fix its anemic front line.
Bournemouth has scored just 19 goals in 20 league games and needs the trio to click quickly. To fix its leaky defence, Bournemouth signed highly rated Ukrainian center back Illya Zabarnyi; Semenyo's new club has conceded a staggering 42 goals half way through the campaign.
Behind the 18th ranked Bournemouth in the league standings is Everton and Southampton accordingly and the bottom ranked team in the EPL is the new home for one of Ghana's brightest talents. Unlike Semenyo, Sulemana's move has split opinions with many not happy about his choice considering the options reportedly available to him.
Multiple sources linked Sulemana to Everton and German side RB Leipzig and the latter was viewed as the best choice considering Leipzig isn't flirting with relegation and has an excellent track record of pushing young talented players like Sulemana to the next level.
However, moving to Leipzig would have been revisiting Sulemana's frustrating time with Stade Rennes particularly in his second year after recovering from a series of injuries. Leipzig's frontline is loaded with talent even in the face of Christopher Nkuku's incoming departure to Chelsea at the end of the season.
Dominik Szoboszlai, Timo Werner, Dani Olmo, Emil Forsberg and Kevin Kampl are in a constant battle for game time. At this point in his career, not getting a string of consistent games under his belt is the last thing Sulemana needs in his career. For Everton, here are three reasons Kamaldeen did well by not picking up the Toffees option:
 Sean Dyche's tactics
The new Everton boss is as Old School as they come. The former Burnley manager is exactly the coach Everton needs to stay up in the league. He did so brilliantly for multiple years with Burnley by parlaying his defense first, pragmatic, route one football brand to grind out low scoring wins interspersed with boring hard to watch draws.
He prefers the throw back 4-4-2 system with little room for position changes and dynamism as right footers stick out right and left footers stay out wide left. Dwight McNeill and Aaron Lennon lined up for Dyche at Burnley on the left and right wings respectively with Jay Rodgriguez and Wout Weghorst up top. Sulemana excels playing down the left wing as an inverted winger where he moves the ball infield and shoots at goal or link up play with a teammate.
The former Right To Dream product has largely struggled for the Black Stars because coaches have consistently played him on the right wing and out of position. Sulemana's skillset makes him a misfit in Dyche's system unlike Nathan Jones' Southampton where Kamaldeen can operate on the left side of a three man front line with fellow new signing Paul Onuachu and Che Adams.
Southampton's storied development of wingers
In Gareth Bale, Sadio Mane, Theo Walcott, Alex Oxlaide-Chamberlain and a little bit of Dusan Tadic, Southampton has produced quite a number of top level wingers in its history. The team's affinity with young brimming talent and handing out ample opportunities to develop into world beaters is a hallmark that can't be overlooked. Southampton's DNA is attack inclined and that bodes well for a ball juggler like Sulemana who gets better with every touch of the ball.
Kamaldeen seeing more of the ball boosts his confidence and his chances of securing that move to a bigger club his talent screams of even if The Saints go down to the Championship. Unlike Southampton, Everton isn't a unit necessarily renowned for producing wingers.
Everton is just too toxic  while Southampton allows Kamaldeen to be Kamaldeen
Fans anger at Everton's management has spewed onto the player unit where fans have angrily confronted players over the team's poor campaign. While both teams are battling for survival in the EPL, the St. Mary's Stadium situation is way better and more accommodating than the toxic setting at Goodison Park making Kamaldeen Sulemana's move to Southampton a great choice.
Due to the absence of a Dyche-esque type of striker behind Dominic Calvert-Lewan after Salomon Rondon's exit, Everton relies heavily on its creative players behind the striker to score goals. Sulemana isn't a top goal scoring threat but has room to grow into one.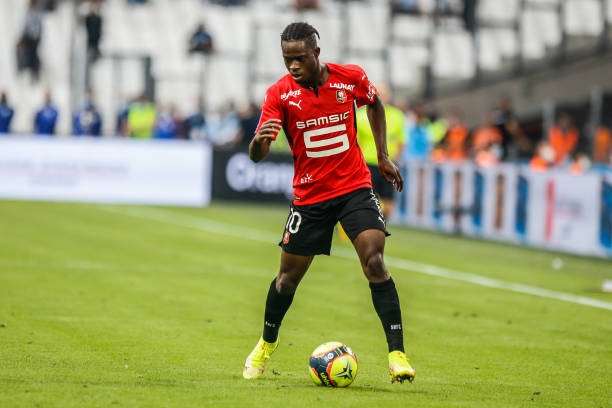 However, at this point, he isn't and shouldn't be forced into a role that makes him who he isn't. At Southampton, the goal scoring load is heavily placed on Che Adams, Adam Armstrong and new 6 foot 7 inch recruit Paul Onuachu.