We are steaming towards the end of the season and as such, the stakes are higher therefore each decision matters more as there is less time for things to even out as they say. This week the talking point will be red cards.
The incident: Carlos Casemiro catches Carlos Alcaraz in the shin whilst trying to win the ball and is sent off.
Many Manchester United fans felt that because Casemiro touched the ball first the decision was harsh but unfortunately that is irrelevant in determining if a challenge is worthy of a red card.
Per Law 12 section 1 which relates to disciplinary action involving tackles:
Using excessive force is when a player exceeds the necessary use of force and/or endangers the safety of an opponent and must be sent off.
Casemiro was definitely in a zone where you can reasonably expect the referee to deem his tackle as dangerous. Casemiro lunges for the ball and does not make clean contact and ends up with his studs in Alcarazs' shin. Many would agree that despite it being unintentional, he could have seriously hurt Alcaraz; therefore, a red card is not an unreasonable decision in my view.
The incident: Ricardo Pereira makes a bad tackle and catches João Félix on the shin. Only a free kick was given.
This was a horrible decision. If we refer to the same section from above it also states:
Reckless is when a player acts with disregard to the danger to, or consequences for, an opponent and must be cautioned.
There is no conceivable way that a challenge that results in a player's studs in the other's shin is not at least reckless if not outright dangerous. Chelsea fans were rightfully outraged that Pereira managed to escape any form of punishment. The VAR clearly thought it was not a strong red card claim which is shocking to me. However, they were unable to intervene in the case of Casemiro. The lack of consistency continues to baffle fans and leads to less trust in the officials.
The incident: Diogo Jota heads the ball against Adam Smith's arm and a penalty is given.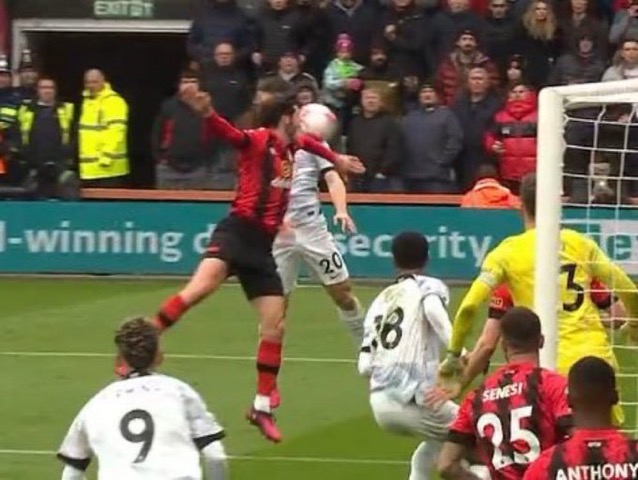 The ball clearly strikes Smith's arm and it is clearly away from his body creating an unnatural barrier so the penalty decision was not very controversial. However, considering Bournemouth had had 3 or 4 similar incidents against Arsenal previously and avoided punishment each time the decision felt strange within the context.
The consistency throughout games is a big issue and reduces trust in the product leading fans to claim outlandish things in the name of agendas and conspiracies against their teams. The referees will never be perfect but they can at least be consistent