Two-goal hero Scott McTominay said Scotland took their opportunity to create a legacy by beating Spain 2-0 in European Championship qualifying at Hampden Park on Tuesday.
McTominay's brace led Scotland to their first win against Spain since 1984 and continued their perfect start to the Euro 2024 qualification campaign with six points from two matches.
"Look at this place – I've never seen anything like it, incredible," McTominay, who also scored twice in the 3-0 win against Cyprus last week, said.
"The manager said this is our chance to create legacies as Scotland players and these are the nights in 20, 30 years that people remember. We can't thank the fans enough."
He added: "We did really, really well. We knew they'd have lots of the ball, and the manager said to be clinical when we had the opportunities, and I thought we had enough opportunities tonight to really hurt them and score some goals.
"As a kid, I was an attacking midfielder — I like to get in the box. I've got to keep doing that, I know I can add more goals and assists to my game."
Scotland will not get carried away with their surprise victory, but the result is a step forward for the team and a blueprint for how to maximise scraps of possession, manager Steve Clarke said.
"I'm delighted with the performance," Clarke told Viaplay. "I thought the players were outstanding from first minute to last.
"The dynamic, enthusiasm and quality of the team didn't change. It's a big night, it feels like a step forward, but it's only six points and you don't qualify with six points. One bad game can set you back, so we stay focused and keep our feet on the ground."
Spain had 67% of the possession, but Scotland managed more attempts on goal in the game, nine to the visitors' eight.
"We didn't have an awful lot of possession, but what we did have, we used very, very well," Clarke said. "The defensive shape's good, the distance between the units was really good, which stops a large part of Spain's game.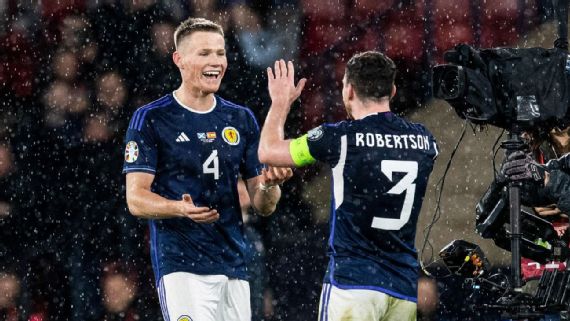 "When you look at the stats, you know you've been out-passed, but when you look at the shots on goal, shots on target – it's almost equal. It means we utilised the ball very well when we had it, which is obviously pleasing."
Clarke will take time to digest the result before thinking ahead to Scotland's next matches in June, away in Norway and home to Georgia.
"I'll have a couple of quiet days to calm down, and then we start preparing for two big games, because June could be a pivotal month for us," he said.