Ghanaian centre, Amida Brimah, was in impressive form despite JL Bourg's 78-82 loss in the French Pro A Basketball 2022-2023 regular season.
The loss is the second in a row for Bourg but Brimah shone in the game as he registered 14 points, seven rebounds, two steals and three blocks in 21 minutes.(Click highlighted text to watch game highlights)
Brimah led the game in blocks and efficiently converted four of five two-point shot attempts and scored six of eight free throw shot attempts.
JL Bourg ranks fifth in the 18-team league standings on the back of winning 19 games and losing 14 ahead of the season finale against third ranked Lyon on May 16.
In his first season of competing in France's top flight division, 29-year-old Brimah has averaged 6.8 points, 3.8 rebounds and 1.4 blocks in 17.4 minutes across 24 league games.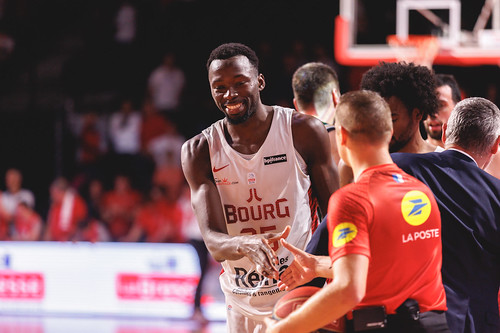 He won the Belgian League title with Filou Oostende last season but is more known for his brief stint in the NBA with Indiana Pacers.