LOS ANGELES — LeBron James tried everything he could, including scoring the most points in a playoff half in his storied career, yet it wasn't enough to stop Nikola Jokic and the Denver Nuggets from reaching their first-ever NBA Finals.
In a scintillating playoff duel with James, Jokic turned in yet another triple-double Monday night to help the Nuggets complete their first playoff sweep in franchise history with a 113-111 win over the Los Angeles Lakers in Game 4 at Crypto.com Arena.
Jokic — who was named the Magic Johnson Western Conference finals MVP — fended off an incredible throwback performance from James, who scored 31 points in the first half before finishing with 40 points, 10 rebounds and 9 assists.
James, 38, became the oldest player in NBA history to score 40 points in a playoff game, but his final drive to the basket to force overtime was denied when Jamal Murray got a hand on the basketball before James was able to get a shot off that was blocked by Aaron Gordon with 1.4 seconds left.
Murray celebrated with a scream and was mobbed by the Denver bench when time expired as James could only watch. For the Nuggets, the NBA Finals has been a long time coming. It has taken Denver 46 seasons to reach this point, the most seasons before a Finals appearance in NBA history. Denver had 93 playoff wins entering Monday night, the most all time without a Finals berth.
Jokic averaged a triple-double in the second round to eliminate Kevin Durant, Devin Booker and the Phoenix Suns. And he averaged a triple-double to sweep James, Anthony Davis and the Lakers.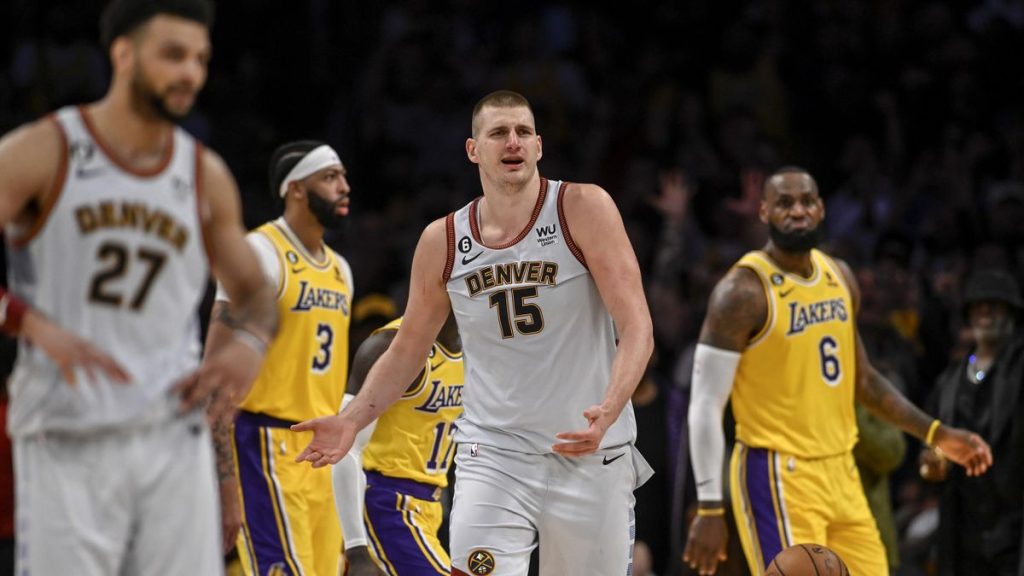 "I think he's showing other people nationally that he's real," Denver coach Michael Malone said. "Like what he's doing is real. The [two] MVPs are real. The triple-doubles are real. The silly narratives [against him for MVP] this year are just silly and somewhat ignorant. I think Nikola has gone through three rounds now where he's averaging a triple-double in the playoffs.