The Communications Director of Techiman Eleven Wonders, Ali Mohammed, has commended the decision of the Ghana Football Association on splitting the Division One Zone One, into two zones; ZONE ONE A & B prior to the start of the 2022/23 league season.
The decision to split Zone One of the Access Bank Division One League into two zones was primarily driven by resource limitations, particularly in the three Northern Regions.
Additionally, the zone had been plagued by tensions and violence in recent seasons, prompting the division.
Speaking to Citi Sports ahead of the team's playoffs against Bofoakwa Tano at the Accra Sports Stadium on May 30, Mohammed Ali believes splitting the zones has brought some sanity to the league this season with regards to hooliganism.
"First of all, I would want to commend the FA on splitting the zones into two because, there were some factors that led to that.

I am appealing to all stakeholders in the Division one zone one league to desist from whatever that is not pleasing to the football. Clearly, those where the things that led to the FA to take the decision."

In all, I think it has helped in a way to help eradicate hooliganism."
Eleven Wonders emerged victorious in Zone One A, while Bofoakwa Tano secured their place in Zone One B.
For Wonders, who suffered relegation in the 2020/2021 season, promotion back to the top flight after just one year in the lower division is their ultimate goal.
Meanwhile, Bofoakwa Tano has been absent from the premier league since the 2006/2007 campaign when they faced relegation after finishing 14th.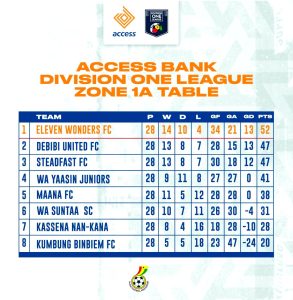 Nations FC and Kpando Hearts of Lions have picked two of the three promotion slots for next season's Ghana Premier League after winning Zone 2 and Zone 3 of the Division One League respectively.
The upcoming clash between Eleven Wonders and Bofoakwa Tano at the Accra Sports Stadium in the final play-offs on May 30, will determine which team joins Ghana's top-flight league for the next season.