The Black Stars of Ghana booked their spot at next year's African Cup of Nations (Afcon) following a 2-1 victory over the Central African Republic in the final group E game at the Baba Yara Sports Stadium.
Led by former Newcastle, Brighton and Norwich manager Chris Hughton, the Black Stars fell behind in Kumasi in a game where defeat could easily have led to an embarrassing elimination infront of the Kumasi faithful who thronged to the stadium in their numbers.
However, new West Ham United signing Mohammed Kudus drew them level with an expertly taken freekick before half-time and Olympique Lyonnais forward Ernest Nuamah made sure Ghana secured the all-important win with a simple tap-in in the 88th minute by latching unto an assist from super-sub Antoine Semenyo.
What this victory means for the four-time Afcon Champions is that a 10th consecutive qualification to Africa's most prized competition has been achieved.
𝗤𝗨𝗔𝗟𝗜𝗙𝗜𝗘𝗗 ✅

A bientôt Côte d'Ivoire! See you soon 😌🇬🇭🔜#BlackStars pic.twitter.com/kqcI2lRF4G

— 🇬🇭 Black Stars (@GhanaBlackstars) September 7, 2023
With just four months to go, there is so much work to do if Ghana's Black Stars are to match up to the level of the continents elite.
The technical team,the playing body,the GFA and Ghanaians are all aware of the team's current context.
Inaki Williams and his goal-scoring drought
9 games in a Black Stars shirt, and 0 goals from the Athletic Club forward.
Williams was among five players to declare their allegiance to Ghana before the start of the World Cup in Qatar, and the decision by the Ghana Football Association (GFA) to bolster its World Cup-bound squad through its diaspora  was met with some backlash from followers of the national team.
Wary supporters were worried that this trend – snapping up eligible players of Ghanaian heritage – might disturb the harmony of the squad that qualified the country for the World Cup.
Fast forward, the 29-year-old striker did not live up to expectations at the mundial, much to the disappointment of many Ghanaians.
The barren run in front of goal continued for Inaki Williams against the Central African Republic in the final game of the qualifiers.
The question is why does Williams look so ordinary when he rocks the national team colours, but in sharp contrast at his club side, he functions exceptionally well.
Is he assigned to a different role at the national team level? Is cohesion a problem?
Chris Hughton has to provide the answers with the AFCON on the horizon.
What is evident is that this Black Stars team has creativity issues and that has meant a limited number of touches for Williams in areas that are dangerous and make maximum use of his skillset.
Inaki Williams has scored and assisted just once in four appearances this season for Athletic Club.
His first goal of the season came against Real Betis, a game where Head Coach Ernesto Valverde deployed Williams on the right wing.
🎁 @IkerMuniain10 🔄 @Williaaams45 🎯

Combinación muchas veces repetida. #AthleticRealBetis #AthleticClub 🦁 pic.twitter.com/vHnJ6GQ1FU

— Athletic Club (@AthleticClub) August 27, 2023
Last season he notched 11 goals and 5 assists in all competitions for Athletic Club [42appearances in total]
In most cases at Athletic Club, he's been deployed as a right-winger and has been effective predominantly in that position for the Spanish side.
Should Chris Hughton mimic that at the Black Stars, in order to get the best out of the 29-year-old?
Inaki Williams, I think is a good player in an unstable system, Hopefully, he comes good for the national team.
Fans turn on Baba Rahman
The 29-year-old left-back is not a favourite among the Kumasi fans.
His inclusion in the starting lineup against CAR caused a stir from some sections of the fans.
Rahman missed the last five games in the 2023 AFCON qualifiers due to injury and made a shocking return to the squad called up by Chris Hughton for the game against Central African Republic.
His last game came against Madagascar in the first group game under former Coach Otto Addo, a game the Black Stars won by three goals to 0 at the Cape Coast Sports Stadium on June 1, 2022.
He grabbed an assist in that game, taking his assist tally for the national team to 8. He has scored just a single goal in 52 appearances in national colours.
Despite being regarded as one of the top full-backs in Ghana in the early stages of his career, Rahman has encountered several setbacks including a cruciate ligament injury which have contributed to slowing down the once explosive wing back.
Some section of the fans jeered and whistled at him almost every time he touched the ball.
Chris Hughton put him out of his misery as he was eventually yanked off with Gideon Mensah coming on as his replacement.
In my honest opinion, Gideon Mensah should have started the game ahead of Baba Rahman, not because I belong to the section of fans who booed him, but because I did not think he had the match fitness to start the game.
Coupled with the fact that he has been away from the national team for  a spell Gideon Mensah was the right fit if continuity and balance was to be achieved.
To be fair, the numbers backing Rahman showed that, he did not perform abysmally, as some fans tried to put out there.
He had 7 passes into the final third, 71% of accurate passes [25/35], 100% tackles won [3/3].
Not bad for the PAOK Thessaloniki player.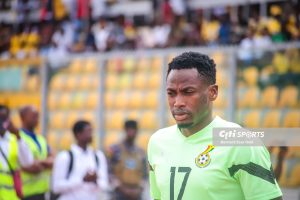 Alidu Seidu is a no-nonsense defender
Clermont Foot 63 is where he plays in the French Ligue 1. The right-back reminded everyone what he is capable of doing at the right-back position.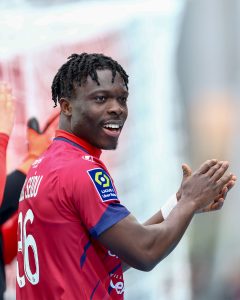 He shot to prominence with his man-marking and hard tackles against the Argentine god Lionel Messi in the French Ligue 1.
In an interview in June 2022, the Ghanaian right-back Alidu Seidu shared his experience of trying to mark PSG trio Lionel Messi, Neymar and Kylian Mbappe.
Narrating how defending against Messi feels, Seidu Kumasi-based Pure FM said: "For Messi, he is exceptional. People say he always walks on the pitch, he doesn't walk for the sake of it. He is always finding space. If you watch him you'll notice whenever he receives the ball he has space.

"My coaches used to tell me that a good player is a player who always receives the ball as a free man. For some players, while receiving the ball you'll see players already on him. But for Messi, you won't get him."

"Unless he starts driving with the ball then you tackle him. Anytime you try to get on him before he receives the ball, he had already noticed you. He is an exceptional player. When he was in Barcelona, I didn't like him. But the truth is he is an exceptional player."
Seidu had a breakthrough season in Ligue 1 with Clermont Foot and made 29 appearances in all competitions as the club survived relegation in the 2022/23 season.
Subsequently called up by Otto Addo for Ghana's participation at the 2022 Qatar World Cup.
Again, he reminded everyone who watched the game against CAR, that, he has the energy of a bull, difficult to dispose off the ball, strong surging forward, not allowing space for his opponent to go past.
He kept CAR's no.10 Karl Namnganda at bay. The attacker really had a tough time playing on Alidu's side.
Absolute class at the right back position. Chris Hughton has got a beast in Alidu Seidu.
His stats back it up. [Accurate passes: 26/32(81%), Chances created: 1, Touches on the ball: 59, Accurate long balls: 6/6, Clearances: 2, Defensive actions: 5, Recoveries: 6, Ground duels won: 5/6 [83%], Was fouled : 3
There you have it.
Mohammed Kudus is a genius & a workaholic
The Black Stars really looked flat, with no thrust into the opponent's box, and attackers looked isolated in the first half.
It was down to Mohammed Kudus' individual brilliance, drawing parity for Ghana with his expertly taken free kick in the 43rd minute.
No one saw that coming.
Mohammed Kudus with his second ever career free kick goal. It came at a crucial time for the Black Stars 🎯

— Owuraku Ampofo (@_owurakuampofo) September 7, 2023
Everything the West Ham man touched turned into gold for Ghana, he was the brightest spark in the team, strong on the ball, purposeful, and kept it simple.
Kudus recorded 23 passes out of 25 [92%] and had 57% successful dribbles.
The moment, he received the ball, you could sense the positivity and hope amongst the fans, it was as if, we had a Lionel Messi playing for the Black Stars, maybe yes, Ghana's version of the Argentine wizard.
Mohammed Kudus has won the hearts of Ghanaians, not just the people of Kumasi.
The new West Ham man is expected to have a big season after his big money move.
Talk of West Ham, a staunch fan of the Hammers travelled all the way from London to watch him play in Kumasi. That should sum up, how massive they rate him back there in the UK.
A West Ham fan came to Kumasi to watch Kudus in action for 🇬🇭https://t.co/lcuaenMIKn pic.twitter.com/6Z0UnFljms

— GhanaWeb (@TheGhanaWeb) September 7, 2023
Andre Dede Ayew is a likeable character among the Kumasi faithfuls.
"The clapping magician", not Gabby saying it, came from a fan close to me.
— 🇬🇭 Black Stars (@GhanaBlackstars) September 7, 2023
The unattached Black Stars captain. He is yet to find a club, after the end of his 6-month spell at English Premier league side Nottingham Forest last season.
Dede Ayew's inclusion in the squad caused a major stir and had everyone talking.
Born in France, Ayew has been a full international for Ghana since 2008 and has earned over 110 caps, the most capped player for the Black Stars.
At youth level, he starred for and captained the under-20 team that won both the 2009 African Youth Championship and the 2009 FIFA U-20 World Cup.
He has played in three FIFA World Cups (2010, 2014 and 2022), as well as seven Africa Cup of Nations (2008, 2010, 2012, 2015, 2017, 2019 and 2021), helping them finish runners-up in 2010 and 2015, and was top goalscorer at the latter tournament.
Ayew wants to replicate what he did with U-20, by winning the AFCON for Ghana. That looks like a stretch right? Given the performances of the national team in the last couple of major tournaments.
Perhaps, Cote d'Ivoire would be the lucky charm for Andre Ayew.
Chris Hughton was quizzed about his decision to include the 33-year-old in his squad.
He responded by saying that Andre's experience was valuable to the team.
Ghana vs CAR Presser: Hughton confirms addition of Issahaku; justifies inclusion of Ayew and Addo

Watch full presser here: https://t.co/R1sPKM0Lco#CitiSports pic.twitter.com/stj7w6hPVn

— Citi Sports (@CitiSportsGHA) September 6, 2023
If this answer from Hughton is anything to go by, then Ghanaians have got to brace themselves for more of him in upcoming assignments.
Ayew did not feature for Ghana against the Central African Republic, instead, he was treated to a hero's welcome by the Kumasi fans with great applause and cheers, and that takes me to the tag given to him by the fan, "The clapping magician".
The cryptic remark by Raoul Savoy
Who is Raoul Savoy?
A Spanish-Swiss Coach, 50 years of age. In his third spell as coach of the Central African Republic. Had stints with the Ethiopian National team and the Gambian National Team and some notable clubs in Africa.
He is not a novice to African Football.
While departing the post-match presser his parting words left the Ghanaian pressmen and women unsettled.
"Goodbye everyone, I hope your next Afcon, will be like the last one"
Central African Republic head coach Raoul Savoy leaves the presser upsets.

Says to the Ghanaian media: "Your next AFCON will be like the last one."#CitiSports pic.twitter.com/qnaLXQZiuZ

— Citi Sports (@CitiSportsGHA) September 7, 2023
Interesting right? For the uninitiated, Ghana's last AFCON was shambolic. The Black Stars exited in the group stage with just a point from three games. Ghana's worst performance in history at the Afcon.
A group that had Morocco, Gabon and Comoros.
Comoros at the time were ranked 132nd in the World. Ghana eventually lost to the East African Country by three goals to 2 in the final group game leading to the team's exit under former coach Milovan Rajevac.
This narrative here is what Raoul Savoy wished for us. Ghana exits again at the upcoming tournament in Cote d'Ivoire.
Ghana's tag as a powerhouse in African football has diminished significantly over the years.
The Spanish-Swiss Coach, Raoul Savoy is gradually moulding the Central African Republic into a top side on the African continent.
CAR is currently ranked 126th in the World & 35th in Africa.
CAR heading into the final game against Ghana, were one of the best teams in Group E.
CAR had a 50% away record, with a 3-0 win at Madagascar and a 2-1 defeat at Angola prior to the loss against Ghana.
CAR were also the highest-scoring away team in Group E with 4 goals in two games, now 5 in three games, courtesy of Louis Mafouta's strike in the 25th minute. Nigeria's Victor Osimhen is the only player to have scored more goals [7] in the qualifiers than CAR's Louis Mafouta [5] – A lethal weapon for Raoul Savoy.
With this, Savoy spoke with a lot of confidence about staging an upset against Ghana, however it did not happen.
One other thing he mentioned at the presser was that Ghana had enormous quality but his side [CAR] was the better team, and that is a big dent on the technical team of the Black Stars.
Remember the Black Stars will face the Central African Republic again in the World Cup qualifiers.
Ghana were placed in Group I and will face Madagascar, Comoros, Central African Republic, Chad and Mali in the 2026 Fifa World Cup qualifiers.
Raoul Savoy will meet Ghana again, only if he is not sacked or leaves the job.
His goodbye message was "We will meet again".
Most definitely, a third meeting between Ghana & the Central African Republic is on the cards.