Here are the most contentious decisions from Gameweek 12 in the Premier League.
---
The Incident: Erling Haaland goes down in the box under the challenge of Marc Cucurella. Referee Anthony Taylor points to the spot. VAR upholds decision to award a penalty (Chelsea 4-4 Man City).
A couple of things make this decision more controversial than it should be. First of all, Cucurella argues that Haaland was fouling the Spaniard as well, at least initially. Replays show both players had a hold of each other before the ball came into the box but after the City forward had let go, the Chelsea defender still had an arm around him. The second thing is Doku's slight nudge on Caicedo which forced the midfielder into Reece James in the lead-up to the goal was assessed by VAR and brushed off. That
Verdict: While Cucurella's challenge was a reckless one and deserved to be sanctioned, the nudge by Doku could and maybe should have seen the decision to award a penalty chalked off.
---
The Incident: Ederson kicks the ball into the outstretched arm of Kyle Waker as Mudryk rushed in behind the defender. (Chelsea 4-4 Man City)
Verdict: VAR does not interfere in incidents outside the box which does not warrant a red card, or offside call. As such, there was no intervention in the handball offence, which was apparently missed by the officials.
---
The Incident: Wataru Endo and Christian Nørgaard challenged for a loose ball with the latter coming out worse. (Liverpool 3-0 Brentford)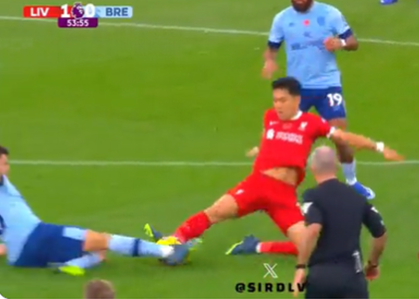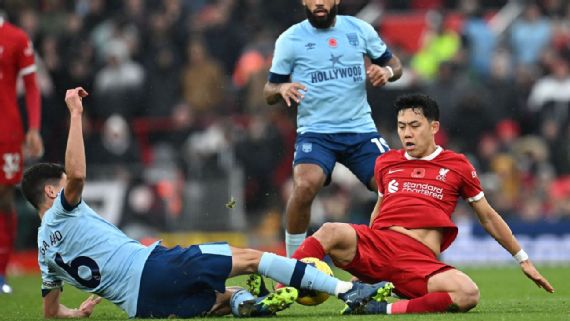 Verdict: It was a very dangerous tackle from Endo as he made contact with the top of Nørgaard's leg with his studs. VAR would have seen the tackle as such but not reckless enough to overturn the referee's decision to play on. Had the referee opted award a red card, VAR would most likely have upheld that decision.
---
The Incident: Fábio Vieira's studs make contact with the knee of Burnley's Josh Brownhill. Referee awards a red card. Decision is backed by VAR. (Arsenal 3-1 Burnley)
Verdict: While there was no intent to cause harm, the Arsenal player's challenge was still a dangerous one. The red card was the right decision.