The Ghana Triathlon Federation (GTU) has held a 2-day training program for sixteen (16) technical officials as part of efforts to upgrade the knowledge base of triathlon officials in Ghana.
The ITU Technical Official Level 1 course was led by ITU Facilitator, Rick Fulton of Zimbabwe, and follows the ITU Community Course, the GTF conducted for its officials in November of 2018.
It is geared towards preparing triathlon officials towards the African Triathlon Union (ATU) African Cup to be hosted in Ghana on June 9, 2019.
The program was held at the Media Center of the Accra Sports Stadium on 10th and 11th May 2019.
The 16 participants were made up of 25% women, a conscious decision the GTF President, Bawah Fuseini says is significant for the federation's women's inclusion policy.
"We deliberately encouraged women to participant and we made it a point to ensure that 25% of our officials are females.
"Although it was difficult at first, because there are not too many females in Ghana who are interested in being triathlon officials, in the end, I am very glad we got the number and I hope this will encourage more women to join in the future," he said.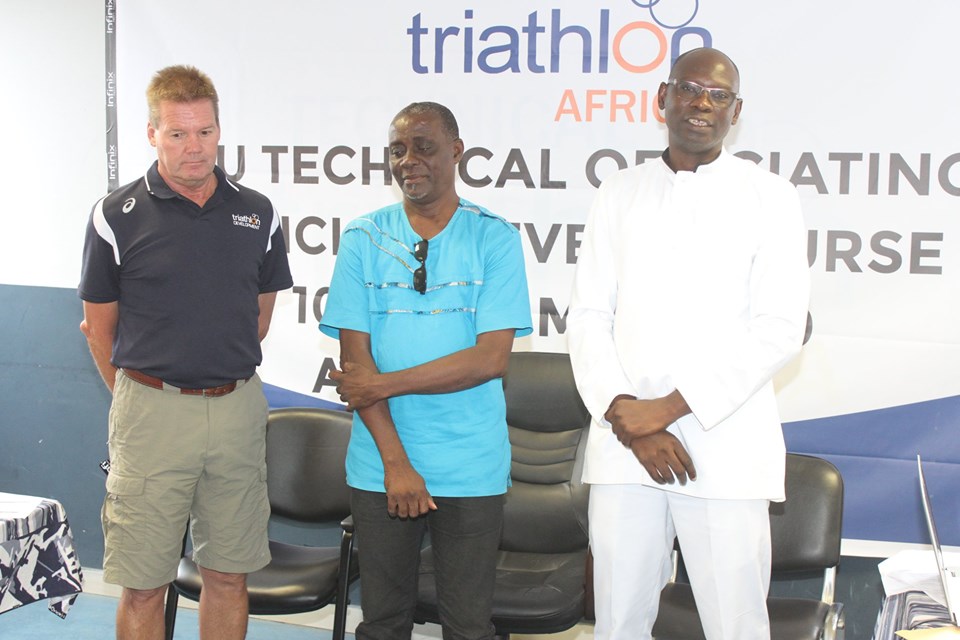 The training program will be crowned with the Cowbell Kids Legon Sprint Series on Sunday May 12, which will offer the opportunity for officials to transfer their knowledge from the classroom to the field.
The Legon Kids Sprint Series will see two categories of children: ages 8-12 and ages 13-17 compete for honors in swimming, biking and running.
About the Ghana Triathlon Federation
Established in 2015, the Ghana Triathlon Federation is arguably the fastest growing sports federation in the country with their famed Legon Sprint Series, organized three times each year, enjoying tremendous patronage each year.
In November 2018, Ghana hosted the first ever ATU/ITU West Africa Zone 1 Championships, bringing together triathletes from more than 8 West African countries to compete for honors on the University of Ghana Campus.
The success of that competition has led to the GTF winning the rights to host the ATU Triathlon African Cup slated for June 9 in Accra. Triathletes from more than 30 African countries will descend on the capital for the competition.
"Preparations are already far advanced for this competition and it's a huge responsibility for us. But we also see it as an endorsement of our efforts that such a young federation will be given the trust to host this big competition.
"We have already made the necessary contacts with the city authorities, security and all relevant institutions that will be needed to make this a success and we are confident of putting together a good show for Africa," Bawah Fuseini, the GTF President said.