Has there been a match that has typified Diego Costa more than this?
The Spanish striker was in fine form for Atletico as he bagged four goals against rivals Real Madrid in a feisty preseason game in New Jersey, USA.
He was however sent off, along with Real Madrid's Dani Carvajal after the two players squared off.
Although this was a preseason match, Real manager, Zinedine Zidane will be disappointed by how easily his defence was cut apart, especially after a first half in which they conceded five times.
Both sides started the match with very strong squads, which included their new star acquisitions.
Costa opened the scoring inside the first minute firing past Thibaut Courtois.
Goals from new signing, Joao Felix and Angel Correa made it three for Atletico before the 20th minute.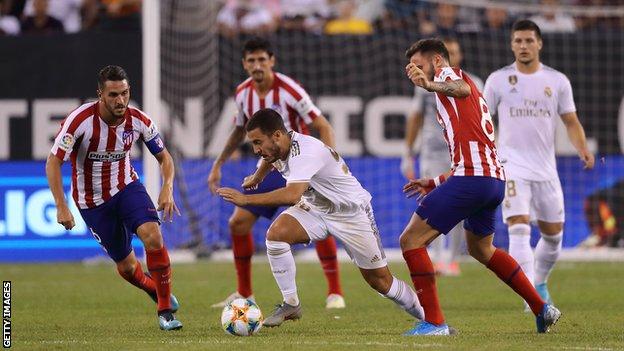 Costa scored his second and third right before the break as Atletico tempted to wipe the field with Real.
The striker came out firing again after the break, scoring six minutes after the match restarted, before Nacho pulled one back for Real.
Costa and Carvajal were then sent off after an altercation between the two players.
Vitolo made it seven for Atletico before a late flurry saw Karim Benzema and Javier Hernandez reduce the deficit for Real.
Full highlights below 
Incase you missed the match,
RealMadrid 3-7 Atlético Madrid,
here are all goals HD🔥

Please retweet and follow our main account @goalstv3 ❤️🔁😍#RMTout #RMAtleti #RMDerbi #RealMadridIsHere        #RealMadridAtleti #ICC2019 pic.twitter.com/X87oyiMqo5

— OfficalGoals (@officalgoals) July 27, 2019