The African continent has been known to produce the world best footballers over the years.
This statement was made literal in 1995 when Liberian, George Weah, became the first (and only) person from the continent to win the FIFA Player of the Year and Ballon d'Or.
Since Weah dazzled in Europe, only a handful of African players have gone close to reclaiming the world's top individual footballing prizes.
Samuel Eto'o's third-place finish in the FIFA Player of The Year Awards in 2005 was the closest anyone got until Mo Salah made the top three of both awards last year.
He might have missed out on both prizes to Croatian Luka Modric but it was an indication that Africa was on the rise again.
This year, two Africans are up for the Best FIFA Men's Player of the Year and unlike recent years, both stand a real chance of winning it.
Who is up for this year's top men's prize?
Salah (Player of The Year)
Mo Salah had a brilliant second season at Liverpool, with many people expecting his form to dip after a stunning first campaign with the Reds.
He scored 27 goals and assisted 13 more in 52 matches for Liverpool as the Merseyside club finished won the UEFA Champions League and finished as runners-up in the Premier League.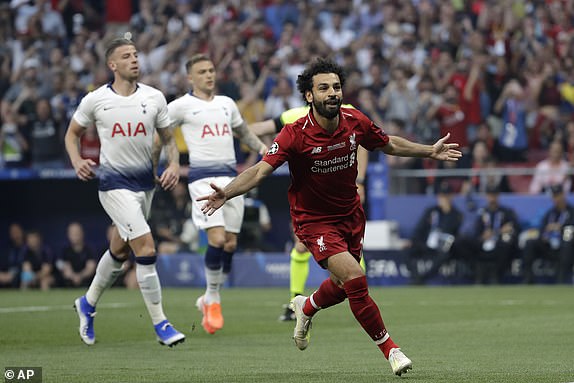 He was also in the Egypt squad that reached the Round of 16 at the African Cup of Nations tournament.
Salah scored two times for the Pharoahs but they crashed out of the tournament to South Africa.
Mane (Player of the Year)
Of the two players from Africa in with a shout at the award, Sadio Mane's shriek is definitely the loudest,
Along with Salah, Mane was one of Liverpool's star performers last season scoring 26 times and assisting five more.
Mane, however, had a better time with his national side, scoring three goals as Senegal reached the final of the African Cup of Nations.
Mane might not have become an African champion but his performances over the course of the season have certainly put him in a strong position to become the best in the world.
Belmadi (Coach of The Year)
43-year-old Djamel Belmadi wasn't too fancied when he took up the job as Algeria's national team head coach.
Having seen their hugely-talented side fail at every hurdle, not much was expected from the Desert Foxes at this year's AFCON.
However, Belmadi took the team by the scruff of the neck, dragging a complete team effort from his side, who remained unbeaten throughout the tournament to emerge as the Champions of Africa.
A year to the day since Belmadi took over and with only one loss from 16 matches, the diminutive tactician will be hoping to cap off his blossoming career with FIFA's Best Coach Award.